Dr. Boyland
Jennifer L. Boyland, DDS MSD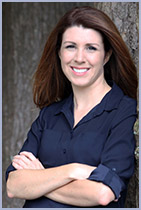 Dr. Jennifer Boyland grew up in Christiansburg, VA. She graduated magna cum laude with a Bachelor of Science degree in Human, Nutrition, Foods and Exercise from Virginia Tech and received her Doctor of Dental Surgery degree from Virginia Commonwealth University.
After graduating dental school, Dr. Boyland moved to Charleston, SC to complete a two-year Advanced Education in a General Dentistry (AEGD) residency program at the Medical University of South Carolina (MUSC), where she served as chief resident. During this time, Dr. Boyland was trained in comprehensive treatment planning and clinical care, management of medically complex patients, and treatment of patients with special needs.
Dr. Boyland continued her post-doctoral education with a three-year periodontology residency at MUSC, serving as chief resident for a second time. During her periodontology residency, she gained extensive training in periodontal therapy, periodontal plastic surgery, dental implant therapy, bone and periodontal regenerative surgery, pre-prosthetic surgery, and sedation dentistry. She offers I.V. moderate conscious sedation which is very helpful in relieving anxiety for patients who are apprehensive about dental treatment.
She is a member of the American Academy of Periodontology, the American Dental Association, North Carolina Dental Association, North Carolina Society of Periodontics, Southern Academy of Periodontics, and the Buncombe County Dental Society.
Certified LANAP Clinician


LANAP PROTOCOL USING PERIOLASE MVP-7
An acronym for Laser-Assisted New Attachment Procedure, LANAP provides an advanced protocol to more efficiently and effectively treat periodontitis (advanced gum disease) with the PerioLase® MVP-7™ laser. This offers a minimally invasive (non-surgical) treatment alternative for patients with moderate to severe periodontal disease. LANAP treatment leaves very little discomfort and has a quick recovery time. It has also been found to stimulate bone regrowth in damaged areas.