Advanced Technology
Advanced Technology To Create Optimal Results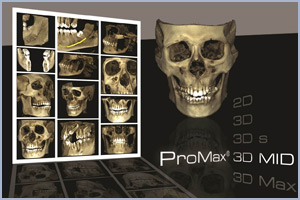 Dental Radiology With 3-D Cone Beam Technology
Dr. Claiborne relies on 3D imaging in diagnostic and treatment planning. This latest level of 3D imaging covers the whole dentition area, giving a clear view of the mandible and maxilla (upper and lower jaw) for intricate review for the diagnostic requirements of endodontics, periodontics, orthodontics, implantology, TMJ and prosthodontics as well as dental and maxillofacial surgery.
In addition to imaging, cone beam radiographs provide images in sagittal, axial, and coronal planes. This makes it possible to locate and trace the mandibular nerve canal for pre-surgical planning for an ideal implant position.
Dr. Clairborne also likes that his patients are exposed to only minute levels of radiation through a process that is fast and comfortable.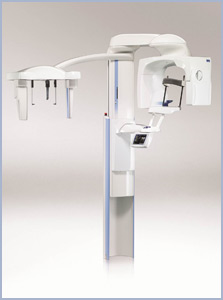 Simplant Dental Software for Computerized Dental Implant Placement
This advanced software system allows for pre-surgical positioning of dental implants on the computer using a 3D model of the patient's jaw. Once the implant type is selected, a surgical template is developed that ensures a precision fit. Simplant creates optimal implant treatment success, even for complex cases. It also simplifies the team treatment process so intricate aspects of the surgical process can be discussed prior to placement.
Intraoral Camera Technology
This self-contained intraoral camera features full motion video with outstanding image quality from an internal camera that captures ideal angles and images with the click of a button. The images are sent to screen for a clear, crisp view so Dr. Claiborne can confer with patients on specific treatment issues.
Computer Imaging In Treatment Suites
Treatment suites are equipped with computers for convenient image sharing with patients. This allows patients to have a more complete understanding of their individual needs through images that can be pulled up by Dr. Claiborne, with the ability to enlarge certain areas to show specific details. Through this, patients have greater involvement in treatment decisions.