Learn More Blog
Taking Prescriptions? Some Supplements Can Cause Problems.
Posted on Sep 27, 2016 by William J. Claiborne, DDS MS
As baby boomers age, a growing number are turning to alternatives to prescription medications. Thus, there has been a growing demand for natural supplements. It is estimated that over 15 million Americans are using vitamins and herbal supplements along with prescription medications.
Surveys estimates show that herbal supplements are used by 12 – 24% of the American adult population with usage of those aged 65 and older doubling from 1999 to 2002.
Since supplements are available over the counter (OTC), many adults don't see them as medications. So, when a new patient is completing their medical history form, these are not always listed. They should be.
Both medical and dental health care providers need this information to determine how these supplements will effect your body's ability to clot properly during procedures that cause bleeding. Too, excessive bleeding can occur when these supplements are not acknowledged prior to procedures.
A number of aging adults take prescription medications to prevent arterial or venous thrombosis and stroke. When completing your medical history form, most patients readily acknowledge their use of these medications and understand that some drugs increase bleeding during certain procedures or hamper their ability to clot when bleeding. Knowing the patient is on these medications enables the medical or dental caregiver to monitor bleeding and clotting before complications arise.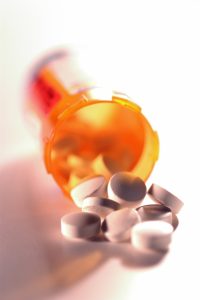 However, patients are less informed that the use of OTC medications can impact bleeding in conjunction with their prescription medications. Yet, according to the Natural Medicines Comprehensive Database, approximately 180 dietary supplements have the potential to interact with warfarin and more than 120 may interact with aspirin, such as clopidogrel (Plavix) and dipyridamole (Aggrenox).
The National Institutes of Health (NIH) identified these supplements as having the potential to cause adverse bleeding interactions:
• Anise
• Dong Quai
• Omega-3 fatty acids in fish oil
• Ajoene in Garlic
• Ginger
• Ginkgo
• Vitamin E
• Fucus
• Danshen
• St. John's Wort
• American Ginseng
The Centers for Disease Control and Prevention (CDC) shows the supplements having the highest sales include ginseng, ginkgo blob, garlic, St John's wort and ginger. It is not unusual for a patient to take up to seven dietary supplements at the same time with some taken inconsistently.
In addition, the following herbs may affect blood clotting:
• High doses of Vitamin E
• Alfalfa
• Coenzyme Q10
While more studies are needed to determine precisely how these supplements alter bleeding or interact with prescription medications, it is important for medical and dental professionals to have consumption information in order to properly plan for procedures.
Warfarin (Coumadin®, Jantoven™), an oral anticoagulant, is used prevent and treatment VTE (venous thrombo-embolism), PE (pulmonary embolism), and atrial fibrillation (A-Fib) patients who are at risk of embolism. Warfarin is highly affected by medication use. In fact, more food and drug interactions have been reported for warfarin than with any other prescription medication.
A study in England noted a high number of patients were taking herbal supplements along with warfarin. In a survey of nearly 1400 patients, it was found that nearly 9% regularly took one or more of garlic,  ginseng,  ginkgo biloba, feverfew, ginger, and St. John's
wort. Yet, nearly all admitted to failing to share this information with any of their health care professionals.
In addition to many herbal supplements, alcohol has been found to increase bleeding in warfarin users along with Vitamin C and Cranberry juice. However, the herbal supplements that tend to complicate clotting ability the most during bleeding include:
• Bromelain
• Cat's claw
• Dong quai
• Evening primrose
• Feverfew
• Garlic
• Green tea
• Ginseng
• Ginkgo
• Horse chestnut
• Red clover
In addition to Aspirin's ability to reduce mild to moderate pain, inflammation, and fever, it is also used in the prevention of myocardial infarction (MI) and cardiovascular problems, such as stroke. Aspirin may also be advised as added therapy during procedures like coronary bypass. While many users of Aspirin realize it "thins the blood," many regular users fail to notify their dental professional.
As a periodontist, I perform a number of procedures that cause bleeding to tissues in the mouth. It is important for your safety and a successful outcome of your procedure to have this information prior to treatment planning.
While filling out those often-lengthy medical history forms seem daunting, the information they provide is necessary. It is also necessary that it be complete. Herbal and vitamin supplements taken regularly should always be listed.
If you have questions, please call 828-274-9440.
Recent Posts
Categories
Archives