Blog Archives
Recent Posts
Categories
Archives
Why Missing Teeth Cause Changes To Facial Appearance
Posted on Sep 30, 2022 by William J. Claiborne, DDS MS
The shape of our face is made by the bone structures beneath the skin. Essentially, we inherit our facial appearance from our ancestors. You may have your mom's nose or your dad's chin, but how you look is thanks to your genes.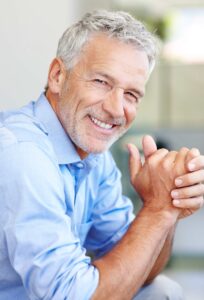 However, facial appearance can also change due to a decline of bone mass. In dentistry, this is typically based on the presence, or absence, of natural teeth. Losing teeth – even when replaced by a denture, partial, or crown & bridge – leaves the upper and/or lower jaw bone susceptible to bone shrinkage. This is known as resorption.
The presence of natural teeth is vital to the health of upper and lower jaw bones. Tooth roots provide stimulation to the bone, stimulating blood flow that helps the jaws to maintain a healthy mass. Without tooth roots, the lack of stimulation causes the bone(s) to slowly decline.
Resorption causes the gum ridge to flatten out over time, giving your denture a continually-declining foundation. Application of denture adhesive becomes more frequent to prevent the denture from moving while eating, which causes uncomfortable rubbing. Laughing and speaking becomes overshadowed by the fear of embarrassing slips.
When dentures are first made, they may feel secure for the first five or so years. However, as resorption continues, relines help only on a temporary basis. As bone loss progresses, relines will last at less frequent intervals each time.
On average, denture wearers experience a 25% bone loss one year after natural teeth have been extracted. Three years later, 60% of the bone is gone. While natural teeth provide a biting force of 250 pounds, the average denture wearer bites with about 5 pounds of force.
Denture wearers are often surprised to learn that the pressure of wearing them actually accelerates resorption. For people who sleep in their dentures, the 24/7 pressure speeds the process of resorption even more.
To see the extent of bone loss you've experienced, remove your denture and look in the mirror. You may see deep wrinkles around the mouth and notice the corners of your mouth turn downward. If bone loss is severe, our mouth may appear to be collapsed inward with a pointed chin. Jowls may have formed on the sides of your face as facial muscles detect from the shrinking bone.
As a periodontist, I specialize in the treatment of all stages of periodontal (gum) disease as well as in the diagnosis and placement of dental implants. And, we are adept at placement of all types of dental implants. With over 40 different implant types, each designed to accommodate various needs, understanding the best type – and correct placement of it – can have a significant impact on your overall success rate.
For example, new designs in dental implant systems can overcome even severe bone loss. The All-On-4 dental implant can be placed in minimal bone using just four implants. Using specific angles, All-On-4 can support a full denture that is non-removable. And, because it is supported by implants placed in bone (just as natural tooth roots), biting and chewing stability is restored.
A periodontist can also assist patients prior to implant placement when severe bone loss has occurred. To ensure a sufficient level of bone mass to support the implanted portions, procedures such as bone generating materials or a "sinus lift" may be advised (to increase bone mass between the upper jaw and sinus cavity).
Our Asheville periodontal dental office is also known for our advanced technology and features (including our on-site 3D Cone Beam and laser). Additionally, our patients enjoy a high level of patient comfort through the administration of IV sedation (twilight sleep). This is administered by a Board Certified Anesthesiologist for optimal safety and comfort.
As dental implants have become a more practical and popular option, adults are turning away from dentures, partials, or bridges. In addition to restoring biting and chewing comfort and stability, implants offer a lifetime replacement option that actually enhances the well-being and lifespan of surrounding teeth.
Because of their ability to restore the presence of natural teeth to such a great extent, the dental profession now sees dental implants as the preferred choice for replacement for most patients. Although the overall treatment costs may seem greater initially, over time, it becomes obvious that the benefits far outweigh the expense.
When you consider that dental implants are designed to last a lifetime, the investment is a wise one. There are very little things in this day and age that will last as long as we do!
If you are considering dental implants, increase your potential for a successful outcome by asking a Periodontist to join your dentist in team treatment. Most general dentists have close relationships with periodontal specialists for implant placement and in treating gum disease.
Before you make your decision, you may wish to schedule a consultation to discuss your specific needs and desires. We are always happy to welcome new patients and being referred is not required. Call 828-274-9440.
Does Obesity Lead To Gum Disease?
Posted on Sep 21, 2022 by William J. Claiborne, DDS MS
What are the two most common diseases in the U.S. today? Obesity and gum (periodontal) disease. Studies are now showing that these two conditions may be related.
However, tracking down "cause and effect" have not been achieved as yet. What is known, however, is that changes in body chemistry affect metabolism, which, causes inflammation, a common element they share. People who have periodontal disease are more susceptible to inflammation, which in turn makes them more susceptible to obesity.

One new study analyzed data from population subsets at one point in time in order to explore potential connection of pathways between obesity and gum disease. Researchers noted an increased risk to develop gum disease for those with higher body mass index (BMI), waist circumference and percentage of body fat.
Certainly, there are a number of risk factors for developing periodontal disease. These include:
• Smoking or chewing tobacco
• Poor oral hygiene and lack of dental care
• Consumption of sugar and other foods that increase oral acid levels
• Aging
• Being diabetic
• Many medications (including steroids, antidepressants, cancer therapy drugs, some calcium channel blockers and oral contraceptives)
• Improper fitting of dental appliances (dentures or partials)
• Pregnancy
Common signs and symptoms of gum disease are:
Gums that bleed easily
Red, swollen, tender gums
Persistent bad breath
Gums that pull away from the teeth (recede)
Changes in the way teeth fit together when biting
Changes in the fit of partial dentures
Permanent teeth that loosen or separate
Initially, gum disease begins with plaque accumulation. Plaque is the sticky film that coats teeth and gums that is usually most obvious when first waking in the morning. The film consists of bacteria, which can penetrate below the gum line. If not removed on a regular basis (preferably daily), plaque will harden into a bacterial mass known as tartar.
Plaque and tartar bacteria cause the gums to become inflamed. The tight grip around the base of teeth (which helps to seal out bacteria) will loosen. Thus, "pockets" of bacteria are able to form between the teeth and gums that become infected. As the disease worsens, these pockets deepen and gum tissues and the structures that support teeth are destroyed. Teeth can become loose and may have to be removed.
Gum disease is the nation's leading cause of tooth loss. Research has also found links between the infectious bacteria of gum disease to other diseases affecting overall health. These include an increased risk of heart disease and stroke, diabetes, respiratory disease and preterm babies.
The prevalence of gum disease in the U.S. is at an alarming rate – affecting up to 50% of the adult population (ages 30-70) and 90% of adults over the age of 70. Yet, the obesity rates in America are at concerning rates as well.
According to the Centers for Disease Control & Prevention, U.S. obesity prevalence increased from 30.5% to 41.9% from 2000 – 2020. The highest percentage was among adults aged 40 to 59 years – 44.3%. (North Carolina ranks at 33.6%.) A healthy BMI is 18.5 – 24.9.
But, back to the gum disease-obesity connection…
A 2009 study showed that individuals with excess weight had twice the rate of periodontitis (advanced gum disease) and triple the rate for individuals with severe obesity. This was shown even after adjustments for other risk factors such as smoking, age and other medical conditions.
A leading factor lies in the fat cells, which were previously thought of as storage for energy. Now science has determined that fat cells produce a number of chemical signals and hormones, substances that lead to higher inflammation in the body. This, in turn, hampers the ability of immune system effectiveness. The inflammation add to the likelihood of periodontal disease.
As a periodontist in Asheville NC, I utilize some of the most advanced technology in the region to detect all stages of gum disease and restore the gums to a healthy state. This is true for all stages of gum disease, even the advanced level of periodontitis.
Depending on the level of disease, we can restore the tooth supporting structures (bone, gum tissue and ligaments) through thorough cleaning, tartar and plaque removal, and treating the deep pockets of infected tissue. Treatment is performed safely and comfortably, with oral and I.V. sedation (twilight sleep) available as needed.
When the severity of the disease requires surgical measures, we are fully skilled and equipped to restore oral health. We also assist restored patients with maintenance of proper oral hygiene for long-term success.
Understanding the relationship between obesity and risk factors that lead to periodontal disease is very important. If you have signs or symptoms of gum disease, please know that this condition will only worsen without treatment. The earlier your treatment, the less complex the treatment will be.
Call 828-274-9440 or visit: https://www.biltmoreperiodontics.com/services/periodontal-gum-treatment/
Sources:
https://www.colgate.com/en-us/oral-health/threats-to-dental-health/periodontal-disease-and-obesity
https://www.obesityaction.org/resources/obesity-and-periodontal-disease/
https://www.sciencedaily.com/releases/2019/12/191203082858.htm
Overcome Obstacles To Achieve A Confident Smile
Posted on Sep 12, 2022 by William J. Claiborne, DDS MS
It's not unusual to see a new patient who has delayed seeking advanced dental care for many years because of perceived obstacles. I say "perceived" because many of these obstacles are not nearly so daunting once people actually learn more there are solutions for about any dilemma.
For example, a bride-to-be with a "gummy smile" realizes, after years of postponement, that she can have her gum line corrected through laser treatment that provides quick recovery with an easy payment plan.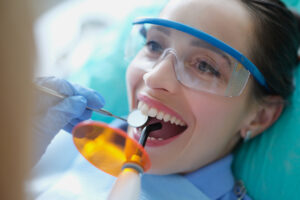 Or, an individual who has worn a self-described "wobbly" denture for many years and overcame misperceptions about the need for pre-placement bone rebuilding. Through specially-designed and uniquely placed dental implants ("All-On-4"), patients may be able to bypass the extended treatment time and added expense to restore bone mass.
In a conversation once, a friend reminded me "we don't know what we don't know." How true. Often, once we learn the details surrounding a big decision in our lives, moving forward becomes an easier process. Achieving goals gets closer and closer.
Below are a few of the common barriers that patients can often overcome when it comes to periodontal treatment or dental implants…
---
COST: There are few things in life that last a lifetime. When it comes to cosmetic gum enhancement and dental implants, the lasting benefits make these procedures an excellent investment. However, treatment cost can seem challenging to some budgets. For people who wish to enjoy the benefits of their results without straining their budget, payment plans can be the solution.
There are a number of these financial options, most requiring no down payment, are interest-free, and have no prepayment penalty. For some people who see the total treatment fee at first, vocalizing their concerns regarding payment is an uneasy thing to do. Yet, once we are made aware of the need for budget-friendly options, we are able to help many people move forward with treatment that can enhance physical appearance, self-confidence and emotional security. Those are pretty priceless benefits!
---
DENTAL FEAR: Dental fear and high anxiety associated with dental visits is not rare. As a matter of fact, some estimates rank this as affecting up to 60% of U.S. adults. There are a number of reasons that lead to these fears. For some people, they are able to overcome these fears once in the hands of a gentle, caring dentist. For those whose fears are so deeply embedded they cannot, we offer a special team who administer and oversee the safety of oral and IV sedation (twilight sleep).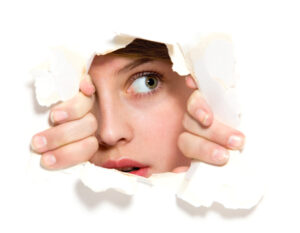 In our office, we employe the skills of a a medical doctor to provide sedation and anesthesia for our patients. Dr. Stone has published several articles on techniques and safety in anesthesia as well as a book contribution on intravenous access.
---
TIME IN TREATMENT: We all live lives that are busy. Schedules seem to be overloaded so much of the time. This is why time in treatment can seem "too much" to add to one's schedule. However, the advanced skills of a periodontal specialist, coupled with our immense array of advanced technology means we are able to alleviate many of these worries for our patients.
Once the patient's imaging and treatment plan is in hand, we are often able to schedule patients soon thereafter. With the relaxation provided by our sedation options, we can perform long procedures in a single appointment rather than have the patient return for several appointments to complete treatment. Too, using our advanced imaging and computerized technology, treatment is more precise, often more conservative, and healing time improved.
---
TREATMENT SATISFACTION: The best way to make a decision that works to achieve your meeds and goals is through a consultation appointment. During this time, we can discuss what options are best for your individual needs, estimated treatment time, costs, and comfort options. This is a time when you can get to know us and we can give you the information that is factual and applicable to you. And, this is where trust is formed. I have a long-standing reputation for my commitment to patient excellence.
Begin by calling our Asheville periodontal dental office and speaking to our friendly staff at: 828-274-9440. Or, tap here to see our beautiful Western NC location.