Blog Archives
Recent Posts
Categories
Archives
Contour of Gum Tissues Is Important To A Smile's Appearance
Posted on Oct 28, 2021 by William J. Claiborne, DDS MS
When people think of their smile, they tend to think primarily of their teeth. Certainly, having white, straight teeth are a major part of a smile's appearance. In today's cosmetic dentistry, porcelain veneers and crowns give an exceptionally natural appearance with excellent longevity and durability. However, the gum line that borders teeth can greatly affect a smile's appearance, perhaps more than you've considered.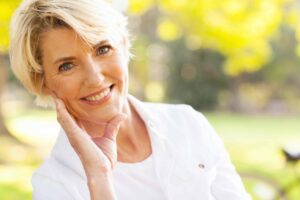 People with unflattering smile traits tend to "hold back" when smiling. They may smile with lips only or hold a hand in front of their mouths. Some men even admit to growing a mustache that extends down over the top lip to hide the teeth visible in a smile.
In addition to placing dental implants and treating all stages of gum disease, a Periodontist specializes in the treatment of the soft tissues of the mouth. As an expert in oral tissues, my advanced training enables me to contour gum tissues to provide a natural appearance and healthy seals around the base of teeth.
For several reasons, gum tissues can pull away from the base of teeth. This can occur from gum tissues becoming drier with age or over-zealous tooth brushing. Gums can also loosen their grip around teeth when teeth tilt out of their proper positions.
When the tight seal around the base of teeth is compromised, the tooth becomes more vulnerable to oral bacteria. Darker, sensitive tooth root segments may be exposed. This not only causes sensitivity, these areas become susceptible to bacterial penetration. As an entry point for oral bacteria, the tooth roots and bones that support teeth are more vulnerable to damage as well.
In cases when a tooth breaks near the gum line, a procedure known as crown lengthening may be able to expose enough of the tooth structure so a crown can be placed. This means the natural tooth can be saved rather than require removal. Once a natural tooth is removed, it brings with it a long list of decisions and associated costs.
Although protecting and saving teeth is the priority, gum contouring procedures, such as crown lengthening are also performed to enhance the appearance of a smile. Gum re-contouring is typically referred to as a "gingivectomy". It is performed to remove the excess gum tissue that arches over the teeth most visible in a smile.
For example, for people who have a "gummy smile," too much gum tissue is visible above upper teeth in a full smile. A periodontist can use his or her specialized skills to reshape the tissues to provide a more balanced smile line.
In this, crowns are typically placed in addition to having the gum height adjusted. The result? A smile is greatly improved when the gum line is contoured to blend attractively with gum tissue bordering neighboring teeth.
To begin, we numb the gum tissues and carefully trim the excess. As a Periodontist, I take specific measures to ensure a natural looking arch remains over the teeth while preserving the natural points that 'dip' between each tooth.
A gingivectomy performed with a dental laser provides our Asheville periodontal office patients with a number of advantages: (1) enhanced comfort; (2) precision lines; (3) minimal or no bleeding; and, (4) faster healing time.
It's normal to experience some tenderness or swelling after the procedure. However, most patients do fine by applying an ice pack off and on for the first day. In most cases, over-the-counter pain medications are sufficient, however, we make prescription strength options available to ensure comfort during the healing process. Many patients tell us they needed no medication at all.
Healing time depends on each individual and can vary from a few days to a few weeks. The dental laser we use helps to reduce the amount of time needed for healing. For patients who smoke, healing times are longer due to smoking's drying effect on gum tissues.
Most gingivectomies are followed by porcelain veneers or crowns to give a beautiful, even smile line.
For those who have avoided gum recontouring due to dental fear, we offer several sedation options, including oral and IV sedation. Oral sedation is a pill that helps patients relax. It also has an amnesiac effect, leaving most with little or no memory of treatment afterward.
IV sedation (also known as 'twilight sleep') places the patient in a deeper sleep state and erases memory of the procedure. It is administered by a doctor of anesthesiology for optimal comfort and safety. In our Asheville office, anesthesia is overseen by a medical doctor (MD) who is a board certified Anesthesiologist.
With both sedation options, patients are closely monitored with advanced safety equipment throughout treatment. We help patients understand that their fears and concerns are not unusual. Our doctors and staff respect each patient and provide gentle, compassionate care – at every appointment.
Treatment fees depend on the extent of the condition and whether crowns or veneers will be applied following treatment. In either case, beautiful results can occur, helping the individual who once 'held back' on smiling confidently.
A healthy smile is a benefit to our overall health. An attractive, confident smile is also an asset when it comes to self-image, helping us to feel good from the inside out! Call 828-274-9440 for a consultation to discuss a gingivectomy and what may be recommended for your specific needs.
What's Keeping You From The Dentist's Office?
Posted on Oct 19, 2021 by William J. Claiborne, DDS MS
As an Periodontist in Asheville NC, I've treated many patients who, to no surprise, developed periodontal (gum) disease because of NOT going to a dentist on a regular basis.
According to the Centers for Disease Control & Prevention (CDC), nearly 65 percent of adults aged 18 and over had at least one dental visit in the past year (based on 2019).
https://www.cdc.gov/nchs/fastats/dental.htm
Unfortunately, that leaves 35 percent of adults who did not.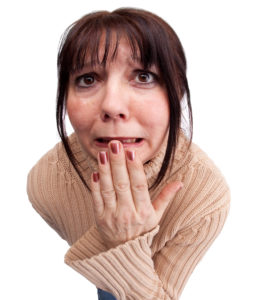 The reason it is recommended to see a dentist for exams and cleanings TWICE A YEAR is because tartar, which is hardened plaque, can cause cavities and gum disease. One plaque hardens into tartar, it can no longer be brushed or flossed away. It must be removed by a dentist or hygienist using special tools.
Tartar is actually a mass of oral bacteria, which has attached itself to the base of (or in-between) teeth. Tartar (also referred to as calculus), is a colony of bacteria that thrive on oral tissues. Bacteria are living organisms and reproduce rapidly. And, the more there are, the more rapidly they amass.
So, what are the common excuses for avoiding regular dental care? See if you've been guilty of one or more:
COST – Some individuals feel dental cleanings and exams are expensive. Actually, there is a great deal of time and training that goes into your individualized care. In addition to the measures of sterilization and instruments, hygienists and dentists are highly-trained, educated, and must stay board certified. As for the investment, these visits are what help you avoid the need for a filling, gum disease, potential damage to teeth due to bite misalignment, and even catch oral cancer at early stages. If dental insurance is not possible, ask if payment plans are available. Many dental offices offer these, most of which are interest-free with no down payment required.
DENTAL FEAR – If fear or anxiety keeps you away from a dental chair, you are not alone. It is estimated that over 70 percent of American adults have some level of this. Sometimes the fear exists because of a traumatic experience in the past or feeling helpless in the chair. Some people react to certain smells and sounds. A few have no idea what prompted their fear, but know it is beyond their control. For these, we advise seeking dental care in a modernized office. Today's advanced technology has greatly enhanced the level of comfort during care as well as reduced treatment time. Too, offices such as our Asheville periodontal dental office offer oral sedation as well as IV sedation (twilight sleep). These are administered by highly-skilled professionals who oversee the patient using advanced safety monitoring equipment. Ask for a consultation and tour before choosing the office that is reassuring to your unique needs.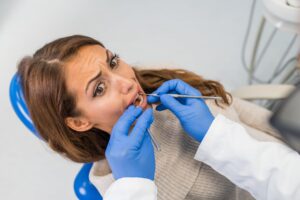 DREAD OF BEING LECTURED – If it's been years since you've seen a dentist, you may be expecting a lecture from the dentist or hygienist (or both!). My staff and I believe that is a sure way to deter someone from cultivating a positive attitude towards their dental relationship. We all want to feel respected and having a caregiver talk "down" to you is unfair, especially because no one knows the story behind your delay or avoidance. If you feel that's going to be a problem, say so. Be upfront with "a lecture is not going to help me." If you feel it's a recurring problem, ask to have your records transferred to an office where you are treated more appropriately.
FEAR OF EMBARRASSMENT – Some adults feel awkward having their denture or partial removed at the dentist's office. Some people fear they'll gag during care, which can trigger coughing and even throwing up. Some feel their mouths are so "bombed out" that it's embarrassing to have a dentist see how much damage has occurred. To reassure you, there is nothing we haven't seen or experienced. Dentists have quite a lot thrown at us during dental school. As a specialist in periodontics, my additional training covered even more in-depth and complex damage or disease. DO NOT worry about your caregivers. They WANT you to rely on them to help you. Almost any dentist or specialist will tell you that our greatest joy comes from taking a patient from a "hopeless" mouth to a patient who has a healthy, confident smile!
TIME IN TREATMENT – Today's advanced technology has greatly condensed the time needed to accurately diagnose and treatment plan almost any dental problem. Many treatments can be completed in just one or two visits. For those who have more extensive needs, dentists can sometimes combine several appointments into one long one. This is made much easier for the patient with the addition of oral sedation. Oral sedation creates a totally relaxed state so the patient can "doze" in and out of treatment. It has a quick recovery and sedated patients are carefully monitored for safety and comfort throughout treatment.
Regardless of WHY you've avoided the dentist, your smile is worth it! Having an appealing smile you feel joyful in sharing adds to your mood, enhances appearance and makes a positive impression to others.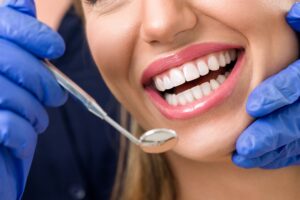 If you've avoided dental care for years (or even decades), you may have signs or symptoms of periodontal disease. These include tender gums that may bleed when brushing, gums that recede from the base of some teeth, gums that turn red in color, and frequent bad breath. Gums are the foundation for teeth, so without healthy gums, your teeth will not be healthy, either.
Too, gum disease will only worsen without treatment. If you are a reader of my articles, you may have read the findings of research that correlates the bacteria of gum disease with serious health conditions. These include stroke, heart disease, preterm babies, some cancers, arthritis, diabetes, and erectile dysfunction.
Let us help you feel the positive aspects of achieving a healthy smile. Begin with a consultation by calling 828-274-9440.
Serious Disease Connections To Oral Health
Posted on Oct 12, 2021 by William J. Claiborne, DDS MS
As an Asheville periodontist, I have advanced skills in the diagnosis and treatment of all stages of periodontal (gum) disease. Over the years, I have closely followed the extensive amount of research that associates the health of the mouth with overall health. There are amazing connections between the bacteria of gum disease to severe (and even deadly) health problems far beyond the mouth.
Periodontal disease is an infection that destroys gum tissues and the structures that support teeth. As gum tissues are attacked and weakened, the bacteria of gum disease can enter the bloodstream through tears in diseased tissues.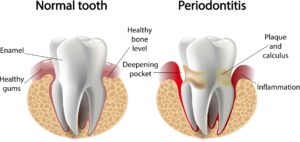 This infectious bacteria is capable of causing inflammatory reactions elsewhere in the body. Systemic inflammation is the now-known epicenter of a number of major health problems, including heart disease, stroke, high blood pressure, diabetes, arthritis, impotency and more.
You may be interested to read about just some of the correlations between oral bacteria of gum disease and…
---
Dementia & Alzheimer's disease: Gum disease occurs when infection of the oral tissues develops. It causes bleeding gums, putrid breath odor, loose teeth, and even tooth loss. Oral bacteria and the inflammatory molecules that develop can enter the bloodstream, making their way to the brain. Previous lab studies have suggested that this is a potential risk factor in the sequence of events that lead to dementia.
https://www.nia.nih.gov/news/large-study-links-gum-disease-dementia
In data from the National Health and Nutrition Examination Survey (NHANES), different age groups at baseline, with up to 26 years of follow-up, analyzed over 6,000 study participants. The researchers examined whether gum disease and infectious oral bacteria were linked to dementia and deaths.
Participants had received a dental exam for signs of gum disease as well as blood tests for antibodies against causative bacteria. The team analyzed antibodies against 19 oral bacteria for an association with the diagnosis of Alzheimer's, diagnosis of any kind of dementia, and death from Alzheimer's. Of these 19, Porphyromonas gingivalis is the most common culprit of gum disease. In fact, a recent study suggests that plaques of beta-amyloid protein, a major hallmark of Alzheimer's disease, may be produced as a response to this infection.
https://pubmed.ncbi.nlm.nih.gov/26474422/
---
Erectile Dysfunction: In the U.S., an estimated 18 percent of males have erectile dysfunction. Men over the age of 70 are more likely to have ED compared to 5 percent between ages 20 – 40.
Studies have shown an association between gum disease and pancreatic cancer. From analyzed data of five studies between 2009 – 2014, the studies covered 213,000 participants aged 20 to 80.
Each study found erectile dysfunction (ED) was more common among men being treated for chronic periodontitis, particularly for those younger than 40 and older than 59. After accounting for other health factors, erectile dysfunction was found to be 2.28 times more common for men who had advanced gum disease than for men without it.
https://www.reuters.com/article/us-health-periodontitis-erectile-dysfunc/chronic-gum-disease-tied-to-risk-of-erectile-dysfunction-idUSKBN13K1UP
---
Stroke: In one study of 265 stroke patients, researchers found that patients with gum disease had twice as many strokes due to thickening and hardening of brain arteries as patients without. Additionally, patients with gum disease were three times as likely to have a stroke involving blood vessels in the back of the brain, which controls vision, coordination and other functions.
In a separate study of over 1,100 patients who had not experienced a stroke, researchers noted that 10 percent had severely blocked brain arteries. They also found that patients with gum inflammation were twice as likely to have moderately severe narrowing of brain arteries.
---
Pre-Term Babies: The elevated hormone levels during pregnancy create a higher vulnerability to gum disease; the reason about half of pregnant females experience swollen, red and tender gums that bleed while brushing. Known as Pregnancy Gingivitis, the gums are more susceptible to inflammation, thus more sensitive to the bacteria of gum disease.
Studies have shown that gum disease increases the risk for preterm delivery (before 37 weeks) and low birth weight babies. Gum disease also increases the risk for poor obstetrical outcomes, late miscarriage and pre-eclampsia. For example, the preterm birth rate for women without periodontal disease is approximately 11 percent compared to nearly 29 percent for females with moderate to severe gum disease.
Through tears in gum tissues, oral bacteria can enter the bloodstream. Once this bacteria reaches placental membranes, it can trigger inflammation that can cause preeclampsia or labor.
---
Arthritis: For decades, it was perceived that RA (rheumatoid arthritis) patients had such a high risk of gum disease due to poor oral hygiene because of dexterity problems with using a toothbrush. However, more recent studies now show that gum disease is actually a risk factor for arthritis.
While genetic factors certainly contribute to greater RA susceptibility, the true source has been determined to be inflammatory reactions. This inflammation is triggered primarily by bacterial infections, with oral bacteria being a significant contributor to inflammatory arthritis.
They found that people with severe periodontal disease also had severe rheumatoid arthritis. Patients with the most plaque, bleeding and gum tissue breakdown had worse RA by all measures, including disease activity and inflammatory markers. Other studies have found that even with treatment, RA patients with periodontitis continue to have worse arthritis symptoms and are 50% less likely to be in remission.
The relationship between gum disease and arthritis isn't seen only in adults. Kids with juvenile idiopathic arthritis (JIA) have inflammatory mouth bacteria not found in their healthy peers.  Different types of bacteria seem to correspond to specific aspects of JIA. Some are associated with higher disease activity and others with a greater number of affected joints.
https://www.arthritis.org/health-wellness/about-arthritis/understanding-arthritis/mouth-bacteria
---
Pancreatic Cancer: Research reveals that the bacteria of gum disease may contribute to a higher risk of pancreatic cancer. Through a cancer prevention and screening study, the National Cancer Institute and American Cancer Society studied oral samples. Their findings showed notably higher levels of two types of oral bacteria in study participants with pancreatic cancer. One bacteria was found to create a 50 percent increased risk for pancreatic cancer and a second bacteria led to a 59 percent greater likelihood.
The results indicated a significantly positive association between periodontal disease and the risk of pancreatic cancer.
---
Although I could go on and on citing studies and research findings, I think you get the picture. The need for good oral health is indisputable.
Signs and symptoms of gum disease are gums that bleed when brushing, frequent bad breath, tender gums that turn red in color, swollen gums, receded and sensitive gums. If you have any of these, please know that gum disease will only worsen without treatment. It is also the leading cause of adult tooth loss.
For an examination, or to begin with a consultation, call 828-274-9440.