Blog Archives
Recent Posts
Categories
Archives
Don't Let Misaligned Teeth Lead To Tooth Loss.
Posted on Feb 25, 2019 by William J. Claiborne, DDS MS
As a periodontist, I have specialized skills in treating all stages of gum disease (known as periodontal disease, or simply "perio" by some). I also have advanced training in the diagnosis and placement of dental implants.
Although my specialty does not cover the advanced training an orthodontist has in bite alignment, my dental education absolutely covered the benefits of having proper "occlusion." It also covered the repercussions of NOT having a bite that is properly balanced.
Just as an orthodontist can spot telltale signs of gum inflammation, I (along with general dentists and most dental specialists) can see indications of teeth that are not working in unison — even at times when these teeth appear to be "straight."
While the nation's number one cause of adult tooth loss is gum disease, having a misaligned bite function (or "malocclusion") can lead to tooth loss in ways you may not have realized.
For example, during chewing, the upper teeth and lower teeth are designed to work harmoniously together to grind food down for swallowing and digesting. When an upper tooth does not interact smoothly with one below it (or vice versa), a tooth can become chipped, broken or fractured.
When damage to a tooth occurs, it must be quickly repaired before oral bacteria can penetrate tooth structures. Without the protection of enamel, oral bacteria can cause tooth decay and gum disease.
A fracture in a tooth can expand over time, leading to a crack that loosens an entire segment of a tooth. These areas must also be repaired before the tooth is subjected to oral bacteria. This typically requires a crown (or "cap") that is placed over the top portion of the tooth.
However, a crack in a tooth that extends into the gum tissues typically means the tooth must be removed. If a portion of the tooth breaks "just below" the gum tissue, the tooth can sometimes be saved by a procedure we do called a "crown lengthening." This is often known as a gingivectomy and is performed to remove excess gum tissues.
A gingivectomy procedure exposes more of the natural tooth so a crown can be placed over the tooth to preserve its remaining structure. (For people who have a "gummy smile," this is performed, also, to reduce the amount of gum tissue that arches over teeth most visible in a smile.)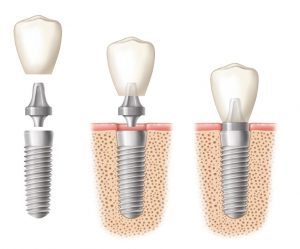 Another hazard of bite misalignment relates to dental implants. The overall success rate of dental implants is very high, nearly 98 percent by some estimates (when properly selected, placed and maintained). However, when a newly-placed implant is subjected to the grinding forces of TMJ disorders, its risks for success are much lower.
People are often surprised to learn that they clench and/or grind their teeth at night – primarily due to bite misalignment. When a bite is "off," the jaw joints can become strained and inflamed. During sleep, the upper and lower jaws go on a subconscious quest of sorts, searching to find a comfortable position that eliminates the strain.
The forces behind some clenching are enough to crack open a walnut. Imagine a newly placed implant that is dependent upon the jaw bones to "heal" it into this firm foundation. When the area of bone around an implant is subjected to night after night of disruption, the implant is against the odds of becoming fully embedded in supporting bone.
Here's an example: Let's say you use a screwdriver to firmly anchor a screw into a solid block of wood. However, every day, you use a pair of pliers to grasp the screw head and wriggle it back and forth. Obviously, it wouldn't take long for the wood surrounding the length of the screw to wear down from the friction of the screw's motion, even slight as it may seem. Eventually, the screw could be easily moved back and forth and would no longer serve as a dependable base of support.
It's not unusual for more than one dental specialist to work with another to provide a patient with the combined skills needed in particular cases. I frequently work with other dental specialists and general dentists in a "team treatment" capacity in order to give patients optimal outcomes.
When we place an implant, our goal is for each patient to enjoy its benefits for the remainder of their life. Bite misalignment can jeopardize this. And, if you have all your natural teeth now, be sure to protect them by keeping your gums healthy and ensuring your bite is as well.
After all, every dental professional is on your team when it comes to enjoying confident smiles for a lifetime!
If you've noticed indications of gum disease (tender gums that bleed when brushing, for example) or have experienced tooth loss (or fear you are facing it), take charge of your smile now. Call 828-274-9440 to schedule a thorough examination.
Older Adults Should Make Oral Health VERY High Priority.
Posted on Feb 17, 2019 by William J. Claiborne, DDS MS
Whoever said, "Growing old is not for sissies!" surely knew what he or she was talking about. That statement seems to describe the process pretty accurately, for those who endure it!
While the visual signs of growing old – hair thinning (or loss), wrinkles, sagging skin, age spots, and shifting fat – is apparent, those are minor in comparison to the aches, pains, and challenges that persist 'below the surface.'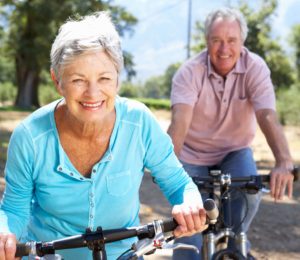 From aching joints to loss of muscle strength to poor eyesight to memory decline (and a long list in-between), the aging process adds health challenges that seem to grow in number and severity with each passing year. Sadly, increased risk of tooth loss seems to be part of the process.
A five-year study by the National Health & Nutrition Examination Survey showed that Americans ages 65 and over have lost an average 19 natural teeth with over 27 percent having no remaining teeth (known as being edentulous).
While tooth loss is often perceived as a normal part of the aging process, it is not. Keeping one's teeth throughout a lifetime is very possible. And, maintaining one's natural teeth have been associated with living a longer life.
Healthy teeth begin with a health foundation — your gums. Good oral health has been shown to reduce risks for serious health conditions (including heart disease, stroke, and some cancers) elsewhere in the body. In addition to being able to keep your teeth, natural teeth are a bonus to biting, proper chewing, and nutritional intake.
It has also been shown that wearing dentures is a poor method of 'replacing' them. Even though they recreate the appearance of teeth and restore function (to varying extents), they can actually contribute to long-term problems.
Without natural tooth roots, which help to nourish and stimulate the jaw, supporting bone structures begin to shrink. Known as "resorption," this process of bone mass decline can eventually lead to tooth loss. Once resorption begins, unfortunately, it continues. Statistics show that adjacent teeth beside an area of tooth loss have the highest risk for being the next to be lost.
The 'gum-colored' base of dentures is also porous. This surface provides oral bacteria with tiny 'homes' that become breeding grounds for high levels of bacteria. Denture wearers have higher incidences of repiratory problems, including susceptibility to pneumonia.
RDH (registered dental hygiene) Magazine (https://www.rdhmag.com/articles/print/volume-34/issue-12/columns/infection-control/dentures-and-aspiration-pneumonia.html) shares one study of senior adults and the higher risks for those who also sleep in their dentures.
Too, with the aging process also comes the condition of 'dry mouth.' Saliva plays an important role in maintaining good oral health. A healthy saliva flow makes it easy to talk, swallow, taste, and digest food.
A reduction in saliva flow can increase plaque accumulation as well as the risk of developing periodontal disease. Referred to as gum disease, this can lead to tooth decay, mouth sores ,and oral infections. Inadequate saliva can contribute to bad breath, dry and cracked lips, cause the fit of dentures to become uncomfortable, and result in higher oral infection risk.
Almost half of Americans take at least one prescription daily. For adults over the age of 65, nearly 90 percent take one or more. While a number of both prescribed and OTC medications include the side effect of oral dryness for any age, age-related reductions in salivary production causes irritation to oral tissues.
Medications including antihistamines, blood pressure medications, decongestants, pain medications, diuretics and antidepressants typically cause dry mouth, which can create inflammation and higher susceptibility to infection.
Older adults obviously need to make their oral health one of their highest priorities. Fortunately, good oral health is easy to achieve. Daily brushing and flossing and regular 6-month exams and cleanings can help to minimize problems and address those that do occur at their earliest stages.
It is also important to keep your mouth moist. Drink plenty of water throughout the day. Limit foods and beverages that are caffeinated, which are drying to oral tissues. These include coffee, tea, colas and chocolate as well as spicy foods. If you take medications that have drying side effects, use an oral rinse designed to replenish moisture. Also, chew sugarless gum to help promote saliva flow.
Your diet is an important part of a healthy mouth. Evaluate your food intake carefully. Begin by limiting carbs and sugar. While all foods trigger an acid attack in the mouth for nearly 30 minutes after eating, sugar and carbs super-charge the reproduction of oral bacteria.
When teeth are lost, adults encounter a complicated set of issues – and costly challenges that can reach far beyond the mouth. As a Periodontal specialist, I've seen how simple measures can save people greatly in treatment time and expense AND prevent problems like gum disease, cavities and tooth loss.
If you have started to lose natural teeth already, let us help you halt the process! Call 828-274-9440 to schedule a consultation so we can discuss how you can regain your oral health for a lasting, healthy smile!
Cancer Risk And Gum Health
Posted on Feb 05, 2019 by William J. Claiborne, DDS MS
I know of no one who hasn't lost someone dear to them – family member or close friend – to cancer. The disease, although now more survivable than ever thanks to advancements in early detection and treatment – remains a dreaded diagnosis.
Still, a cancer diagnosis often drags entire families through the battle. Treatment can be lengthy and time-consuming as well as financially and emotionally draining. Some diagnoses are considered 'death sentences,' with terribly low survival rates. For instance, pancreatic cancer's 5-year survival rate, depending on the type, ranges between 3 – 9 percent. (https://www.pancan.org/facing-pancreatic-cancer/about-pancreatic-cancer/survival-rate/)
Decades of research has resulted in improved measures, and many cancers once thought dooming are now very treatable. Success rates are improving with most survivors going on to live normal, healthy, active lives.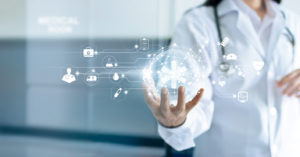 Preventing cancer isn't a simple matter. We know that a healthy lifestyle can help but isn't a guarantee for avoiding it. Cancer can result from a number of triggers. For example, smoking is a known contributor to oral and lung cancer. The toxic chemicals delivered through cigarette smoke are proven activators in some cancer development.
As research has been able to go deeper into the cause-&-effect of various cancers, the health of periodontal tissues are coming to light as having an intricate role in your overall health, including your risk for developing some cancers.
Periodontal disease, often referred to as gum disease, runs rampant in the U.S. According to the Centers for Disease Control & Prevention (CDC), over 47 percent of adults over the age of 30 have some level of gum disease. For adults over the age of 65, this figure increases to 70 percent.
This is a frightening statistic considering the devastation that infectious bacteria of periodontal disease can cause. While it is the nation's leading cause of adult tooth loss, research has also revealed links to increased risk of heart disease, stroke, arthritis, diabetes, preterm babies, high blood pressure, and erectile dysfunction (ED).
Yet, much progress is being made in tracking down activators of cancer in the body. For instance, research shared in a January 2018 article in Medical News Today revealed exciting progress along these lines. (https://www.medicalnewstoday.com/articles/320634.php)
Researchers found that some gastrointestinal cancers, such as pancreatic cancer, share an enzyme. This enzyme, typically found in the mouth, serves as the "boosting" agent in the development of gum disease. They noted that the enzyme was also present in certain cancerous tumors.
In additional research shared by the AACR (American Association For Cancer Research), cited that previous research has revealed gum disease as a risk factor for breast, oral, and esophageal cancers. (https://www.aacrfoundation.org/Science/Pages/assessing-gum-disease-cancer-risk.aspx). The warn that women, especially, should be urged to maintain good periodontal disease to lower their risk of additional types of cancer.
One study showed that post-menopausal females were more susceptible to several cancers.
Between 1999 – 2003, researchers monitored cancer outcomes of female participants ages 54 to 86 through self-reported questionnaires onn periodontal disease. The study showed that: "a history of gum disease was associated with a 14 percent higher risk of developing any cancer".
The greatest association was for cancer of the esophagus, which was more than 3 times more likely in women with periodontal disease than women who did not list having periodontal disease. Lung cancer, gallbladder cancer, melanoma, and breast cancer were also associated with higher risk.
Although women who smoked had higher risks for breast cancer, lung cancer, and gallbladder cancer, non-smokers with gum disease also had increased risks of these cancers.
Still not fully understood, it is suspected that gum disease bacteria are able to enter the bloodstream through diseased gum tissues. This allows them to reach other body sites and contribute to "carcinogenesis", the process where normal cells are transformed into cancer cells, leading to the formation of cancer.
Because the study consisted of self-reported data, the study's authors suspect the prevalence of periodontal disease may have been under-reported. This would make the percentages even higher. While further research is needed through more precise assessments of periodontal disease, these statistics are helpful in confirming the link between periodontal disease and cancer.
This study also reinforces previous findings that show our oral health is more closely related to our overall health than most are aware. As a periodontal specialist, I urge you to be aware of the signs and symptoms associated with all stages of gum disease. These include tender gums that bleed easily when brushing, gums that turn red in color, frequent bad breath, and gums that loosen their grip around teeth.
For more, you may find it helpful to visit the web site of the American Academy of Periodontology: www.perio.org.
A periodontist is a dental specialist with advanced training in the diagnosis and treatment of all stages of gum disease. This advanced care is your wisest choice for tackling gum disease and having good oral health at any age. For more information or to schedule an appointment, call 828-274-9440 or tap here to begin.