Learn More Blog
Cancer Risk And Gum Health
Posted on Feb 05, 2019 by William J. Claiborne, DDS MS
I know of no one who hasn't lost someone dear to them – family member or close friend – to cancer. The disease, although now more survivable than ever thanks to advancements in early detection and treatment – remains a dreaded diagnosis.
Still, a cancer diagnosis often drags entire families through the battle. Treatment can be lengthy and time-consuming as well as financially and emotionally draining. Some diagnoses are considered 'death sentences,' with terribly low survival rates. For instance, pancreatic cancer's 5-year survival rate, depending on the type, ranges between 3 – 9 percent. (https://www.pancan.org/facing-pancreatic-cancer/about-pancreatic-cancer/survival-rate/)
Decades of research has resulted in improved measures, and many cancers once thought dooming are now very treatable. Success rates are improving with most survivors going on to live normal, healthy, active lives.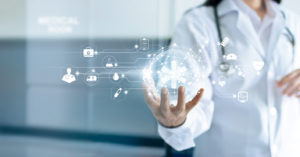 Preventing cancer isn't a simple matter. We know that a healthy lifestyle can help but isn't a guarantee for avoiding it. Cancer can result from a number of triggers. For example, smoking is a known contributor to oral and lung cancer. The toxic chemicals delivered through cigarette smoke are proven activators in some cancer development.
As research has been able to go deeper into the cause-&-effect of various cancers, the health of periodontal tissues are coming to light as having an intricate role in your overall health, including your risk for developing some cancers.
Periodontal disease, often referred to as gum disease, runs rampant in the U.S. According to the Centers for Disease Control & Prevention (CDC), over 47 percent of adults over the age of 30 have some level of gum disease. For adults over the age of 65, this figure increases to 70 percent.
This is a frightening statistic considering the devastation that infectious bacteria of periodontal disease can cause. While it is the nation's leading cause of adult tooth loss, research has also revealed links to increased risk of heart disease, stroke, arthritis, diabetes, preterm babies, high blood pressure, and erectile dysfunction (ED).
Yet, much progress is being made in tracking down activators of cancer in the body. For instance, research shared in a January 2018 article in Medical News Today revealed exciting progress along these lines. (https://www.medicalnewstoday.com/articles/320634.php)
Researchers found that some gastrointestinal cancers, such as pancreatic cancer, share an enzyme. This enzyme, typically found in the mouth, serves as the "boosting" agent in the development of gum disease. They noted that the enzyme was also present in certain cancerous tumors.
In additional research shared by the AACR (American Association For Cancer Research), cited that previous research has revealed gum disease as a risk factor for breast, oral, and esophageal cancers. (https://www.aacrfoundation.org/Science/Pages/assessing-gum-disease-cancer-risk.aspx). The warn that women, especially, should be urged to maintain good periodontal disease to lower their risk of additional types of cancer.
One study showed that post-menopausal females were more susceptible to several cancers.
Between 1999 – 2003, researchers monitored cancer outcomes of female participants ages 54 to 86 through self-reported questionnaires onn periodontal disease. The study showed that: "a history of gum disease was associated with a 14 percent higher risk of developing any cancer".
The greatest association was for cancer of the esophagus, which was more than 3 times more likely in women with periodontal disease than women who did not list having periodontal disease. Lung cancer, gallbladder cancer, melanoma, and breast cancer were also associated with higher risk.
Although women who smoked had higher risks for breast cancer, lung cancer, and gallbladder cancer, non-smokers with gum disease also had increased risks of these cancers.
Still not fully understood, it is suspected that gum disease bacteria are able to enter the bloodstream through diseased gum tissues. This allows them to reach other body sites and contribute to "carcinogenesis", the process where normal cells are transformed into cancer cells, leading to the formation of cancer.
Because the study consisted of self-reported data, the study's authors suspect the prevalence of periodontal disease may have been under-reported. This would make the percentages even higher. While further research is needed through more precise assessments of periodontal disease, these statistics are helpful in confirming the link between periodontal disease and cancer.
This study also reinforces previous findings that show our oral health is more closely related to our overall health than most are aware. As a periodontal specialist, I urge you to be aware of the signs and symptoms associated with all stages of gum disease. These include tender gums that bleed easily when brushing, gums that turn red in color, frequent bad breath, and gums that loosen their grip around teeth.
For more, you may find it helpful to visit the web site of the American Academy of Periodontology: www.perio.org.
A periodontist is a dental specialist with advanced training in the diagnosis and treatment of all stages of gum disease. This advanced care is your wisest choice for tackling gum disease and having good oral health at any age. For more information or to schedule an appointment, call 828-274-9440 or tap here to begin.
Recent Posts
Categories
Archives