Blog Archives
Recent Posts
Categories
Archives
Some Surprising Repercussions of Dental Fear
Posted on Mar 24, 2022 by William J. Claiborne, DDS MS
Dental fear has been ranked fifth among the most common of all fears, affecting nearly 50 million people in the U.S. Although a traumatic dental experience during childhood is often assumed to be the leading cause of dental fear, some findings show this is the case for about half of these adults.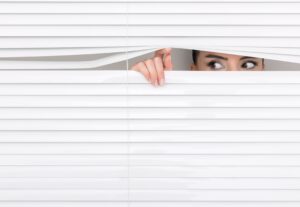 For decades, dental fear has been to blame for many adults failing to have adequate oral health. Although cost, access, and awareness of need can be factors, nearly half of American adults avoid dentistry due to having some level of associated fear.
There are a number of false perceptions that don't help lower this statistic. For example, a parent who tells a child "It won't hurt much" before a dental visit simply sets the anticipation of pain into place. Hearing things like "That'll be worse than a root canal," and "nothing is wrong because nothing hurts," add to the misconceptions when it comes to the reasons for avoiding regular, preventive dental care.
By some estimates, an adult with dental fear will endure pain for over two weeks to avoid seeing a dentist. They will self-medicate, use ice packs or try 'home remedies' found online, all to no avail. Some people end up in an emergency room because they could not force themselves to see a dentist.
Another factor may have to do with genetic makeup. In research conducted at the National Institute of Dental & Craniofacial Oral Health Research Center in Appalachia, "a gene variant was found that may contribute to heightened pain sensitivity and thus dental anxiety."
https://www.proquest.com/openview/7df1b384b0fb8a79f854e9f304c524c1/1?pq-origsite=gscholar&cbl=30166
https://www.wiley.com/en-gb/Behavioral+Dentistry%2C+2nd+Edition-p-9781118272060
If you've ever heard the term, "you don't know what you don't know," this is especially true for oral health. Although people are generally aware that insufficient oral hygiene can lead to bad breath and cavities, too many are unaware of some far worse consequences. Poor oral hygiene at home and lack of regular dental check-ups and cleanings form a straight line to developing periodontal (gum) disease.
While gum disease is the nation's leading cause of adult tooth loss, it can also contribute to devastating health problems far beyond the mouth. The bacteria of gum disease are inflammatory. These infectious bacteria can enter the bloodstream through tears in weakened gum tissues, triggering a number of serious reactions.
To name a few, gum disease bacteria has been associated with the development or worsening of:
• Heart disease
• Stroke
• Alzheimer's disease
• Pre-term babies
• Arthritis
• Diabetes
• High blood pressure
• Some cancers
Obviously, these bacteria are highly potent. Although being committed to a thorough, twice daily oral hygiene regimen at home is an important part of having good oral health, regular dental care is also necessary. These visits help to catch early signs of gum disease (which can begin without obvious symptoms). Early treatment can help to reduce treatment costs and time. And, the care can be essentially 'painless' when administered by the advanced skills of a periodontal specialist.
As a periodontist in Asheville NC, I want to be encouraging to adults about the risks associated with lack of dental care. I can cite the hazards of non-compliance of regular check-ups over and over. But, for people who have deep-seated fears when it comes to dental visits, far more support is needed to help an individual go from being fearful to relaxed.
A periodontal specialist has advanced training and skills in the diagnosis and placement of all types of dental implants. In our beautiful Asheville periodontal dental office, patient comfort is a priority at every visit. Our office is designed to pamper patients from the moment they enter. For certain procedures or patients who prefer the addition of sedatives, we offer oral sedation as well as I.V. sedation (twilight sleep).
Oral sedation is a pill that helps patients relax. It also has an amnesiac effect, leaving most with little or no memory of treatment afterward.
I.V. sedation places the patient in a deeper sleep state, also erasing memory of the procedure. It is administered by a doctor of anesthesiology for optimal comfort and safety. In our office, this is overseen by a board certified Anesthesiologist.
With both sedation options, patients are closely monitored with advanced safety equipment throughout treatment.
When patients realize our goal is to provide exceptional care in comfort, they relax. Over time, many patients feel they no longer need a sedative and are able to have regular dental care without worry.
Another way we enhance comfort for our patients is through our immense array of dental technology. In many cases, this advanced technology shortens both treatment time and speeds healing. For example, our LANAP (Laser-Assisted New Attachment Procedure) provides an advanced protocol to efficiently and effectively treat periodontitis (advanced gum disease).
Essentially non-surgical, LANAP treatment provides an alternative for patients with moderate to severe periodontal disease with a quick recovery time.
Regardless of numerous features to optimize patient comfort, it's still difficult for many to feel 'ready' for dental care. We can reassure people on the phone, yet, some simply cannot make an appointment and actually arrive. This is why we often begin with a consultation in our comfortable, private consultation room. This room is removed from the clinical side of the office.
To learn more, call 828-274-9440 to begin with a consultation appointment. New patients are always welcome and a referral is not required.
Some Amazing History & 'Back Stories" of Dental Implants!
Posted on Mar 11, 2022 by William J. Claiborne, DDS MS
Some "baby boomers" may recall a popular television show, The Six Million Dollar Man. The series ran from 1973 to 1978, with Lee Majors playing the role of Steve Austin, a former astronaut. After a NASA test flight accident, Steve had been rebuilt with bionic implants that gave him a number of superhuman qualities.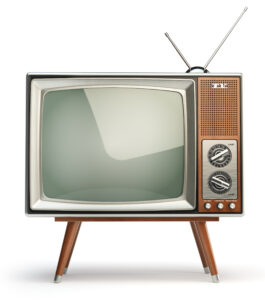 When this aired over 40 years ago, it seemed so futuristic; yet today, bionic implants are rather commonplace. One of the reasons is through the refined use of titanium.
Titanium was discovered in Great Britain in 1791 and named after the Titans of Greek mythology. Titanium is 60 percent denser than aluminum, but more than twice as strong. Titanium is non-magnetic, resistant to corrosion and has a strength-to-density ratio that is the highest of any metallic element. 
Titanium can be alloyed (combined with additional element(s), such as iron, aluminum, vanadium, and other elements. These combinations can produce strong, lightweight alloys for a vast number of uses. Titanium is used for jet engines, missiles, spacecraft, and in the military, automotive, agriculture (farming) industries. Titanium is often used in medical prostheses, orthopedic implants, dental instruments used in root canals, and dental implants. Other uses range from components in sporting goods (such as golf clubs), jewelry and mobile phones.
Because titanium alloys have a high crack resistance, they are used in aircraft, armor plating, naval ships, spacecraft, and missiles. About two-thirds of all titanium metal produced is used in aircraft engines and frames. Titanium is also used in nuclear waste storage.
Because titanium is resistant to corrosion by sea water, it is used to make propeller shafts, rigging, and heat exchangers in desalination plants; along with many other uses for salt water components. Titanium is used in the housings and components of ocean-deployed surveillance and monitoring devices for science and the military. 
The human body has also been given the advantages of titanium as it is biocompatible (non-toxic and not rejected by the body). Titanium is often used in surgical instruments, such as those used in image-guided surgery, as well as wheelchairs, crutches, and any other products where high strength and low weight are desirable. Inside the body, titanium is common in surgical implements and implants, such as hip balls and sockets (joint replacement) and dental implants that can remain dependably positioned for decades.
For orthopedic implants, the use of titanium means that skeletal loads are more evenly shared between bone and implant. This lowers the potential for bone degradation due to stress, reducing the risk of bone fractures, which have a tendency to occur at the boundaries of orthopedic implants. 
Patients with titanium implants can be safely examined with magnetic resonance imaging (MRI).
When you think of dental implants – or other implants-in-bone, such as knees, hip joints, etc. – titanium has the remarkable ability to osseointegrate. Osseointegration is a term used when an artificial implant is surgically anchored into bone, in which the bone then grows around the implant. This restores strength and stability to the bone that can offer a lifetime solution. 
The bone in which an implant is placed also benefits from the presence of titanium. In the jaw bone, where natural tooth roots are missing, their absence leaves the bone mass without stimulation once provided by the tooth's roots. This stimulation is what helps the bone to maintain its mass.
Once bone loss begins, the pace of bone shrinkage, known as resorption, accelerates over time. The declining bone mass soon begins to cause a number of problems, including a change in the way a denture or partial fits.
Additionally, losing jaw bone mass causes changes in facial appearance. It may first appear as deep wrinkling around the mouth and as the corners of the mouth begin to turn downward, even when smiling. Jowls form as facial muscles detach from the shrinking bone. Over time, the mouth begins to sink inward and the chin moves closer to the tip of the nose.
Placing a dental implant into the bone halts the process of resorption. It recreates the stimulation once provided by natural tooth roots. And, because of the strength and stability of the implanted portions, patients with dental implants can rely on eating the foods they love again, biting and chewing with confidence.
https://en.wikipedia.org/wiki/Titanium
Having teeth is important for a number of reasons (eating, speech, appearance), which has been recognized throughout history. The first evidence of dental implants is attributed to the Mayan population roughly around 600 AD where they excelled in utilizing pieces of shells as implants as a replacement for mandibular teeth. Radiographs of Mayan mandibles show compact bone formation around the implants. It has also been found that, around 800 AD, a stone implant was shaped and placed in the lower jaw in early Honduran culture.
In addition to being the first U.S. president, George Washington is famous for his "wooden" teeth. History reveals that Mr. Washington suffered from dental problems from his twenties on. As a matter of fact, in his First Inaugural Address speech in 1789, Washington had only a single remaining natural tooth. Over the years, he wore several sets of dentures, but none made of wood. These were fashioned out of materials that included ivory, gold, lead, and human teeth.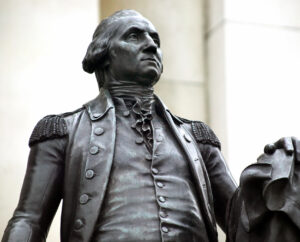 In a letter to Washington from dentist John Greenwood (who fabricated dentures for Washington), he pointed out the staining of the dentures, likely due to consumption of Port wine. Dr. Greenwood cited the staining was what gave the dentures a grained, wooden appearance.
https://www.mountvernon.org/library/digitalhistory/digital-encyclopedia/article/wooden-teeth-myth/
Today, most of the "teeth" portions (restorations) are made of porcelain. Porcelain provides the most natural look and feel of "real" teeth with a similar luminosity of that of natural teeth. Porcelain is also highly durable the most resistant to staining.
To clarify a "dental implant", it is a term that sums up what is actually a combination of components. Dental implants are typically three segments – the implanted portion that is held in the jaw bone, a post (abutment) that is positioned inside the implant and extends above the gums, and the attached replacement teeth (restorations).
A periodontist has have three years of specialized training beyond dental school to make them experts on both soft and hard tissues. Thus, they have the ideal combination of experience and knowledge to make sure you get a dental implant solution that looks and feels like your own teeth.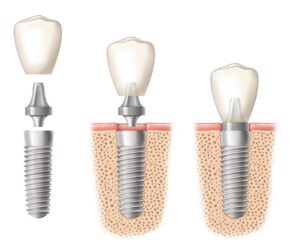 Because many people have lost one or more teeth due to periodontal disease, periodontists are an ideal choice in helping restore the gums to a healthy state while determining the best type of dental implant, and then placing the implant at the proper angle and depth. 
Additionally, a periodontist can perform pre-implant placement procedures, which may be needed in certain cases. These can include:
Sinus Augmentation – The upper back jaw has traditionally been one of the most difficult areas to successfully place dental implants due to insufficient bone quantity and quality and the close proximity to the sinus. Sinus augmentation can help correct this problem by raising the sinus floor and developing bone for the placement of dental implants.
Ridge Modification – Deformities in the upper or lower jaw can leave you with and inadequate amount of bone in which to place dental implants. To correct the problem, the gum is lifted away from the ridge to expose the void where bone is missing. The void is then filled with bone or bone substitute to build up the ridge. Ridge modification has been shown to greatly improve the jaw's appearance and increase the chances of successful implants.
Once your dental implant(s) is in place, your periodontal specialist can create a plan to help you maintain healthy implants, particularly in the prevention of peri-implant disease.
Peri-implant diseases are inflammatory conditions affecting the soft and hard gum tissues around dental implants. Similar to a natural tooth, bacteria can build up on the base of the implant, below the gum line. Over time, the bacteria irritate the gum tissue, causing it to become inflamed, damaging the tissue and if not caught early, causing the bone structure below the implant to deteriorate.
The history of dental implants is interesting, yet, what people want is to have their smile back and to enjoy the function of "real" teeth. Although the back stories of dental implants are many, what is most important is that we restore your smile and help you enjoy it for your lifetime.
Begin with a consultation in our comfortable Asheville periodontal dental office. Here, we can discuss what may be best for your needs in a private setting. We can discuss comfort options (including sedation), and estimated costs and treatment time. Here, you will be respected and treated with the compassion we would want for ourselves and loved ones.
Call 828-274-9440 to begin. You'll speak with a member of our staff who will be happy to assist you.