Insurance Coverage & Payment Plans
Some Amazing History & 'Back Stories" of Dental Implants!
Posted on Mar 11, 2022 by William J. Claiborne, DDS MS
Some "baby boomers" may recall a popular television show, The Six Million Dollar Man. The series ran from 1973 to 1978, with Lee Majors playing the role of Steve Austin, a former astronaut. After a NASA test flight accident, Steve had been rebuilt with bionic implants that gave him a number of superhuman qualities.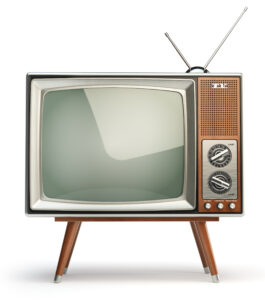 When this aired over 40 years ago, it seemed so futuristic; yet today, bionic implants are rather commonplace. One of the reasons is through the refined use of titanium.
Titanium was discovered in Great Britain in 1791 and named after the Titans of Greek mythology. Titanium is 60 percent denser than aluminum, but more than twice as strong. Titanium is non-magnetic, resistant to corrosion and has a strength-to-density ratio that is the highest of any metallic element. 
Titanium can be alloyed (combined with additional element(s), such as iron, aluminum, vanadium, and other elements. These combinations can produce strong, lightweight alloys for a vast number of uses. Titanium is used for jet engines, missiles, spacecraft, and in the military, automotive, agriculture (farming) industries. Titanium is often used in medical prostheses, orthopedic implants, dental instruments used in root canals, and dental implants. Other uses range from components in sporting goods (such as golf clubs), jewelry and mobile phones.
Because titanium alloys have a high crack resistance, they are used in aircraft, armor plating, naval ships, spacecraft, and missiles. About two-thirds of all titanium metal produced is used in aircraft engines and frames. Titanium is also used in nuclear waste storage.
Because titanium is resistant to corrosion by sea water, it is used to make propeller shafts, rigging, and heat exchangers in desalination plants; along with many other uses for salt water components. Titanium is used in the housings and components of ocean-deployed surveillance and monitoring devices for science and the military. 
The human body has also been given the advantages of titanium as it is biocompatible (non-toxic and not rejected by the body). Titanium is often used in surgical instruments, such as those used in image-guided surgery, as well as wheelchairs, crutches, and any other products where high strength and low weight are desirable. Inside the body, titanium is common in surgical implements and implants, such as hip balls and sockets (joint replacement) and dental implants that can remain dependably positioned for decades.
For orthopedic implants, the use of titanium means that skeletal loads are more evenly shared between bone and implant. This lowers the potential for bone degradation due to stress, reducing the risk of bone fractures, which have a tendency to occur at the boundaries of orthopedic implants. 
Patients with titanium implants can be safely examined with magnetic resonance imaging (MRI).
When you think of dental implants – or other implants-in-bone, such as knees, hip joints, etc. – titanium has the remarkable ability to osseointegrate. Osseointegration is a term used when an artificial implant is surgically anchored into bone, in which the bone then grows around the implant. This restores strength and stability to the bone that can offer a lifetime solution. 
The bone in which an implant is placed also benefits from the presence of titanium. In the jaw bone, where natural tooth roots are missing, their absence leaves the bone mass without stimulation once provided by the tooth's roots. This stimulation is what helps the bone to maintain its mass.
Once bone loss begins, the pace of bone shrinkage, known as resorption, accelerates over time. The declining bone mass soon begins to cause a number of problems, including a change in the way a denture or partial fits.
Additionally, losing jaw bone mass causes changes in facial appearance. It may first appear as deep wrinkling around the mouth and as the corners of the mouth begin to turn downward, even when smiling. Jowls form as facial muscles detach from the shrinking bone. Over time, the mouth begins to sink inward and the chin moves closer to the tip of the nose.
Placing a dental implant into the bone halts the process of resorption. It recreates the stimulation once provided by natural tooth roots. And, because of the strength and stability of the implanted portions, patients with dental implants can rely on eating the foods they love again, biting and chewing with confidence.
https://en.wikipedia.org/wiki/Titanium
Having teeth is important for a number of reasons (eating, speech, appearance), which has been recognized throughout history. The first evidence of dental implants is attributed to the Mayan population roughly around 600 AD where they excelled in utilizing pieces of shells as implants as a replacement for mandibular teeth. Radiographs of Mayan mandibles show compact bone formation around the implants. It has also been found that, around 800 AD, a stone implant was shaped and placed in the lower jaw in early Honduran culture.
In addition to being the first U.S. president, George Washington is famous for his "wooden" teeth. History reveals that Mr. Washington suffered from dental problems from his twenties on. As a matter of fact, in his First Inaugural Address speech in 1789, Washington had only a single remaining natural tooth. Over the years, he wore several sets of dentures, but none made of wood. These were fashioned out of materials that included ivory, gold, lead, and human teeth.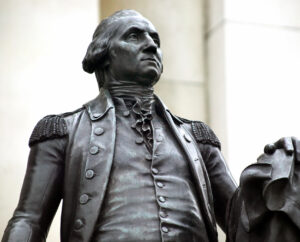 In a letter to Washington from dentist John Greenwood (who fabricated dentures for Washington), he pointed out the staining of the dentures, likely due to consumption of Port wine. Dr. Greenwood cited the staining was what gave the dentures a grained, wooden appearance.
https://www.mountvernon.org/library/digitalhistory/digital-encyclopedia/article/wooden-teeth-myth/
Today, most of the "teeth" portions (restorations) are made of porcelain. Porcelain provides the most natural look and feel of "real" teeth with a similar luminosity of that of natural teeth. Porcelain is also highly durable the most resistant to staining.
To clarify a "dental implant", it is a term that sums up what is actually a combination of components. Dental implants are typically three segments – the implanted portion that is held in the jaw bone, a post (abutment) that is positioned inside the implant and extends above the gums, and the attached replacement teeth (restorations).
A periodontist has have three years of specialized training beyond dental school to make them experts on both soft and hard tissues. Thus, they have the ideal combination of experience and knowledge to make sure you get a dental implant solution that looks and feels like your own teeth.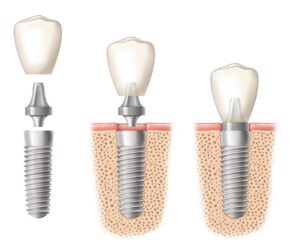 Because many people have lost one or more teeth due to periodontal disease, periodontists are an ideal choice in helping restore the gums to a healthy state while determining the best type of dental implant, and then placing the implant at the proper angle and depth. 
Additionally, a periodontist can perform pre-implant placement procedures, which may be needed in certain cases. These can include:
Sinus Augmentation – The upper back jaw has traditionally been one of the most difficult areas to successfully place dental implants due to insufficient bone quantity and quality and the close proximity to the sinus. Sinus augmentation can help correct this problem by raising the sinus floor and developing bone for the placement of dental implants.
Ridge Modification – Deformities in the upper or lower jaw can leave you with and inadequate amount of bone in which to place dental implants. To correct the problem, the gum is lifted away from the ridge to expose the void where bone is missing. The void is then filled with bone or bone substitute to build up the ridge. Ridge modification has been shown to greatly improve the jaw's appearance and increase the chances of successful implants.
Once your dental implant(s) is in place, your periodontal specialist can create a plan to help you maintain healthy implants, particularly in the prevention of peri-implant disease.
Peri-implant diseases are inflammatory conditions affecting the soft and hard gum tissues around dental implants. Similar to a natural tooth, bacteria can build up on the base of the implant, below the gum line. Over time, the bacteria irritate the gum tissue, causing it to become inflamed, damaging the tissue and if not caught early, causing the bone structure below the implant to deteriorate.
The history of dental implants is interesting, yet, what people want is to have their smile back and to enjoy the function of "real" teeth. Although the back stories of dental implants are many, what is most important is that we restore your smile and help you enjoy it for your lifetime.
Begin with a consultation in our comfortable Asheville periodontal dental office. Here, we can discuss what may be best for your needs in a private setting. We can discuss comfort options (including sedation), and estimated costs and treatment time. Here, you will be respected and treated with the compassion we would want for ourselves and loved ones.
Call 828-274-9440 to begin. You'll speak with a member of our staff who will be happy to assist you.
Ages 65 & Over: Stay More Socially Involved With A Healthy Smile.
Posted on Feb 09, 2022 by William J. Claiborne, DDS MS
Science has shown that the act of smiling gives a boost to our mood. Even a "fake" smile triggers endorphins (feel-good chemicals) in the brain to release, providing a bit of a "natural high."
There are many things that make us smile. Time spent with friends, family, and social activity are helpful in keeping an individual active and involved, and hopefully smiling. Unfortunately, older adults are more prone to social isolation. This has proven to be unhealthy, mentally, physically and yes, even for the health of a smile.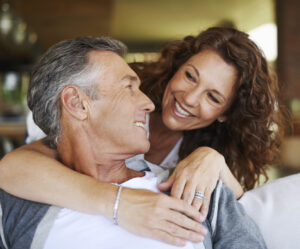 Older adults are already at a disadvantage when it comes to having a healthy, full smile. Some estimates show that over one-quarter (26 percent) of adults ages 65 and older have 8 or less remaining natural teeth. About 17 percent in this same age category are missing all of their teeth.
On a positive note, total tooth loss (being "fully edentulous") in the 65 or older category is decreasing. When comparing the 5-year periods of 1999–2004 to 2011–2016, it dropped by nearly 30 percent.
However, tooth loss comes with many frustrations, and even embarrassment. Many adults who wear dentures or partial dentures to replace missing teeth have similar complaints: sore spots on tender gum tissues, difficulty biting or chewing, slips while speaking or laughing, discomfort and the fear of embarrassment.
These frustrations often lead to (1) a change in diet; and (2) less social involvement. When certain foods become too difficult to chew properly, adults often alter their diet, opting for softer foods that dissolve easily in the mouth. Unfortunately, these foods typically lack in protein and fiber needed for good health.
Too, improper chewing is challenging to the digestive system. It is no wonder that denture wearers have more gastrointestinal problems and take more medications than people who still have their natural teeth.
Social isolation and loneliness have been linked to numerous measures of health and well-being. One interesting study focused specifically on the effects of social isolation and loneliness in relationship to oral health.
The Chinese Longitudinal Healthy Longevity Survey was conducted in three time segments: 2011-12, 2014 and 2018. The purpose of the study was to asssess the effects of social isolation and loneliness on the rate of tooth loss.
Data of the survey was evaluated, with nearly 4300 adults 65 and older who were participants in at least two of the time segments. The findings showed that, as tooth loss increased, so did social isolation. This study provided strong evidence that social isolation was associated with fewer remaining teeth and even accelerated the pace of tooth loss.
This problem is not just one of our current 65+ age group. According to the U.S. Census, the number of American adults aged 65 years or older is expected to reach 98 million by 2060, making up nearly one-quarter of the overall population. This means that a 30-year-old today will be well within this age group in less than 40 years.
Currently, the poorest oral health in Americans 65 and over are those who are economically disadvantaged, have no insurance, smoke, and in racial and ethnic minorities. Additional factors are being disabled, homebound, or who live in nursing homes. After retirement, some adults lose insurance benefits and find that Medicare does not cover routine dental care.
A high percentage of older adults also have periodontal (gum) disease, the nation's leading cause of adult tooth loss. Nearly 68 percent of adults aged 65 years or older have some level of gum disease. While nearly 1 in 5 older adults have lost all of their teeth, total tooth loss is twice as prevalent for adults ages 75 and older compared with the 65-74 age group.
Aging also increases the likelihood of developing oral cancer. Oral and pharyngeal cancers are primarily diagnosed in older adults at a median age of 62 years. Gum disease also increases risks of chronic diseases including arthritis, diabetes, heart disease, and stroke.
All of these challenges are why a periodontist can be instrumental in the health and well-being of adults, especially those in the "older" age groups.
A periodontist is a dental specialist who receives 4 years of undergraduate training at a college or university and goes on to earn a dental doctorate. After 4 years of dental school, they further their education for another 3-4 years before completing stringent requirements for a specialty certification in periodontics.
A periodontist begins by accurately diagnosing the stage of gum disease present, or if it does exist. Many people are surprised by its presence since it can exist without obvious signs or symptoms.
From there, we develop a customized treatment plan based upon factors such as the patient's current overall health, their diet, medications, whether they smoke or drink alcohol, and their age. We also discuss sedation options if dental fear is a concern.
Treatment recommendations are made based on what will effectively resolve existing problems without over-treating or under-treating. By restoring the patient to good oral health, we are able to help many avoid tooth loss and rid their mouths (and thus, their bodies) from an overload of oral bacteria.
Periodontists also specialize in the diagnosis and placement of dental implants. They are trained to understand all the intricate concepts involved in selecting the proper type of implant. Additionally, they are skilled at placing implants at proper depths and angles. As they oversee your "healing" time, periodontists are able to optimize your comfort and outcome.
When tooth loss begins, replacing that tooth with a dental implant is highly advised. Dental implants are designed to last a lifetime and restore biting and chewing comfort and stability. Additionally, the stimulation they provide to the jaw bone helps to halt bone loss.
This is because the implanted portion, held by the jaw bone, recreates the presence of the natural tooth roots you once had. While a denture or partial is positioned on top of the gum tissues, dental implants have the advantage of the jaw bone as their foundation, just as natural teeth.
For those who feel they are "too old" for dental implants, many of our implant patients are well into their 80's or 90's.  Keep in mind that today's adults are staying in the workplace longer, staying active in senior years, and living longer. Since 1950, Americans added over 11 years to average life expectancy, to age 79, according to 2019 statistics.
At every age, your smile reflects you, and should be a positive reflection throughout your lifetime. If you are experiencing tooth loss, let's discuss halting the process during a consultation appointment in our comfortable Asheville periodontal dental office.
Call 828-274-9440 to schedule an appointment.
https://www.cdc.gov/oralhealth/basics/adult-oral-health/adult_older.htm
Contour of Gum Tissues Is Important To A Smile's Appearance
Posted on Oct 28, 2021 by William J. Claiborne, DDS MS
When people think of their smile, they tend to think primarily of their teeth. Certainly, having white, straight teeth are a major part of a smile's appearance. In today's cosmetic dentistry, porcelain veneers and crowns give an exceptionally natural appearance with excellent longevity and durability. However, the gum line that borders teeth can greatly affect a smile's appearance, perhaps more than you've considered.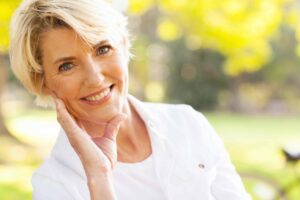 People with unflattering smile traits tend to "hold back" when smiling. They may smile with lips only or hold a hand in front of their mouths. Some men even admit to growing a mustache that extends down over the top lip to hide the teeth visible in a smile.
In addition to placing dental implants and treating all stages of gum disease, a Periodontist specializes in the treatment of the soft tissues of the mouth. As an expert in oral tissues, my advanced training enables me to contour gum tissues to provide a natural appearance and healthy seals around the base of teeth.
For several reasons, gum tissues can pull away from the base of teeth. This can occur from gum tissues becoming drier with age or over-zealous tooth brushing. Gums can also loosen their grip around teeth when teeth tilt out of their proper positions.
When the tight seal around the base of teeth is compromised, the tooth becomes more vulnerable to oral bacteria. Darker, sensitive tooth root segments may be exposed. This not only causes sensitivity, these areas become susceptible to bacterial penetration. As an entry point for oral bacteria, the tooth roots and bones that support teeth are more vulnerable to damage as well.
In cases when a tooth breaks near the gum line, a procedure known as crown lengthening may be able to expose enough of the tooth structure so a crown can be placed. This means the natural tooth can be saved rather than require removal. Once a natural tooth is removed, it brings with it a long list of decisions and associated costs.
Although protecting and saving teeth is the priority, gum contouring procedures, such as crown lengthening are also performed to enhance the appearance of a smile. Gum re-contouring is typically referred to as a "gingivectomy". It is performed to remove the excess gum tissue that arches over the teeth most visible in a smile.
For example, for people who have a "gummy smile," too much gum tissue is visible above upper teeth in a full smile. A periodontist can use his or her specialized skills to reshape the tissues to provide a more balanced smile line.
In this, crowns are typically placed in addition to having the gum height adjusted. The result? A smile is greatly improved when the gum line is contoured to blend attractively with gum tissue bordering neighboring teeth.
To begin, we numb the gum tissues and carefully trim the excess. As a Periodontist, I take specific measures to ensure a natural looking arch remains over the teeth while preserving the natural points that 'dip' between each tooth.
A gingivectomy performed with a dental laser provides our Asheville periodontal office patients with a number of advantages: (1) enhanced comfort; (2) precision lines; (3) minimal or no bleeding; and, (4) faster healing time.
It's normal to experience some tenderness or swelling after the procedure. However, most patients do fine by applying an ice pack off and on for the first day. In most cases, over-the-counter pain medications are sufficient, however, we make prescription strength options available to ensure comfort during the healing process. Many patients tell us they needed no medication at all.
Healing time depends on each individual and can vary from a few days to a few weeks. The dental laser we use helps to reduce the amount of time needed for healing. For patients who smoke, healing times are longer due to smoking's drying effect on gum tissues.
Most gingivectomies are followed by porcelain veneers or crowns to give a beautiful, even smile line.
For those who have avoided gum recontouring due to dental fear, we offer several sedation options, including oral and IV sedation. Oral sedation is a pill that helps patients relax. It also has an amnesiac effect, leaving most with little or no memory of treatment afterward.
IV sedation (also known as 'twilight sleep') places the patient in a deeper sleep state and erases memory of the procedure. It is administered by a doctor of anesthesiology for optimal comfort and safety. In our Asheville office, anesthesia is overseen by a medical doctor (MD) who is a board certified Anesthesiologist.
With both sedation options, patients are closely monitored with advanced safety equipment throughout treatment. We help patients understand that their fears and concerns are not unusual. Our doctors and staff respect each patient and provide gentle, compassionate care – at every appointment.
Treatment fees depend on the extent of the condition and whether crowns or veneers will be applied following treatment. In either case, beautiful results can occur, helping the individual who once 'held back' on smiling confidently.
A healthy smile is a benefit to our overall health. An attractive, confident smile is also an asset when it comes to self-image, helping us to feel good from the inside out! Call 828-274-9440 for a consultation to discuss a gingivectomy and what may be recommended for your specific needs.
What's Keeping You From The Dentist's Office?
Posted on Oct 19, 2021 by William J. Claiborne, DDS MS
As an Periodontist in Asheville NC, I've treated many patients who, to no surprise, developed periodontal (gum) disease because of NOT going to a dentist on a regular basis.
According to the Centers for Disease Control & Prevention (CDC), nearly 65 percent of adults aged 18 and over had at least one dental visit in the past year (based on 2019).
https://www.cdc.gov/nchs/fastats/dental.htm
Unfortunately, that leaves 35 percent of adults who did not.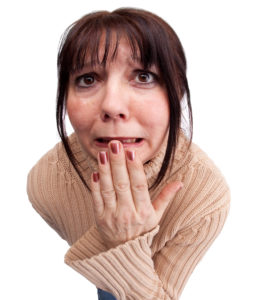 The reason it is recommended to see a dentist for exams and cleanings TWICE A YEAR is because tartar, which is hardened plaque, can cause cavities and gum disease. One plaque hardens into tartar, it can no longer be brushed or flossed away. It must be removed by a dentist or hygienist using special tools.
Tartar is actually a mass of oral bacteria, which has attached itself to the base of (or in-between) teeth. Tartar (also referred to as calculus), is a colony of bacteria that thrive on oral tissues. Bacteria are living organisms and reproduce rapidly. And, the more there are, the more rapidly they amass.
So, what are the common excuses for avoiding regular dental care? See if you've been guilty of one or more:
COST – Some individuals feel dental cleanings and exams are expensive. Actually, there is a great deal of time and training that goes into your individualized care. In addition to the measures of sterilization and instruments, hygienists and dentists are highly-trained, educated, and must stay board certified. As for the investment, these visits are what help you avoid the need for a filling, gum disease, potential damage to teeth due to bite misalignment, and even catch oral cancer at early stages. If dental insurance is not possible, ask if payment plans are available. Many dental offices offer these, most of which are interest-free with no down payment required.
DENTAL FEAR – If fear or anxiety keeps you away from a dental chair, you are not alone. It is estimated that over 70 percent of American adults have some level of this. Sometimes the fear exists because of a traumatic experience in the past or feeling helpless in the chair. Some people react to certain smells and sounds. A few have no idea what prompted their fear, but know it is beyond their control. For these, we advise seeking dental care in a modernized office. Today's advanced technology has greatly enhanced the level of comfort during care as well as reduced treatment time. Too, offices such as our Asheville periodontal dental office offer oral sedation as well as IV sedation (twilight sleep). These are administered by highly-skilled professionals who oversee the patient using advanced safety monitoring equipment. Ask for a consultation and tour before choosing the office that is reassuring to your unique needs.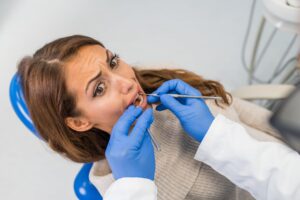 DREAD OF BEING LECTURED – If it's been years since you've seen a dentist, you may be expecting a lecture from the dentist or hygienist (or both!). My staff and I believe that is a sure way to deter someone from cultivating a positive attitude towards their dental relationship. We all want to feel respected and having a caregiver talk "down" to you is unfair, especially because no one knows the story behind your delay or avoidance. If you feel that's going to be a problem, say so. Be upfront with "a lecture is not going to help me." If you feel it's a recurring problem, ask to have your records transferred to an office where you are treated more appropriately.
FEAR OF EMBARRASSMENT – Some adults feel awkward having their denture or partial removed at the dentist's office. Some people fear they'll gag during care, which can trigger coughing and even throwing up. Some feel their mouths are so "bombed out" that it's embarrassing to have a dentist see how much damage has occurred. To reassure you, there is nothing we haven't seen or experienced. Dentists have quite a lot thrown at us during dental school. As a specialist in periodontics, my additional training covered even more in-depth and complex damage or disease. DO NOT worry about your caregivers. They WANT you to rely on them to help you. Almost any dentist or specialist will tell you that our greatest joy comes from taking a patient from a "hopeless" mouth to a patient who has a healthy, confident smile!
TIME IN TREATMENT – Today's advanced technology has greatly condensed the time needed to accurately diagnose and treatment plan almost any dental problem. Many treatments can be completed in just one or two visits. For those who have more extensive needs, dentists can sometimes combine several appointments into one long one. This is made much easier for the patient with the addition of oral sedation. Oral sedation creates a totally relaxed state so the patient can "doze" in and out of treatment. It has a quick recovery and sedated patients are carefully monitored for safety and comfort throughout treatment.
Regardless of WHY you've avoided the dentist, your smile is worth it! Having an appealing smile you feel joyful in sharing adds to your mood, enhances appearance and makes a positive impression to others.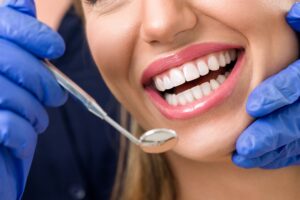 If you've avoided dental care for years (or even decades), you may have signs or symptoms of periodontal disease. These include tender gums that may bleed when brushing, gums that recede from the base of some teeth, gums that turn red in color, and frequent bad breath. Gums are the foundation for teeth, so without healthy gums, your teeth will not be healthy, either.
Too, gum disease will only worsen without treatment. If you are a reader of my articles, you may have read the findings of research that correlates the bacteria of gum disease with serious health conditions. These include stroke, heart disease, preterm babies, some cancers, arthritis, diabetes, and erectile dysfunction.
Let us help you feel the positive aspects of achieving a healthy smile. Begin with a consultation by calling 828-274-9440.
Recent Posts
Categories
Archives