Sinus Lifts
Avoid An Aged Appearance By Keeping Facial Bone Structures Healthy
Posted on Jun 21, 2023 by William J. Claiborne, DDS MS
The aging process can, unfortunately, take quite a toll on appearance. Shoulders may slump, waistlines may widen, and hair may turn gray. As a periodontist in Western NC, I see another telltale sign of aging – resorption. This is the process of bone loss when natural tooth roots are missing from the jaw bones. Facial features affected by resorption can reveal quite a lot, and not in a flattering light.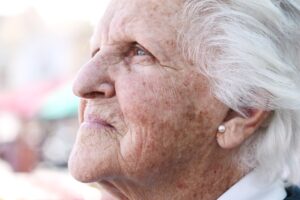 A natural tooth is held by the upper or lower jaw bone by its roots. Around the base of each tooth, gum tissues wrap snugly to prevent entry of bacteria and protect sensitive tooth roots. These roots help to keep the tooth 'alive' by supplying blood and other nutrients to the bone supporting the tooth. Through the presence of these roots, the jaw bones also receive valuable stimulation, which helps the bone retain its mass. 
Losing a tooth can trigger a domino effect, of sorts. Statistics show that tooth loss is most likely to occur in an area next to that of a missing tooth. Without the stimulation of tooth roots, the bone in that area will begin to resorb, or shrink in mass. This increases risks for adjacent teeth.
The process of resorption begins slowly the first year. However, the rate of bone loss accelerates more and more each year. For people who wear a denture or partial, the pressure of wearing these appliances can speed up the rate bone loss even more. Eventually, facial features change due to the declining bone structure, changes that tend to age one's appearance far beyond their actual age.
Initially, the changes may be subtle, such as deep wrinkles around the mouth. The corners of the mouth begin to turn downward, even when smiling. Jowls form as facial muscles detach from shrinking bone structures. As the bone declines further, the chin becomes more pointed and the mouth seems to collapse into the face. The chin moves closer to the nose, creating what's referred to as a 'granny look.'
Dental function also takes a hit when it comes to tooth loss. The strength of the bite becomes challenged. Jaw bone breaks are more likely. Wearing a denture or partial becomes challenging due to its declining 'ridge' that is relied upon for support. Dental prosthetics begin to slip while eating, or even speaking. Eventually, frequent applications of denture pastes and adhesives are needed. After a time, even relines help very little.
As a periodontal specialist, one of my advanced skills (in addition to the treatment of all stages of gum disease) is in the diagnosis and placement of dental implants. For adults who are missing one or more natural teeth, we recommend dental implants for a number of reasons. 
Why should you have your dental implants placed by a periodontist?
There are over 40 different implant systems, each designed to accommodate various needs and goals. For example, one consideration in determining the type of dental implant is in the assessment of jaw bone mass.
An implant needs a particular amount of bone structure to support it. After several years of missing tooth roots, the amount of existing bone may eliminate some types of dental implants or indicate the need for additional procedures prior to placement.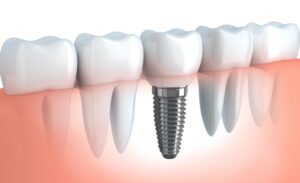 With adequate bone mass to support the implant(s), the choice of implant can be made based upon your needs and preferences. Without the necessary bone mass, we may advise a bone rebuilding process prior to implant placement. Typically, this does not require a bone graft. In many cases, we are able to apply a bone rebuilding material that regenerates ample bone mass. Or, we may advise an implant system that uses unique implant lengths and placement angles (the "All-On-4") that can function dependably in minimal bone.
The benefits of dental implants are many. These include:
---
A lifetime solution – When properly selected and placed, dental implants are designed to last a lifetime. This is why a periodontist is an ideal choice for your selection and placement. 
---
A healthy choice for remaining teeth – Although each natural tooth seems to "stand alone", individually, they provide support for the teeth on each side and the one above or below. This helps to keep teeth in their proper positions. However, dental implants provide stimulation to the bone to help retain bone mass. And, teeth supported by implants do not rely on the support of crowned (or 'capped') teeth on both sides. Thus, preserving the integrity of adjacent teeth.
---
Restoring biting and chewing stability – Because dental implants are anchored by the jaw bone, biting and chewing stability is restored. People who have dental implants are able to eat healthy, fibrous, and chewy foods once avoided due to ill-fitting dentures or partials. 
---
The feel of your "own teeth" – Rather than have clunky dental prosthetics in your mouth, dental implants act like your own teeth. You can brush them in your mouth and eat foods you love and laugh with friends. Unlike dentures or partials, no more sore spots rubbed on tender gum tissues and no more piercing seeds caught between the gums and denture base.
---
A wise investment – Dental implants, unlike crown-&-bridge, dentures or partials, will not break, develop a cavity, require periodic "relines," or need a root canal. Made of titanium, an implant will last your lifetime without requiring the upkeep of other types of restorative options.
---
In our Asheville periodontal dental office, we offer some of the most advanced dental technology available. This allows our patients to enjoy optimal comfort with minimal treatment time. We are also committed to patient comfort through oral and I.V. sedation ("twilight sleep"). These are administered safely with continual monitoring by trained team members.
If you are considering dental implants to replace missing teeth, begin with a consultation appointment. This will take place in a private room where we can discuss your needs and concerns. Call 828-274-9440 to schedule, or tap here for contact information.
Recent Posts
Categories
Archives