Blog Archives
Recent Posts
Categories
Archives
Tooth Loss Cause of Shrinking Face, Sunken-In Mouth
Posted on Jan 14, 2021 by William J. Claiborne, DDS MS
The aging process is not an easy one. Joints begin to creak, muscles are more easily strained, skin dries out, eyesight wanes and hearing declines.
Yet, throughout the aging process, some adults seem to go through it as less of an ordeal than others. Although diseases and certain health conditions can occur regardless of how well some people manage, some people take a number of steps that can have a significant impact on aging well and "getting old."
The basics of good health include a diet low in sugar, alcohol and unhealthy fats. NOT smoking is a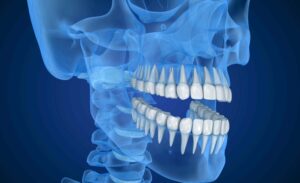 big factor in maintaining a healthy body. Regular exercise, sufficient sleep and regular physicals and dental check-ups are all beneficial.
A factor that plays a bigger role in having good overall health is having natural teeth. Having the ability to comfortably bite and chew food is important to effective digestion, since the digestive process begins in the mouth. When adults struggle to eat with a denture or partial, the efficiency of this initial stage of digestion is compromised.
It's not unusual for adults who have "rocky" or "slippery" dentures to opt for soft foods that dissolve easily in the mouth. These are often carb heavy and lack the nutritional value of a diet that combines healthy proteins, fruits and vegetables. However, missing teeth or dentures that move when eating can cause other detrimental problems.
When people sense their dentures may cause embarrassment when eating, speaking or laughing with others, social involvement can take a hit. According to a 2012 statement by the World Health Organization:
Oral health is essential to general health and quality of life. It is a state of being free from mouth and facial pain, oral and throat cancer, oral infection and sores, periodontal (gum) disease, tooth decay, tooth loss, and other diseases and disorders that limit an individual's capacity in biting, chewing, smiling, speaking, and psycho-social well-being.
An extensive study on "The Link Between Teeth and Emotions" was published by Clinical Psychology of Oral Health (https://journals.sagepub.com/doi/full/10.1177/2158244017728319) in 2017.
In the study, the concept of quality of life was categorized in five dimensions: physical well-being, material well-being, social well-being, emotional well-being, and development and activity".
The authors found that oral health is "an integral part of general health and well-being" and examined how oral disorders may impair at least three of the five dimensions: the physical, emotional, and social well-being.
The authors found also an association between oral health and late life depression (LLD) in older adults, who experienced "compromised social function and impaired self-maintenance skills (e.g., bathing, dressing, hygiene)." This depression can cause a loss of pleasure and interest for daily life activities, and even in the interest in personal oral hygiene.
Oral health not only has an impact on the psychological well-being of older adults, the physical changes attributed to tooth loss are of equal concern to many denture wearers.
Let's look at your oral anatomy for a moment…
Your natural teeth are supported by your upper and lower jaw bone, known respectfully as the Maxilla and Mandible. With these strong, study bones, tooth roots are held securely. Thus, biting and chewing occurs comfortably.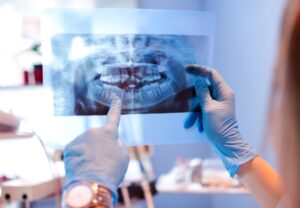 The jaw bones are actually kept healthy by the presence of tooth roots. These roots provide stimulation to the bone as well as nourishment that feeds through the tooth's interior.
When a tooth is removed, so is the stimulation and nourishment to that area of the jaw bone. Without it, the bone begins to shrink. As it declines in height, the adjacent teeth are more vulnerable to loss. Statistics show that teeth adjacent to areas where natural teeth are missing will be the most likely to be lost next.
This has a domino effect. Partials can replace the presence of teeth above the gum line, but there is nothing to benefit the jaw bones below. Thus, tooth loss continues and can go from a few missing teeth to losing all teeth (being "edentulous").
According to the Center for Disease Control & Prevention (CDC), 69 percent of adults between the ages of 35 – 44 have lost at least one permanent tooth. By age 50, Americans are missing an average of 12 teeth. For adults between the ages of 65 – 74, 26 percent are missing all of their natural teeth. That's over one-fourth of the adult population over age 65.
Although dentures and partials mimic the presence of teeth, the jaw bones below are shrinking away, and at a rather rapid pace. The pressure of wearing a denture or partial actually speeds this process up, known as "resorption."
As these bones decline in mass, deep wrinkles form around the mouth. The corners of the mouth turn downward. The chin takes on a more pointed form and the mouth sinks into the face. The nose seems to get closer to the chin as the jaw bones thin. Jowls form as facial muscles detach from shrinking bone structure.
Dental implants were designed to recreate the presence of natural teeth both above and below the gum line. Because teeth attached to the implants are supported by the jaw bones, the study foundation restores the ability to bite and chew without movement or fear of embarrassing slips.
For patients who are missing a great deal of bone, we offer bone rebuilding that does not require a bone graft. We also perform sinus lifts (when the upper jaw has declined to a significant level) to restore sufficient bone distance between vital structures.
For many of our dental implant patients, their lives become more active with the restored confidence. They become more socially involved, have more self-confidence and higher self-esteem.
Although dentures and partials may seem to be a less-expensive way to replace teeth, the savings is hardly worth the detrimental repercussions associated with them. Too, the upkeep required for dentures over time is actually high, considering replacement, relines and repairs.
As a periodontal specialist serving Western NC, I take great pride in the diagnosis and placement of dental implants. Each is selected based upon the patient's individual needs and goals. We provide oral or I.V. sedation to ensure a comfortable experience and a friendly, respectful environment.
Begin with a friendly conversation in our private consultation room. In this comfortable setting, we'll discuss your options and I'll answer your questions. For many people, they are able to make a decision on how they wish to proceed after this conversation, even if it's to go forward with dentures. We are supportive of each person's preferences.
Call 828-274-9440 to schedule a consultation in our state-of-the-art Asheville periodontal dental office. I think you'll feel especially confident in learning about our specialized skills and highly-advanced technology, not available in many dental offices in this area.
Erectile Dysfunction (ED) Risks Increase With Presence of Gum Disease
Posted on Jan 07, 2021 by William J. Claiborne, DDS MS
Men have a long way to go when it comes to taking good care of their teeth and gums, according to several surveys.
One from the Academy of General Dentistry stated that men in the U.S. are less likely to have regular dental check-ups and cleanings than women. Another survey shared by the Journal of Periodontology said men are less likely to brush regularly, and more likely to lose teeth as they age as well as develop oral cancer and gum disease.
According to the Centers for Disease Control & Prevention, over 56 percent of men have gum disease, compared to just over 38 percent of women. Men, in particular, should be aware of the increased health risks associated with periodontal (gum) disease.
Researchers have given closer assessment to recent studies and found that erectile dysfunction (ED) is more common in men with gum disease.
In addition to higher ED risks, research has found that men with a history of gum disease are 14 percent more likely to develop cancer than men with healthy gums – 49 percent more likely to develop kidney cancer, 59 percent more likely to develop pancreatic cancer and 30 percent more likely to develop a blood cancer.
If concerns about heart disease and cancers aren't enough to get men thinking more seriously about their oral health, ED may be a condition that does.
Gum disease has emerged as an independent risk factor for cardiovascular disease, and cardiovascular disease raises the risk for ED. For men, there are a number of factors that contribute to an increased risk of cardiovascular disease. These include smoking, obesity, chronic stress, high cholesterol, high blood pressure, and chronic sleep apnea.
One study published in the Journal of Sexual Medicine revealed that men in their thirties with severe gum disease are 3 times more likely to have erection problems. As cardiovascular health issues develop, erection ability suffers, and as health problems increase in number and severity, so does the severity of ED.
The association between periodontal disease, heart disease, and erectile dysfunction relates to inflammation brought on by gum disease bacteria. This process actually comes down to a biochemical reaction. During sexual arousal, the body releases nitric oxide, which plays a key role in enabling erection. Chronic inflammations, including periodontal disease, impairs release of nitric oxide and contributes to ED.
In the U.S., an estimated 18 percent of males have erectile dysfunction. Although men who are over age 70 are more likely to have ED, males most affected by ED are getting younger. One outpatient clinic showed that 1 in 4 men who sought help for erectile dysfunction were under the age of 40.
Could maintaining a healthy mouth lower the risk of ED? In a 2013 study, it was found that treating periodontal disease improves ED symptoms. Thus, a growing number of physicians are advising male patients who have both ED and periodontitis to seek periodontal treatment as a way to reduce its risk.
In data analyzed from five studies published between 2009 – 2014 (which included 213,000 male participants between ages 20 – 80), men who had chronic periodontitis (advanced gum disease) were more likely to have erectile dysfunction.
In another study, nearly half of the men with ED also had diabetes, another chronic inflammatory disease with links to periodontal disease. Chronic inflammation in the body can be lowered when gum health is kept in good condition.
Men can help to protect their overall health by keeping their oral health at an excellent level. It is especially important to watch for signs of gum disease. Symptoms include: puffy, red gums; inflamed, swollen, or bleeding gums; gums that recede from the base of teeth; and persistent bad breath.
If you are experiencing any of these symptoms, call our Asheville periodontal dental office for an examination as soon as possible. Gum disease does not improve without treatment.
Although many serious health problems are linked to the potent bacteria of gum disease, it is one of the most preventable of all diseases. Twice daily brushing, daily flossing, a diet limited in sugar and carbohydrates and drinking plenty of water are simple guidelines to follow.
Even with these easy steps that take mere minutes per day, it is estimated that over 47 percent of American adults have some level of gum disease.
For the good of your overall health and well-being, renew your commitment to a healthy smile for the new year. Begin with a thorough examination. (A referral is not required.) We'll discuss how to get your oral health in good shape and ways to maintain it between dental check-ups.
Call 828-274-9440 to schedule or ask to begin with a consultation. If dental anxiety or fear has kept you from regular dental care, mention this during your appointment. This is a common problem for both men and women. If desired, we offer a number of comfort options, including Oral Sedation or I.V. Sedation (twilight sleep).
Ask Santa To Make The Toothbrush Under The Tree Electric!
Posted on Dec 16, 2020 by William J. Claiborne, DDS MS
Although your Christmas wish list probably doesn't include an electric toothbrush, it should. Studies have shown that brushing teeth with an electric version promotes better gum health and slower progression of periodontal (gum) disease. Electric tooth brushing is also helpful in reducing tooth loss, by 20 percent (compared to those who brush with manual toothbrushes).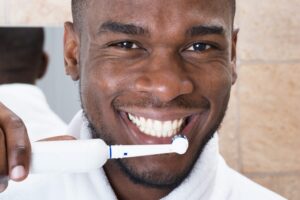 If you use an electric toothbrush, most people think of its benefits in giving fresh breath and a bright smile. As an Asheville periodontist for over three decades, I have a firsthand view of how a thorough at-home oral hygiene regimen can help significantly in preventing gum disease and tooth loss.
An electric toothbrush can be an important tool in daily oral hygiene. Findings of an 11 year study published in the Journal of Clinical Periodontology tracked the oral health of over 2800 adults. The use of electric toothbrushes was monitored to watch for periodontal disease, cavities, and the number of natural teeth.
From 2002 – 2006, participants were examined with follow ups conducted after 6 and 11 years. Eighteen percent of the participants were electric tooth brush users. At the time of their 11 year follow up, 37 percent had switched to using electric toothbrushes.
Although more adults are using them, the long-term effectiveness of electric tooth brushes has not been proven to be significant. It is suspected that this is due to the technique used rather than due to the brushing tool itself. For manual users, a significant challenge with brushing this way is in the choice of bristles. Stiff, hard bristles can be very damaging.
A hard bristled tooth brush can actually damage tooth enamel and gum tissues. To the detriment of teeth, people tend to press down too firmly as they brush, scrubbing with a 'back & forth' motion. They may feel this is the way to do a good job brushing. However, this action can wear down the protective coating of tooth enamel, leaving teeth more vulnerable to decay.
Another problem with a hard bristle tooth brush is its ability to damage tender gum tissues. These can thin out the protective seal that gums have around the base of each tooth. This increases the potential for bacterial entry of the sensitive tooth root area of teeth.
Hint: If the bristles on your toothbrush are fanned out after a couple of months, you are applying too much pressure when brushing.
The ideal technique for brushing teeth is to use gentle pressure with a swirling motion. By using a circular pattern over both sides of each tooth and along the tops, teeth are cleansed without wearing away gum tissues or wearing down precious tooth enamel.
This is where electric toothbrushes can help greatly. Many of the newer models include a beep when too much pressure is being applied. Most also have timers to indicate the time needed for each quadrant, which is your teeth divided into 4 sections. The timers are good aids in helping you to brush at least two minutes.
As devastating as tooth loss can be to one's overall health, we now know that the bacteria of gum disease can enter the bloodstream. Research has shown this infectious bacteria can trigger inflammatory reactions elsewhere in the body. It has been linked to heart disease, stroke, high blood pressure, some cancers, diabetes, arthritis, impotency, preterm babies and more.
Whether using a manual or electric tooth brush, it is necessary to brush twice a day to effectively remove plaque. Plaque is the sticky film you feel on teeth when you wake up or at the end of the day.
Plaque is a buildup of oral bacteria that coats teeth and gums. If not removed daily, it forms a hardened mass of calculus (or tartar) that attaches to teeth. This is what you may feel your hygienist scraping off teeth during cleanings since it cannot be brushed or flossed away.
Another place that oral bacteria can thrive are in the grooves in the tongue. These offer a dark, warm and moist environment for bacterial reproduction. To uproot these icky organisms, use your toothbrush to brush your tongue after brushing teeth. Be sure to reach the back of the tongue where the majority of oral bacteria are embedded. Swish with water several times after.
Flossing is another way to improve gum health, lower cavity risk and prevent tooth loss. It is estimated that only 31 percent of American adults floss on a daily basis. Flossing removes trapped bits of food remain in the mouth, which feeds oral bacteria and allows them to quickly multiply. Because brushing cannot dislodge all food particles caught between tee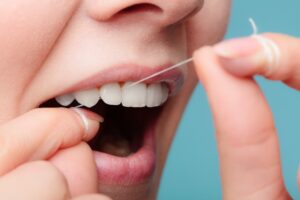 th, daily flossing should be a part of oral hygiene routines.
Proper flossing is easy for those who are in the habit and takes only a minute each day. For those who have difficulty with manual dexterity or find the maneuver awkward, water flossers are effective alternatives and easy to use. (This is another good item to add to your wish list!)
Practice these recommended techniques  and you'll not only do a better job at having a clean mouth, you'll find your time at the sink requires less effort. If you feel you may be experiencing symptoms of periodontal disease, act promptly. You should be seen at your earliest convenience for treatment since this disease will only worsen over time.
Signs of gum disease include tender gums that bleed easily when brushing, gums that darken in color to red (versus a healthy pink), frequent bad breath, and gums that pull away from teeth (receded gums) and expose darker root areas of the tooth.
As a periodontal specialist, I have advanced skills in the treatment of all stages of gum disease (as well as in the placement of dental implants). Our office features some of the most advanced technology available in dentistry to optimize patient outcomes and comfort.
Here, we will help you achieve the healthy smile you want and prevent tooth loss to the greatest extent possible. If you've already lost teeth, we'll discuss their replacement through dental implants. Dental implants are the closest thing to natural teeth, restoring biting and chewing strength and stability.
Call 828-274-9440 to learn more or to schedule a consultation to discuss how you can achieve excellent oral health.
Are YOU One Who Is More Likely To Have Gum Disease?
Posted on Dec 10, 2020 by William J. Claiborne, DDS MS
As a periodontist, I have a pretty unique view of the inside of a mouth.
In my specialty, we are particularly focused on the condition of the gum tissues in the mouth, or "periodontal" tissues. We are specially trained to treat all stages of gum disease and in the diagnosis and placement of dental implants.
A periodontal specialist is also trained in performing esthetic procedures that involve gum tissues, such as crown lengthening and correcting a "gummy smile".
To clarify, a periodontist is a dentist who extends his or her education and skills further (typically 3 years past completing dental school) to specialize in the prevention, diagnosis, and treatment of periodontal disease and other gum conditions.
1). THE NATURAL AGING PROCESS
Although we treat patients of all ages, there are certain segments of the population we see more often. For instance, a large segment of our patients are age 50 and older. In addition to having more susceptibility to have gum disease, many in this age group have lost teeth.
In a recent report by the Centers for Disease Control & Prevention (CDC) on data related to prevalence of periodontitis in the U.S.: over 47% of adults ages 30 years and older have some form of periodontal disease. For adults 65 years and older, that number rises to over 70%.
This is because the aging process causes the body begins to succumb to wear and tear. The skin sags, bones weaken, joints ache, hearing dulls, and eyesight wanes. This means that more precautions and measures are needed to keep the teeth and gum tissues in good shape.
In addition to healthy gums, it's important to keep your natural teeth as you age. Natural teeth to support neighboring teeth and provide stimulation to the jaw bone is unsurpassed.
Having the ability to comfortably and efficiently bite and chew is vital to having a healthy body. When dentures or partials compromise the ability to eat a diet of healthy foods – and chew food properly – gastrointestinal problems are common.
Although dental implants are excellent replacements for missing teeth, there is nothing as perfect as your "permanent" teeth.
There are a number of reasons why seniors face more oral challenges, including:
• A dry mouth: The tissues inside the mouth need to be kept moist. Saliva is designed to do this. However, with age, the flow of saliva becomes less plentiful. Just as the skin and hair get drier with age, the mouth undergoes this as well. When saliva flow is less efficient at rinsing bacteria from the oral cavity, bacteria grow at a more rapid rate. This allows bacteria accumulation to occur more frequently than twice-a-day brushing can control.
• Reduced ability to maintain at-home oral hygiene: Aging causes the fingers to be less nimble and stiffens joints. This is a particular challenge when it comes to brushing and flossing. Angling a toothbrush to reach all areas in the mouth and proper flossing maneuvers require manual dexterity that are more difficult due to the natural aging process.
• Medication side effects: The average American adult in the 65-79 age group has over 27 prescriptions filled each year. (https://www.statista.com/statistics/315476/prescriptions-in-us-per-capita-by-age-group/). Although you may need these medications, keep in mind that some can be detrimental to your oral health. This is why it's important to provide a complete list of all medications you take (including vitamins and herbal supplements) at every dental appointment so your dentist can adjust care to your specific needs.
• Hormonal changes: Due to declining estrogen levels, post menopausal females have a higher risk for gum disease and subsequent tooth loss. This causes an increased risk of bone loss or osteoporosis as well as inflamed gum tissues around the teeth (called periodontitis). When there is a decline in jaw bone mass, it can result in tooth loss.
Bacteria overgrowth in the mouth is the cause of gum disease. Periodontal disease is the nation's leading cause of adult tooth loss. Its bacteria can also enter the bloodstream, causing inflammatory reactions far beyond the mouth.
Advanced gum disease bacteria has been linked to a number of serious health problems. These include heart disease, stroke, high blood pressure, diabetes, arthritis, memory loss, some cancers, impotency and Alzheimer's disease.
Obviously, maintaining healthy gums and keeping your natural teeth is important. If you've experienced tooth loss, we can replace them with dental implants. These are the closest thing to the natural teeth you had and will restore stability and dependable biting and chewing.
At any age, the goal is to keep bacteria levels in the mouth to the lowest level possible. When oral bacteria are allowed to accumulate, it can lead to Gingivitis. This is an early stage of gum disease. As it progresses, periodontal disease continually worsens. Eventually, it becomes periodontitis, which is an advanced level of gum disease.
Although gum disease can exist without obvious signs or symptoms, the most commonly noticed are:
• Red, swollen or tender gums

• Seeing blood in the sink when brushing 

• Receded gums
• Loose or separating teeth

• Pus pockets on gum tissues

• Sores in the mouth

• Persistent bad breath
2). ADULTS WITH DENTAL FEAR
Another large segment of our patients are those who have avoided dental care for years, often due to having dental fear.
One study, published by StudyFinds.org, shares recent findings of 2,000 adults in the U.S. regarding dental visits. Results show a whopping 62% of those surveyed stating they were too afraid to even visit a dentist's office. (https://www.studyfinds.org/adults-too-scared-visit-dentist-teeth/)
If dental fears or anxiety have kept you from regular dental checkups for a year or more, it would be rare to NOT have some level of gum disease. Quite frankly, some people with high fear levels avoid seeing a dentist for decades. Those visits are vital in one's ability to have healthy gums.
While twice daily brushing and daily flossing are necessary components for having good oral health, the routine alone isn't enough to combat a number of additional factors that make one vulnerable to the disease.
For example, a study by Delta Dental revealed, only 7 out of 10 adults are brushing twice a day. This means that 30% aren't brushing enough. (https://www.ada.org/en/publications/ada-news/2014-archive/october/survey-finds-shortcomings-in-oral-health-habits)
3). PREGNANCY
We also see a number of moms-to-be. For decades, the Surgeon General has warned that pregnant females who had gum disease had a far greater risk of a pre-term, low birth weight baby. Research has shown that gum disease increases the risk for pre-term delivery (prior to 37 weeks) and low birth weight babies (less than 5.5 lbs.).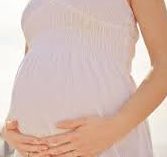 "Studies have found that expectant mothers with periodontal disease are up to seven times more likely to deliver premature, low birth weight babies." (https://www.adha.org/resources-docs/7228_Oral_Health_Total.pdf)  One study showed the preterm birth rate for pregnant women with moderate to severe periodontal disease to be nearly 29%.
Estimates are that over half of pregnant women have some form of gingivitis (gum inflammation, an early stage of gum disease) or periodontitis (infectious, advanced gum disease). Nearly a third of pregnant females will acquire gum disease because of their higher vulnerability to inflammation.
When these indications exist, it is important to seek periodontal treatment as soon as possible. Gum disease only worsens without treatment, requiring more time and expense to rid this serious, even deadly, inflammatory disease.
4). ALL ADULTS
Regardless of age or health status, oral wellness has always been important to overall health. Without good gum health, there is a greater drain on the body's immune system. This is now even more important than ever, due to COVID and the flu season upon us.
Remember, even a twice-daily brusher and daily flosser does not mean you will avoid gum disease. Avoiding regular dental check-ups is a sure recipe for needing treatment down the road that may have easily been prevented.
In our Asheville periodontal dental office, patients can begin with a consult in our private consultation room that's removed from the clinical side of the practice. We are always happy to discuss oral health options with new patients. A referral is not needed.
Call 828-274-9440 to schedule.