grinding or clenching
Why You're Losing Teeth (and how to halt the process)
Posted on Jul 29, 2021 by William J. Claiborne, DDS MS
The inevitable. Murphy's law. Sooner or later.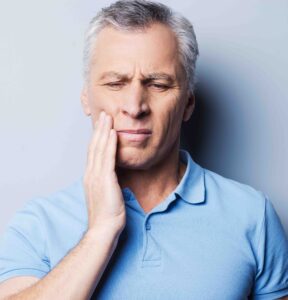 It is to no surprise that life throws us occasional curves, some being out of the blue and others being somewhat predictable. As an Asheville Periodontal Specialist, one that comes to mind is the path to losing teeth.
Losing natural teeth is a challenge to both oral and overall health. And, there's nothing that will definitively replace natural teeth once they're extracted (although dental implants come pretty close!). Keeping natural teeth and gums healthy is the best way to support your health as you age.
According to a 2017 article published by Dentistry Today that shared recent study findings:
"people who had lost 5 or more teeth by the age of 65 years were more likely to suffer from cardiovascular disease, diabetes, and osteoporosis, all of which could severely limit life expectancy. Many of these illnesses previously have been linked to a person's quality of life and socioeconomic status. The study concludes that the number of teeth in aging humans can affect longevity and life expectancy."
https://www.dentistrytoday.com/news/industrynews/item/1632-life-expectancy-linked-to-number-of-teeth
Of course, no one wants to lose a natural tooth. Yet, many people assume that tooth loss is simply a natural part of the aging process. It's not.
Through the years, certainly, accidents, injuries, decay, gum disease and deep fractures in teeth can result in loss of teeth. Regardless of how committed some people are to their oral hygiene regimen at home and regular dental check-ups, unexpected occurrences can lead to the need for an extraction.
However, the people who are committed to their oral health are far less likely to endure the undesirable outcome of tooth removal. The measures are simple and take very little time.
• Brush your teeth at least twice a day, for a minimum of two minutes each time.
• Floss daily.
• Avoid snacking and limit sugar.
• Drink plenty of water.
• See your dentist twice a year for exams and cleanings.
• Don't smoke.
Although smoking cessation is a tough task for most people, the other items listed above require just minutes a day and cost very little. What they help you accomplish is PREVENTION. Rather than have problems treated, many instances surrounding tooth loss could have been prevented.
It is far less costly and time consuming to be attentive to your oral health than deal with the repercussions of insufficient oral upkeep. Losing a tooth will require a lifelong commitment, regardless of how it is replaced. And, replacing teeth is absolutely necessary.
When a tooth is lost, whether it can be seen in a smile or not, it no longer supports the surrounding teeth. The tooth above (or below) can elongate. Neighboring teeth can tilt or turn since they lack the bolstering affect provided by the now-missing tooth.
These factors can lead to chipped, fractured or broken teeth. They can also be an issue in bite misalignment. A misaligned bite can cause stress or strain on the temporomandibular joints (TMJ). The results can be frequent headaches, sore jaw joints, ear ringing, dizziness, and difficulty opening the mouth fully.
Another problem lies in the absence of the missing tooth's roots. When these roots are missing, there is a lack of stimulation and nourishment to the jaw bone in this area. Without this, the bone begins to shrink, or resorb. Bone mass decline affects the stability of the adjacent teeth. It is known that the next tooth to be lost will most likely be one bordering a missing one.
The path to tooth loss, other than accident or injury, is actually a pretty predictable one. For people who take their oral hygiene lightly, it's not a matter of "if" but "when". Bacteria buildup in the mouth should be removed regularly, which is why twice-daily brushing is advised. If not thoroughly removed, their growth runs rampant.
Saliva flow helps in moving some bacteria out of the oral cavity. However, as people age, saliva flow decreases. Add to that the many elements that are drying to oral tissues: caffeine (including coffee, tea and colas), many medications, snoring, and some health conditions.
Oral bacteria that accumulate in the mouth for more than 48 hours first create a sticky film that coats the teeth and gums. This is plaque. If not removed through brushing and flossing, plaque transforms into hardened masses on the base of (or between) some teeth. This is tartar, which can no longer be brushed or flossed away.
As tartar spreads, the gums become inflamed. This causes gingivitis – the first stage of gum disease. Gingivitis causes the gums to become tender, swell, and sometimes bleed when brushing. Breath odor can become frequently bad.
If not resolved quickly, gingivitis can progress into full-blown gum disease. At this stage, the gums are red, inflamed, tender, bleed easily and breath odor is bad, even shortly after brushing.
As gum disease worsens, gums loosen their strong seal around the base of teeth. This allows entry of these infectious bacteria below the gum line. The structures that support natural teeth (including bone) are attacked, which can cause some teeth to loosen.
The advanced stage of gum disease is periodontitis. This means that gum tissues are red, spongy, have pockets of pus, bleed even when eating, and breath odor is putrid. To add insult to injury, this devastation doesn't remain only in the mouth. Through tears in diseased gum tissues, the inflammatory bacteria of gum disease can enter the bloodstream.
This bacteria has been linked to serious, even life-threatening, health problems, as severe as stroke, heart disease, some cancers and Alzheimer's disease. It can cause inflammatory triggers that worsen diabetes and prostatitis and cause preterm births.
Obviously, it's important to keep your teeth and gums healthy. And, if tooth loss does occur, consider replacing it/them with dental implants. As an Asheville periodontist, one of my areas of advanced skill is in dental implant diagnosis and placement.
Dental implants are the closest thing to the look, feel and function of natural teeth. They restore dependable biting and chewing, without the need to be removed for cleaning. Best of all, confidence in smiling and laughing returns.
We frequently see Western NC adults who feared they would lose teeth due to periodontal disease and/or had already lost one or more natural teeth. Through our advanced skills and computerized technology, we are often able to fully restore people to excellent oral health and halt the progression of tooth loss.
If you have avoided seeing a dentist because of fear or anxiety, please know that we provide our patients with an environment of respect and comfort. We offer I.V. sedation ('twilight sleep') as well as oral sedation to create a totally relaxed state throughout treatment.
If cost is a concern, we also have payment plans that can help you achieve the smile you desire while making monthly payments that fit your budget.
Why allow tooth loss to happen? It CAN and SHOULD be prevented and we can help you regardless of your current oral condition. Call 828-274-9440 to request a consultation appointment. This will take place in a private consultation room where your questions will be answered thoroughly.
How Straight Teeth Support Oral Health & Dental Implant Success
Posted on Apr 19, 2021 by William J. Claiborne, DDS MS
As a Periodontist, I often work in conjunction with other dental specialists to provide an optimal outcome at the direction of the patient's general dentist. By combining our specific skills, we are able to create a complete-care integration of services tailored to attend to unique or complex needs.
For example, as a specialist in the treatment of gum disease and placement of dental implants, my skills are beneficial for ideal outcomes as well as in long-term success. This is especially true when I note signs of bite misalignment in a dental implant patient.
The 'bite' refers to how the top row of teeth fit to the bottom row. These upper and lower teeth should "rest" together harmoniously. This fit has a great deal to do with a balanced alignment that is far reaching.
For instance, when teeth are not in proper alignment, there is an interference in the
interaction of biting, chewing and even speaking.  This misalignment can strain the jaw joints as well as the muscles of the face, extending out to neck and shoulder muscles.
Bite misalignment is a common cause of temporomandibular joint (or TMJ) disorder. The TMJ are located on each side of the head and hinge the lower jaw to the skull. Continual stress on these joints can lead to an inflammation that triggers a series of problems.
In most cases, bite misalignment is what triggers night-time clenching and grinding. Known as bruxing, this action can result in chipped, broken and fractured teeth.  Other symptoms associated with a misaligned bite – and thus, TMJ problems – include frequent headaches and migraines, ear ringing, dizziness and difficulty opening the mouth fully.
As an Asheville periodontist, I also see how bite misalignment can cause the gums to recede. This occurs as misaligned teeth tilt or turn, which causes an unnatural pulling on the gum tissues surrounding the tooth at its base. As more vulnerable sections of the tooth are exposed, the risks for developing cavities and gum disease increases.
When it comes to dental implants, success rates can be greatly compromised with the presence of clenching and grinding. Here's why…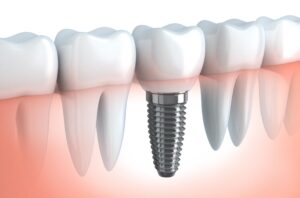 A dental implant is placed in the jaw bone, serving as a replacement tooth root. During the first 3 – 6 months, the bone grows around it, securing it firmly into the bone surrounding it. This process is known as osseo-integration.
It is during this time that an implant is most vulnerable to the forces that clenching and grinding exert. When you consider that implants require up to 6 months to become fully integrated into the bone structure, the stress from grinding or clenching can disrupt this process.
According to an analysis published in Dental Implants (Oct. 2015), and using data from ten publications, bruxers experienced a 6.45 failure rate (as compared to 3.65 in non-bruxers.(https://journals.lww.com/implantdent/fulltext/2015/10000/bruxism_and_dental_implants__a_meta_analysis.5.aspx)
My involvement helps to detect what is not always apparent, yet could have a tremendous impact for a successful outcome. Working to help dental implant patients avoid problems in the future is my goal and helps to protect the patient's investment.
Certainly, misaligned teeth that are crowded or crooked tend to bunch up together. These teeth often form tight angles, creating hard-to-reach areas that make thorough toothbrushing more difficult. As oral bacteria remain, these areas become breeding grounds for an overload of bacteria that run rampant. This can lead to the formation of cavities and the development of gum disease.
The problem of misalignment can result in a vicious cycle: (1) greater risk for gum disease; (2) higher potential for TMJ disorder; (3) increased risk for tooth loss; (4) more likelihood for dental implant failure.
Consider that periodontal (gum) disease is the nation's leading cause of adult tooth loss. Thus, a condition such as bruxing, which can lead to gum disease, can increase the potential for tooth loss. And, in replacing teeth, bruxing can continue to compromise tooth replacement success (with dental implants or other means, such as crown-&-bridge).
If you're considering dental implants but suspect you clench or grind your teeth, we'll discuss ways you can achieve your smile goals and protect your investment.
Call our Asheville periodontal dental office at 828-274-9440 to schedule a consultation.
Know The Qualifications of Who Places Your Dental Implants.
Posted on Apr 05, 2021 by William J. Claiborne, DDS MS
When someone has lost a natural tooth, the word that stands out for me is "lost". A missing tooth means a lot can be lost.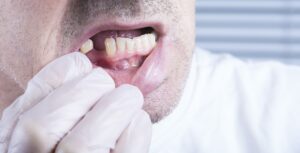 Tooth loss not only leaves a gap in the appearance of a smile, its absence can lead to movement of surrounding teeth.
For example, some people assume that a lost back tooth that is not visible doesn't need replacing. This is an incorrect assumption. Without all teeth in their proper positions, a gap can cause others to tilt and turn. Additionally, the one above or below will grow longer. These misalignment issues can lead to broken, fractured, or chipped teeth.
Misaligned teeth can also lead to strain on the TMJ, or jaw joints. These joints, located on each side of the head just in front of the ears, are hinges that connect the lower jaw bone to the skull. They are in motion almost constantly.
When the jaw joints experience frequent strain from misaligned teeth, they can cause pain that extends out to head, neck and shoulder muscles. TMJ-related pain can be the source for headaches, migraines, facial pain, ear ringing, dizziness, pain when chewing and difficulty opening the mouth fully.
Obviously, replacing teeth is important. Because of many factors, a dental implant is the superior choice in tooth replacement. A dental implant is a lifetime replacement option. Dental implants restore the ability to bite, chew, speak and laugh confidently without worry. The security of their strength and stability can also be greatly beneficial to one's self-esteem and self-confidence.
Too, dental implants actually enhance the well-being and lifespan of surrounding teeth. They are an exceptional value when considering their ability to restore the most natural look, feel and function.
In dental implant treatment, the implanted portion is positioned in the jaw bone as a tooth root replacement. This provides attached teeth with the same foundation as natural tooth roots. A partial or bridge simply sits on top of gum tissues and relies on adjacent teeth for support.
Yet, it can be in WHO is involved in your dental implant diagnosis and placement that can provide you with optimal comfort and lifelong success.
When dental offices offer dental implants, many general dentists refer the placement portion to a periodontal specialist. For their patient, this can mean a higher level of comfort and success, especially for complex needs.
However, some dentists offer dental implant placement in their offices. While some have taken extensive courses in implant dentistry, others may have taken a weekend course here and there. These quick courses are typically hosted by an implant manufacturer who trains attendees with a limited selection of implant types. This can limit the patient's choices when relying on appropriate recommendations for his or her unique needs.
Although there are many factors to go forward with a dental implant, your choice of doctor to place the implanted portion can greatly increase your potential to enjoy your dental implant for a lifetime.
As a periodontist, an aspect of the specialty is the advanced training in the diagnosis and placement of dental implants. This specialized expertise affords patients with a wider variety of choices when it comes to implant systems as well as success in treatment outcome.
For example, consider a patient who is missing a lot of bone mass (often due to missing natural teeth for many years). An implant placed in the upper jaw in too-shallow bone can work its way into the sinus cavity. A lower implant in insufficient bone depth can reach a nerve that runs horizontally through the lower jaw (the mandible).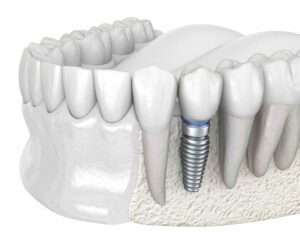 Additionally, the shape, size and the number of teeth to be attached to an implant have much to do with the type of implant system selected. When the placement doctor is only familiar with one or two types, the limitation may pose problems for the patient in the future.
Along with an intricate knowledge of the specific type of implant needed, proper placement angles and depth have much to do with the overall success of the implant. For optimal results, the doctor placing the implant should be skilled in the selection of the implant angles and positioning depths.
In our Asheville periodontal office, we restore the well-being of smiles. We also help patients replace bothersome dentures or partials so they can resume eating the foods they love and laugh confidently in social gatherings.
The doctor is not the sole factor in success, however, Along with proper selection and placement, a patient must take measures to ensure proper oral hygiene at home. Oral bacteria can contribute to an infection that works its way into the bone surrounding the implant. In some cases, the only way to resolve the infection is to remove the implant.
The most troubling thing I see in implant dentistry is when a patient opted for a "good deal" with a less-experienced doctor, and having to remove a 'failed' implant.
When a patient entrusts their implant treatment to a skilled doctor and adheres to hygiene and healing guidelines, having an implant fail is very unlikely. The success rate of today's implant dentistry is excellent – over 97 percent.
Today's implant dentistry is successful, safe, dependable and can provide nearly immediate benefits. As a dental specialist who has stayed on the cutting edge of implant dentistry's techniques, technology and materials, I am pleased to witness the transformations our patients undergo after treatment.
The type of dental implant best suited for you can be determined after an examination and review of x-rays (we use Cone-Beam digital imaging). Call 828-274-9440 to begin with a private, no obligation consultation to discuss your best options.
Understanding Dental Implants & Their Benefits
Posted on Nov 03, 2020 by William J. Claiborne, DDS MS
When you lose a natural tooth, even one that isn't visible when you smile, its absence causes a reaction that takes place below the gum line. Many people are unaware of what occurs – at first. When it becomes obvious, it leads to problems that are not only bothersome, they are detrimental to your overall health.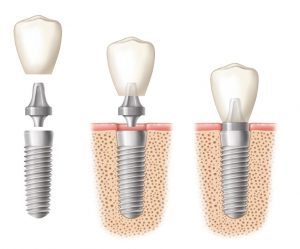 The absence of a tooth root in the upper or lower jaw bone is a loss of stimulation the bone mass where it was once positioned. These roots provide stimulation and nourishment that enables the bone to maintain a healthy mass. Without the presence of tooth roots, the bone begins to "melt away." The term for this process is known as resorption.
Resorption begins shortly after the tooth root is removed. Once it begins, it continues at an ever-increasing pace. For example, the first year after a tooth root is missing, the loss of bone may be minimal. With each passing year, the rate of loss accelerates.
As the bone shrinks in height, the natural tooth roots adjacent to the area of missing teeth are vulnerable to movement and root damage. On average, the teeth most likely to be lost are the ones next to areas of tooth loss.
For the support of remaining natural teeth, it's important to replace missing teeth as soon as possible so adjacent teeth can retain their proper positions. It is even more important to replace missing teeth before bone loss begins. And, it's HOW you replace them that's most important.
Because dental implants replace the tooth above the gum line AND the root portion below it, the bone is able to retain its mass. Dental implants are designed to restore the look, feel and chewing stability like that of natural teeth.
As the advantages of dental implants become more familiar for natural tooth replacement, there are still some misconceptions among the general population. The following will hopefully clear up some of the confusion.
First, Dental Implants are a term that describes 3 components. The "implanted" portion is placed in your jaw bone where a tooth root was once held. The "implant" is not what holds the tooth. It serves to anchor an attached tooth (or bridge of two or more teeth).
Made from titanium, this metal bonds to living bone successfully. As a matter of fact, dental implants have one of the highest success rates of any implant-in-bone procedures.
The implanted portion becomes anchored in the jaw bone through a process known as 'osseo-integration.' Once the implant has been secured by the bone, a post is inserted into the center of the implant. This post is known as an abutment.
The replacement tooth (or teeth) is usually made of porcelain. This is the portion that you see and looks just like a natural tooth. This is known as a restoration or crown. It is attached securely to this post.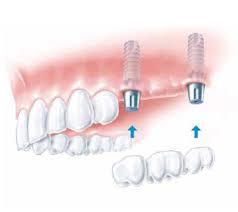 Porcelain is commonly used to create the restorations because they provide the most durable material possible and have the look and feel of a natural tooth. Porcelain has a luminosity of natural teeth and even reflects light as a natural tooth would. Porcelain is also very resistant to staining.
When missing more than one tooth in one area, an implant is not always necessary to replace each one. As mentioned prior, one implant can often hold two or a bridge of teeth. Several strategically-placed implants may also be used support a full arch of teeth.
When people can chew properly and eat a healthy diet, their overall health is better. And, without the fear of embarrassing slips or clicks (often associated with denture wear), being socially active can continue to be a positive part of a happy life.
Dental implants restore the ability to eat with stability, chew comfortably, laugh and speak with confidence. Dental implants do not decay and will never need root canals. And, with proper care, they'll last your lifetime.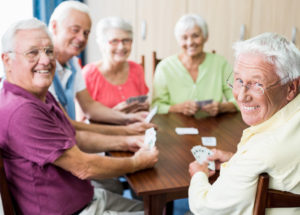 There are many types of implants, each designed to accommodate specific needs. Many dental implants are chosen and placed by a Periodontist. This is a dental specialist who has extensive and specialized training in the diagnosis and placement of all types of dental implants. He or she can select the one that will work best for you.
Proper placement and support in caring for implants is an important part of a successful outcome. Dental Implants CAN fail. This is why a periodontal specialist can be an asset to your investment.
If infection sets in and reaches the implanted portion, the implant may need to be removed so treatment can resolve the problem. Your periodontist can assess gum health prior to placement and monitor your healing process to help minimize this risk.
There are other threats to dental implant success. Clenching or grinding teeth can also contribute to implant failure. Smoking complicates and delays the healing process and is also a known contributor to implant failure. Again, a periodontist can oversee your care to optimize your ability to enjoy a lifetime of confident smiles.
Call 828-274-9440 to arrange a consultation. During this time, we can discuss treatment that can achieve your needs and goals as well as the process and anticipated costs. If dental fear is a concern, I'll also explain sedation options. We offer both oral sedation and IV sedation, if a "twilight sleep" state is preferred. Here, you'll find your comfort is always a priority.
Recent Posts
Categories
Archives