Learn More Blog
Don't Let Misaligned Teeth Lead To Tooth Loss.
Posted on Feb 25, 2019 by William J. Claiborne, DDS MS
As a periodontist, I have specialized skills in treating all stages of gum disease (known as periodontal disease, or simply "perio" by some). I also have advanced training in the diagnosis and placement of dental implants.
Although my specialty does not cover the advanced training an orthodontist has in bite alignment, my dental education absolutely covered the benefits of having proper "occlusion." It also covered the repercussions of NOT having a bite that is properly balanced.
Just as an orthodontist can spot telltale signs of gum inflammation, I (along with general dentists and most dental specialists) can see indications of teeth that are not working in unison — even at times when these teeth appear to be "straight."
While the nation's number one cause of adult tooth loss is gum disease, having a misaligned bite function (or "malocclusion") can lead to tooth loss in ways you may not have realized.
For example, during chewing, the upper teeth and lower teeth are designed to work harmoniously together to grind food down for swallowing and digesting. When an upper tooth does not interact smoothly with one below it (or vice versa), a tooth can become chipped, broken or fractured.
When damage to a tooth occurs, it must be quickly repaired before oral bacteria can penetrate tooth structures. Without the protection of enamel, oral bacteria can cause tooth decay and gum disease.
A fracture in a tooth can expand over time, leading to a crack that loosens an entire segment of a tooth. These areas must also be repaired before the tooth is subjected to oral bacteria. This typically requires a crown (or "cap") that is placed over the top portion of the tooth.
However, a crack in a tooth that extends into the gum tissues typically means the tooth must be removed. If a portion of the tooth breaks "just below" the gum tissue, the tooth can sometimes be saved by a procedure we do called a "crown lengthening." This is often known as a gingivectomy and is performed to remove excess gum tissues.
A gingivectomy procedure exposes more of the natural tooth so a crown can be placed over the tooth to preserve its remaining structure. (For people who have a "gummy smile," this is performed, also, to reduce the amount of gum tissue that arches over teeth most visible in a smile.)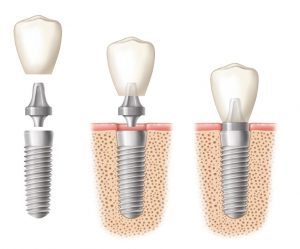 Another hazard of bite misalignment relates to dental implants. The overall success rate of dental implants is very high, nearly 98 percent by some estimates (when properly selected, placed and maintained). However, when a newly-placed implant is subjected to the grinding forces of TMJ disorders, its risks for success are much lower.
People are often surprised to learn that they clench and/or grind their teeth at night – primarily due to bite misalignment. When a bite is "off," the jaw joints can become strained and inflamed. During sleep, the upper and lower jaws go on a subconscious quest of sorts, searching to find a comfortable position that eliminates the strain.
The forces behind some clenching are enough to crack open a walnut. Imagine a newly placed implant that is dependent upon the jaw bones to "heal" it into this firm foundation. When the area of bone around an implant is subjected to night after night of disruption, the implant is against the odds of becoming fully embedded in supporting bone.
Here's an example: Let's say you use a screwdriver to firmly anchor a screw into a solid block of wood. However, every day, you use a pair of pliers to grasp the screw head and wriggle it back and forth. Obviously, it wouldn't take long for the wood surrounding the length of the screw to wear down from the friction of the screw's motion, even slight as it may seem. Eventually, the screw could be easily moved back and forth and would no longer serve as a dependable base of support.
It's not unusual for more than one dental specialist to work with another to provide a patient with the combined skills needed in particular cases. I frequently work with other dental specialists and general dentists in a "team treatment" capacity in order to give patients optimal outcomes.
When we place an implant, our goal is for each patient to enjoy its benefits for the remainder of their life. Bite misalignment can jeopardize this. And, if you have all your natural teeth now, be sure to protect them by keeping your gums healthy and ensuring your bite is as well.
After all, every dental professional is on your team when it comes to enjoying confident smiles for a lifetime!
If you've noticed indications of gum disease (tender gums that bleed when brushing, for example) or have experienced tooth loss (or fear you are facing it), take charge of your smile now. Call 828-274-9440 to schedule a thorough examination.
Recent Posts
Categories
Archives