Learn More Blog
Serious Disease Connections To Oral Health
Posted on Oct 12, 2021 by William J. Claiborne, DDS MS
As an Asheville periodontist, I have advanced skills in the diagnosis and treatment of all stages of periodontal (gum) disease. Over the years, I have closely followed the extensive amount of research that associates the health of the mouth with overall health. There are amazing connections between the bacteria of gum disease to severe (and even deadly) health problems far beyond the mouth.
Periodontal disease is an infection that destroys gum tissues and the structures that support teeth. As gum tissues are attacked and weakened, the bacteria of gum disease can enter the bloodstream through tears in diseased tissues.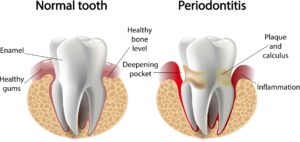 This infectious bacteria is capable of causing inflammatory reactions elsewhere in the body. Systemic inflammation is the now-known epicenter of a number of major health problems, including heart disease, stroke, high blood pressure, diabetes, arthritis, impotency and more.
You may be interested to read about just some of the correlations between oral bacteria of gum disease and…
---
Dementia & Alzheimer's disease: Gum disease occurs when infection of the oral tissues develops. It causes bleeding gums, putrid breath odor, loose teeth, and even tooth loss. Oral bacteria and the inflammatory molecules that develop can enter the bloodstream, making their way to the brain. Previous lab studies have suggested that this is a potential risk factor in the sequence of events that lead to dementia.
https://www.nia.nih.gov/news/large-study-links-gum-disease-dementia
In data from the National Health and Nutrition Examination Survey (NHANES), different age groups at baseline, with up to 26 years of follow-up, analyzed over 6,000 study participants. The researchers examined whether gum disease and infectious oral bacteria were linked to dementia and deaths.
Participants had received a dental exam for signs of gum disease as well as blood tests for antibodies against causative bacteria. The team analyzed antibodies against 19 oral bacteria for an association with the diagnosis of Alzheimer's, diagnosis of any kind of dementia, and death from Alzheimer's. Of these 19, Porphyromonas gingivalis is the most common culprit of gum disease. In fact, a recent study suggests that plaques of beta-amyloid protein, a major hallmark of Alzheimer's disease, may be produced as a response to this infection.
https://pubmed.ncbi.nlm.nih.gov/26474422/
---
Erectile Dysfunction: In the U.S., an estimated 18 percent of males have erectile dysfunction. Men over the age of 70 are more likely to have ED compared to 5 percent between ages 20 – 40.
Studies have shown an association between gum disease and pancreatic cancer. From analyzed data of five studies between 2009 – 2014, the studies covered 213,000 participants aged 20 to 80.
Each study found erectile dysfunction (ED) was more common among men being treated for chronic periodontitis, particularly for those younger than 40 and older than 59. After accounting for other health factors, erectile dysfunction was found to be 2.28 times more common for men who had advanced gum disease than for men without it.
https://www.reuters.com/article/us-health-periodontitis-erectile-dysfunc/chronic-gum-disease-tied-to-risk-of-erectile-dysfunction-idUSKBN13K1UP
---
Stroke: In one study of 265 stroke patients, researchers found that patients with gum disease had twice as many strokes due to thickening and hardening of brain arteries as patients without. Additionally, patients with gum disease were three times as likely to have a stroke involving blood vessels in the back of the brain, which controls vision, coordination and other functions.
In a separate study of over 1,100 patients who had not experienced a stroke, researchers noted that 10 percent had severely blocked brain arteries. They also found that patients with gum inflammation were twice as likely to have moderately severe narrowing of brain arteries.
---
Pre-Term Babies: The elevated hormone levels during pregnancy create a higher vulnerability to gum disease; the reason about half of pregnant females experience swollen, red and tender gums that bleed while brushing. Known as Pregnancy Gingivitis, the gums are more susceptible to inflammation, thus more sensitive to the bacteria of gum disease.
Studies have shown that gum disease increases the risk for preterm delivery (before 37 weeks) and low birth weight babies. Gum disease also increases the risk for poor obstetrical outcomes, late miscarriage and pre-eclampsia. For example, the preterm birth rate for women without periodontal disease is approximately 11 percent compared to nearly 29 percent for females with moderate to severe gum disease.
Through tears in gum tissues, oral bacteria can enter the bloodstream. Once this bacteria reaches placental membranes, it can trigger inflammation that can cause preeclampsia or labor.
---
Arthritis: For decades, it was perceived that RA (rheumatoid arthritis) patients had such a high risk of gum disease due to poor oral hygiene because of dexterity problems with using a toothbrush. However, more recent studies now show that gum disease is actually a risk factor for arthritis.
While genetic factors certainly contribute to greater RA susceptibility, the true source has been determined to be inflammatory reactions. This inflammation is triggered primarily by bacterial infections, with oral bacteria being a significant contributor to inflammatory arthritis.
They found that people with severe periodontal disease also had severe rheumatoid arthritis. Patients with the most plaque, bleeding and gum tissue breakdown had worse RA by all measures, including disease activity and inflammatory markers. Other studies have found that even with treatment, RA patients with periodontitis continue to have worse arthritis symptoms and are 50% less likely to be in remission.
The relationship between gum disease and arthritis isn't seen only in adults. Kids with juvenile idiopathic arthritis (JIA) have inflammatory mouth bacteria not found in their healthy peers.  Different types of bacteria seem to correspond to specific aspects of JIA. Some are associated with higher disease activity and others with a greater number of affected joints.
https://www.arthritis.org/health-wellness/about-arthritis/understanding-arthritis/mouth-bacteria
---
Pancreatic Cancer: Research reveals that the bacteria of gum disease may contribute to a higher risk of pancreatic cancer. Through a cancer prevention and screening study, the National Cancer Institute and American Cancer Society studied oral samples. Their findings showed notably higher levels of two types of oral bacteria in study participants with pancreatic cancer. One bacteria was found to create a 50 percent increased risk for pancreatic cancer and a second bacteria led to a 59 percent greater likelihood.
The results indicated a significantly positive association between periodontal disease and the risk of pancreatic cancer.
---
Although I could go on and on citing studies and research findings, I think you get the picture. The need for good oral health is indisputable.
Signs and symptoms of gum disease are gums that bleed when brushing, frequent bad breath, tender gums that turn red in color, swollen gums, receded and sensitive gums. If you have any of these, please know that gum disease will only worsen without treatment. It is also the leading cause of adult tooth loss.
For an examination, or to begin with a consultation, call 828-274-9440.
Recent Posts
Categories
Archives