Learn More Blog
Why Missing Teeth Cause Changes To Facial Appearance
Posted on Sep 30, 2022 by William J. Claiborne, DDS MS
The shape of our face is made by the bone structures beneath the skin. Essentially, we inherit our facial appearance from our ancestors. You may have your mom's nose or your dad's chin, but how you look is thanks to your genes.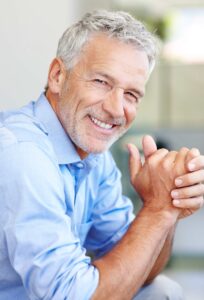 However, facial appearance can also change due to a decline of bone mass. In dentistry, this is typically based on the presence, or absence, of natural teeth. Losing teeth – even when replaced by a denture, partial, or crown & bridge – leaves the upper and/or lower jaw bone susceptible to bone shrinkage. This is known as resorption.
The presence of natural teeth is vital to the health of upper and lower jaw bones. Tooth roots provide stimulation to the bone, stimulating blood flow that helps the jaws to maintain a healthy mass. Without tooth roots, the lack of stimulation causes the bone(s) to slowly decline.
Resorption causes the gum ridge to flatten out over time, giving your denture a continually-declining foundation. Application of denture adhesive becomes more frequent to prevent the denture from moving while eating, which causes uncomfortable rubbing. Laughing and speaking becomes overshadowed by the fear of embarrassing slips.
When dentures are first made, they may feel secure for the first five or so years. However, as resorption continues, relines help only on a temporary basis. As bone loss progresses, relines will last at less frequent intervals each time.
On average, denture wearers experience a 25% bone loss one year after natural teeth have been extracted. Three years later, 60% of the bone is gone. While natural teeth provide a biting force of 250 pounds, the average denture wearer bites with about 5 pounds of force.
Denture wearers are often surprised to learn that the pressure of wearing them actually accelerates resorption. For people who sleep in their dentures, the 24/7 pressure speeds the process of resorption even more.
To see the extent of bone loss you've experienced, remove your denture and look in the mirror. You may see deep wrinkles around the mouth and notice the corners of your mouth turn downward. If bone loss is severe, our mouth may appear to be collapsed inward with a pointed chin. Jowls may have formed on the sides of your face as facial muscles detect from the shrinking bone.
As a periodontist, I specialize in the treatment of all stages of periodontal (gum) disease as well as in the diagnosis and placement of dental implants. And, we are adept at placement of all types of dental implants. With over 40 different implant types, each designed to accommodate various needs, understanding the best type – and correct placement of it – can have a significant impact on your overall success rate.
For example, new designs in dental implant systems can overcome even severe bone loss. The All-On-4 dental implant can be placed in minimal bone using just four implants. Using specific angles, All-On-4 can support a full denture that is non-removable. And, because it is supported by implants placed in bone (just as natural tooth roots), biting and chewing stability is restored.
A periodontist can also assist patients prior to implant placement when severe bone loss has occurred. To ensure a sufficient level of bone mass to support the implanted portions, procedures such as bone generating materials or a "sinus lift" may be advised (to increase bone mass between the upper jaw and sinus cavity).
Our Asheville periodontal dental office is also known for our advanced technology and features (including our on-site 3D Cone Beam and laser). Additionally, our patients enjoy a high level of patient comfort through the administration of IV sedation (twilight sleep). This is administered by a Board Certified Anesthesiologist for optimal safety and comfort.
As dental implants have become a more practical and popular option, adults are turning away from dentures, partials, or bridges. In addition to restoring biting and chewing comfort and stability, implants offer a lifetime replacement option that actually enhances the well-being and lifespan of surrounding teeth.
Because of their ability to restore the presence of natural teeth to such a great extent, the dental profession now sees dental implants as the preferred choice for replacement for most patients. Although the overall treatment costs may seem greater initially, over time, it becomes obvious that the benefits far outweigh the expense.
When you consider that dental implants are designed to last a lifetime, the investment is a wise one. There are very little things in this day and age that will last as long as we do!
If you are considering dental implants, increase your potential for a successful outcome by asking a Periodontist to join your dentist in team treatment. Most general dentists have close relationships with periodontal specialists for implant placement and in treating gum disease.
Before you make your decision, you may wish to schedule a consultation to discuss your specific needs and desires. We are always happy to welcome new patients and being referred is not required. Call 828-274-9440.
Recent Posts
Categories
Archives