Learn More Blog
Absorbent Gums Are On Front Line of "Hidden" Toxin Intake
Posted on Mar 15, 2023 by William J. Claiborne, DDS MS
When you hear someone mention the "gums," the word often includes the pink, moist area inside the mouth. Not just the area inside the cheeks and under teeth, your oral tissue ("gingiva") goes beyond what covers the upper and lower jaws and that which surrounds the base of the teeth. This includes …
• the lips
• inner lining of the lips and cheeks
• hard and soft palate
• gums that surround the base of teeth
• floor of the mouth under the tongue
• area behind wisdom teeth
• front two-thirds of the tongue
By design, these moist areas within the "oral cavity" are highly absorbent, so much so that these tissues absorb from anything put inside the mouth, including that which is quickly swallowed.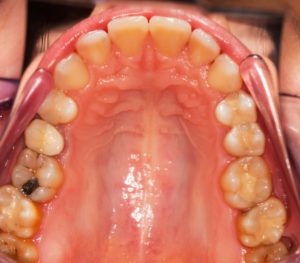 To help you understand just how important it is to maintain GOOD oral health, I thought it would be beneficial to share some of the BAD that the gum tissues endure. Because the mouth is the entry point for our bodies, you may be interested in seeing what foods and beverages contain some pretty scary ingredients.
According to the Environmental Working Group (www.ewg.org), these items include:
Nitrates and nitrites – are preservatives used in cured meats and linked to stomach cancer, esophageal cancer, and possibly brain and thyroid cancers.
Artificial sweeteners – can affect the hormones that regulate metabolism and have a negative effect on weight control.
Potassium Benzoate – A main ingredient in fireworks and rockets, this chemical preservative is found in many foods and beverages. It is commonly found in fruit juice, sparkling waters, soft drinks, jams, syrups and more.
Titanium dioxide – is a color additive used mostly in candy, which can damage DNA.
PFAS (polyfluoroalkyl "forever chemicals") are used in food packaging and known to leach into the food itself. They increase the risk of cancer and damage the immune and reproductive systems, among many other health harms.
BVO (Brominated vegetable oil) – is used to stabilize citrus flavors in sodas and fruity drinks. It can cause neurological harm.
BHA (Butylated hydroxyanisole) – is a preservative used in cured meats and other foods. Multiple sources have identified it as a possible human carcinogen.
BHT (Butylated hydroxytoluene) – is a preservative found in cereals and other foods. This chemical cousin of BHA is a possible human carcinogen.
TBHQ (Tert-butylhydroquinone) – is a preservative used in Pop-Tarts and other processed foods. It may harm the immune system and weaken the effectiveness of vaccines.
Propyl paraben – is a preservative used in pastries and some tortillas. It causes developmental and reproductive harm.
That's quite the long list. However, an even greater challenge to the gums comes from smoking. While everyone who smokes knows it's "not good" for their health, it is less known the harm doesn't come from the nicotine alone.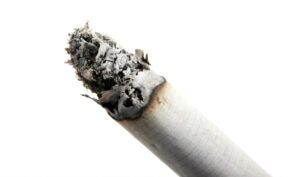 The American Lung Association lists the chemical culprits as:
Acetone—found in nail polish remover
Acetic acid—an ingredient in hair dye
Ammonia—a common household cleaner
Arsenic—used in rat poison
Benzene—found in rubber cement and gasoline
Butane—used in lighter fluid
Cadmium—active component in battery acid
Carbon monoxide—released in car exhaust fumes
Formaldehyde—embalming fluid
Hexamine—found in barbecue lighter fluid
Lead—used in batteries
Naphthalene—an ingredient in mothballs
Methanol—a main component in rocket fuel
Nicotine—used as an insecticide
Tar—material for paving roads
Toluene—used to manufacture paint
Puffing on E-cigs as a "safer" alternative?  That doesn't preclude your oral health from the bombardment of chemicals in the vapor. Although the Food & Drug Administration (FDA) has not begun its review of any e-cigarette or its ingredients. Unfortunately, this means they have yet to issue standards on these products or submit specific warnings of their composition and effects.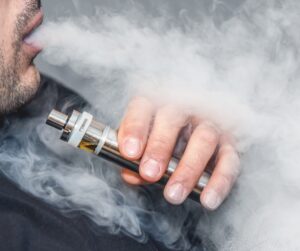 The "e-juice" that fills the cartridges of e-cigs usually contain nicotine (which is extracted from tobacco and highly addictive), propylene glycol, flavorings and other chemicals. Studies have found that even e-cigarettes claiming to be nicotine-free contain trace amounts of nicotine. Additionally, when the e-liquid heats up, more toxic chemicals are formed.
Whether your e-cigarette contains nicotine or not, you may be surprised at the toxic toxic vapors contents below …
• Nicotine – a highly addictive substance that negatively affects adolescent brain development
• Propylene glycol – a common additive in food; also used to make things like antifreeze, paint solvent, and artificial smoke in fog machines
• Carcinogens- chemicals known to cause cancer, including acetaldehyde and formaldehyde
• Acrolein – a herbicide primarily used to kill weeds, known to cause irreversible lung damage
• Diacetyl – a chemical linked to a lung disease called bronchiolitis obliterans, or "popcorn lung"
• Diethylene glycol – a toxic chemical used in antifreeze that is linked to lung disease
• Heavy metals such as nickel, tin, lead
• Cadmium – a toxic metal found in traditional cigarettes that causes breathing problems and disease
• Benzene – a volatile organic compound (VOC) found in car exhaust
• Ultrafine particles that can be inhaled deep into the lungs
What does all this mean?  As an Asheville periodontist, it shows that the gums – on the front line of intake – take the first brunt of these chemicals and toxins, often when we don't even realize we're providing willing intake. It also shows how important it is to keep the mouth healthy.
The periodontal dental specialty is especially attuned to how the gums are more than the pink covering in the mouth. Healthy gums are known to support your overall well-being. In addition to being consumer-aware of what your mouth encounters, it is necessary to maintain a thorough oral hygiene routine at home and an involved relationship with your general dentist.
However, if you see signs of gum disease (bleeding or sore gums, persistent bad breath, receded gums, and/or gums that are red rather than a healthy pink), it is important to see a periodontal specialist as soon as possible. Gum disease will only worsen without treatment. It can also allow infectious bacteria to enter the bloodstream, which research has linked to serious (and even deadly) health problems.
Call our Asheville periodontal dental office to schedule a consultation. If fear or anxiety has prevented you from regular dental visits, we can discuss several options (including oral or IV sedation) to provide comfortable, relaxed appointments. Our friendly staff can help you arrange this private time together by calling 828-274-9440.
Sources:
https://www.cancer.gov/publications/dictionaries/cancer-terms/def/gums
https://www.lung.org/quit-smoking/smoking-facts/whats-in-a-cigarette
https://www.ewg.org/consumer-guides/ewgs-dirty-dozen-guide-food-chemicals-top-12-avoid
Recent Posts
Categories
Archives