Learn More Blog
Advanced Skills & Technology Enhance Comfort, Speed Healing
Posted on Apr 27, 2021 by William J. Claiborne, DDS MS
If you've ever watched a cabinet maker, his skill and attention to detail is impressive. He knows the various wood types, understands the details of joints and angles, and respects the individual components as interacting pieces that will work harmoniously as a whole.
Because he has the tools and skills specific to his craft, the coming-together of this typically provides a 'forever' result.
In the periodontal specialty, our specific skills create a number of advantages for patients who have different needs. Some of these skills are not always obvious, yet they allow for a higher level of success, greater comfort, and less time required for healing.
A periodontist, as defined by the American Academy of Periodontology (perio.org), is:
"A periodontist is a dentist who specializes in the prevention, diagnosis, and treatment of periodontal disease, and in the placement of dental implants. Periodontists are also experts in the treatment of oral inflammation. Periodontists receive extensive training in these areas, including three additional years of education beyond dental school. They are familiar with the latest techniques for diagnosing and treating periodontal disease, and are also trained in performing cosmetic periodontal procedures."
As an Asheville periodontal specialist for over 25 years, I've utilized my advanced skills to help patients with a variety of needs that involve the gum tissues. These include:
– Treatment of all stages of gum disease (gingivitis, pregnancy gingivitis, periodontal disease, periodontitis)
– Reshaping gum tissues for esthetic enhancement (crown lengthening, gingivectomy for 'gummy smiles', repairing areas of gum recession)
– Diagnosis and placement of dental implants
– Treatment of lesions or cysts in oral tissues
Although there are other treatments offered, our main goal is to provide the patient with a comfortable and positive experience within our specialized skills. We believe that patients will come to appreciate the advantages of having a healthy smile and understand how our involvement can create a healthier, more confident individual.
Here, our Western North Carolina periodontal dental office features some of the most advanced technology in dentistry. Many of these are not available in other dental offices elsewhere. Some of these features include: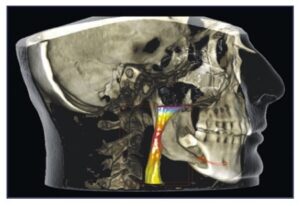 LANAP With PerioLase MVP 7 – Laser-Assisted New Attachment Procedure is an advanced protocol that efficiently and effectively treats advanced gum disease with the added advantages of a dental laser. This offers a non-surgical alternative for patients with moderate to severe periodontal disease. LANAP treatment leaves very little discomfort and has a quick recovery time. It has also been found to stimulate bone regrowth in damaged areas.
3-D Cone Beam Imaging
 – Ideal for diagnoses and treatment planning, these images provide a clear view of the upper and lower jaw, used for: intricate review of endodontics; periodontics; orthodontics; implantology: TMJ; and prosthodontics, as well as dental and maxillofacial surgery. Because cone beam radiographs show sagittal, axial, and coronal planes, locating and tracking nerve canals optimizes implant placement. The process is quick, painless and at minimal levels of radiation.
CareStream Cone Beam Computer Tomography Imaging
 – This enhanced tomography works with 3D imaging for exceptional detail and range.
CS 3600 Intraoral Scanner
 – Rather than make impressions with bulky, goopy trays, this scanner quickly and comfortably captures digital impressions accurately and easily for creating precision models or appliances (crowns, inlays, onlays, bridges, orthodontic appliances and aligners, custom abutments). The scanner can also reach difficult–to–access areas in the patient's mouth for superior results with improved patient comfort.
Computerized Dental Implant Placement
 – This advanced system for pre-surgical positioning of dental implants uses a 3D model of the patient's jaw. Once the implant type is selected, a template is developed for optimal treatment success, even for complex cases.
In addition, we offer a unique environment for comfort. We understand how dental fear or anxiety can cause people to delay or avoid having dental treatment, sometimes for decades. Too, when regular dental cleanings and check-ups are not maintained, the results often culminate into more complex problems (and necessary repairs) in the future.
We help patients understand that these fears and concerns are not unusual. Our doctors and staff respect each patient and provide gentle, compassionate care – at every appointment.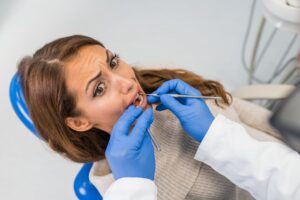 For those who have high fear levels, we offer several sedation options, including oral and IV sedation. Oral sedation is a pill that helps patients relax. It also has an amnesiac effect, leaving most with little or no memory of treatment afterward.
I.V. sedation (also known as 'twilight sleep') places the patient in a deeper sleep state and erases memory of the procedure. It is administered by a doctor of anesthesiology for optimal comfort and safety. In our Asheville office, anesthesia is overseen by a Medical Doctor (MD) who is a board certified Anesthesiologist.
With both sedation options, patients are closely monitored with advanced safety equipment throughout treatment.
How I would describe the difference between a periodontist and other dental specialists is in how gentle and respectful we are to the tissues in the mouth. These are tender layers that significantly affect the appearance of a smile and the health of teeth. By understanding the techniques to minimize incisions while effectively treating each area in the mouth, a periodontist is your expert.
We feel you'll find no better periodontal dental environment. Call 828-274-9440 to learn more or to schedule a consultation appointment. New patients are always welcome and a referral is not required.
Recent Posts
Categories
Archives