Learn More Blog
Afraid Of The Dentist? Let's Help You Get Past That For A Healthy Smile!
Posted on Jul 22, 2020 by William J. Claiborne, DDS MS
By some estimates, having a fear of dental visits affects over 70 percent of American adults. When people are afraid of going to the dentist, many often do not receive the regular care necessary to maintain a healthy smile.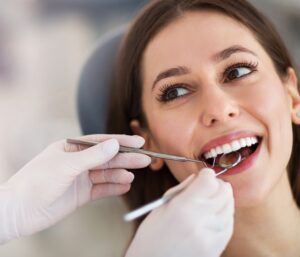 As an Asheville Periodontist, I find that the origin of many who develop periodontal (gum) disease is from fear associated with dental visits. It is not unusual for a fearful dental patient to avoid going to the dentist for years, only 'giving in' when something becomes so painful they can no longer delay treatment.
We know that when it comes to dental fear, different people have different levels. Some patients are very relaxed in our office from the moment they walk in and throughout treatment. Others are fine until they are seated in the treatment chair. Still, others are anxious throughout their visit.
A study published by the Dental Research Journal revealed nearly 59 percent of 473 adult participants had dental fears. The study included males and females of varying ages and education levels. Although females presented a higher likelihood for dental fear, there was very little difference elsewhere. What did stand out, however, was how many had experienced traumatic dental episodes.
Unfortunately, a traumatic experience in a dental chair with a too-rough dentist tends to remain in the subconscious forever. Many fears are the result of a frightful experience as a child, feeling helpless and afraid. Such an experience tends to make an indelible mark on the subconscious and resurface whenever a dentist or dental office comes to mind.
If you experience these feelings associated with dental visits, there is nothing 'wrong' with you. However, delays in care can allow small problems to become more complex, requiring more involved treatment.
Many high-fear patients only force themselves into a dental chair when they are in such pain that they have no choice. It is far easier for adults to find a way to have regular exams and cleanings to prevent emergency needs. This begins by finding the right dental office.
Until then, regular dental check-ups are something that can't be duplicated at home. Even a thorough, daily brushing and flossing routine misses bacteria on occasion. Within the course of just 48 hours, oral bacteria can form a cement-hard colony attached to tooth surfaces. This accumulation of bacteria eats away at tooth enamel and gum tissues.
As oral bacteria consume gum tissues, inflammation begins. This is gingivitis, the initial stage of gum disease. In this, the gums are tender and occasionally bleed when brushing. As gingivitis progresses to periodontal disease, symptoms include persistent bad breath and gums that turn red versus a healthy pink color. Gum tissues may begin to recede, exposing sensitive areas of tooth roots.
Eventually, the infectious bacteria will attack further beneath the gum line. This inflammation leads to damage to the bone structures that support tooth roots. Pus pockets may form on gums and teeth may loosen. To no surprise, periodontal disease is the nation's leading cause of adult tooth loss.
This infectious bacteria doesn't just remain in the mouth. Through tears in weakened gum tissues, it can enter the bloodstream. It's presence can trigger inflammatory reactions that have been linked to heart disease, stroke, some cancers, preterm babies, arthritis, diabetes, erectile dysfunction (ED), and impotency. Some studies are showing a correlation to Alzheimer's disease.
What we often find with high-fear patients is their assumption that good at-home care can take the place of their regular care visits. However, even a diligent home-care routine leaves them susceptible to oral bacteria. A number of factors heighten vulnerability to bacterial accumulation, including dry mouth and diet.
Dry mouth occurs due to a wide range of factors. Some medications have a drying affect on the mouth. Certain foods and beverages contribute to dry mouth, especially those containing caffeine and alcohol. Smoking is very drying to oral tissues. And, the aging process leaves us with drier mouths.
Eating sugary foods and many carbohydrates are just as detrimental to oral health. Many Americans snack during the day, often on chips, crackers and candy bars – which are then washed down with sugary sodas. All this converts into a sugar based super-food in the mouth that provides oral bacteria with sustenance that super charges their reproduction.
How does a fearful adult overcome the problem so they can have the dental care they need?
In our office, patient comfort is a priority at every visit. We have even designed our reception area to pamper you from the moment you enter. Patients in this area can enjoy a selection of gourmet coffees, cable television and WIFI connection. The seating is comfortable and our front office staff are attentive to your needs.
We offer a private consultation room for patients as well. In this room, we can discuss treatment and answer questions in a comfortable setting. This allows patients to become better informed about their treatment needs and options versus communicating while they are seated in a treatment chair.
Our surgical suite offers a rather unique setting for a periodontal office. A large window provides beautiful mountain views, very soothing to our patients. In addition, we offer oral sedation as well as I.V. sedation (twilight sleep) for most procedures, if desired.
Oral sedation is a pill that helps patients relax. It also has an amnesiac effect, leaving most with little or no memory of treatment afterward. I.V. sedation places the patient in a deeper sedative state, also erasing memory of the procedure. It is administered by a doctor of anesthesiology for optimal comfort and safety. With both, patients are monitored with advanced safety equipment throughout treatment.
Our patients also find our entire staff is a unified team who reflect sincere compassion and commitment to exceptional, comfortable care. While the doctors involved in your care are all top-notch, I must admit that our staff are the pros at making our patients feel truly pampered.
When patients realize that our goal is to provide exceptional care and comfort, most relax. This creates a sense of trust that causes many to no longer perceive dental care as dreaded, frightening events. Once the obstacle of fear is replaced with feelings of trust, the process to achieve a healthy, confident smile becomes a much easier one.
If you or someone you know has fear that has prevented dental care, the possibility of gum disease is pretty high. We suggest beginning with a consultation appointment, which occurs in our private consultation room. This is removed from the clinical area and provides a relaxed setting where patients can share their unique needs and concerns.
Call 828-274-9440 to schedule or learn more. I'm sure you'll find our friendly telephone staff is welcoming and reassuring from the very first conversation.
Recent Posts
Categories
Archives