Learn More Blog
Are You 'Sick' Of Your Denture?
Posted on Apr 10, 2018 by William J. Claiborne, DDS MS
We often hear people, at times of frustration, exclaim "I'm sick to death of…" or "I'm sick and tired of…"
I think we all have make this claim at one time or another. However, when it comes to wearing dentures or partials, being "sick" of them can go in several different directions. They can, indeed, make you "sick and tired" as well as just plain "sick."
In 2012, NBC News reported on a study that was published in the Journal of The American Dental Association. The study was conducted to determine methods to effectively kill the bacteria crawling all over the material that make up the gum base of dentures and partials.
What was shocking to many was just how serious the bacteria levels were. Dentures, because of their porous nature, can be coated with a sticky bacteria known as biofilm. It has been found that this biofilm can harbor MRSA or bacteria that is resistant to antibiotics. (https://www.nbcnews.com/healthmain/dirty-dentures-dangerous-mrsa-may-be-lurking-dentists-say-662637)
It was also found that the bacteria in the biofilm doesn't just stay in the mouth. It can be breathed into the lungs where infections become much more difficult to treat.
Especially concerning is the high number of denture and partial wearers who sleep in their appliances. One study found that wearing dentures while sleeping doubles the risk of pneumonia in elderly adults. (https://www.ncbi.nlm.nih.gov/pmc/articles/PMC4541085/)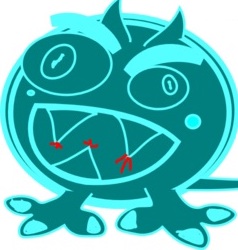 Remember, bacteria are living, eating organisms. Like any living thing, what eats produces waste. When it comes to oral bacteria, this means that these creatures are defecating in your mouth. That, in itself, is a pretty alarming reality of wearing dentures.
The tiny hide-outs of denture 'pores' give oral bacteria an ideal environment to thrive and reproduce. While sleeping in dentures obviously increases the opportunities for this to occur, these icky organisms can create quite an obstacle to adults who have immune systems that are already compromised.
Yet, being "sick" from dentures doesn't stop there. For those who have worn dentures for many years, the bone that lies underneath the denture has likely shrunk. This process, known as 'resportion,' occurs when tooth roots are no longer present in the bone to provide stimulation.
Most denture wearers can sense that something has changed when their once-snug denture begins to slip when eating. Eventually, these slips can cause uncomfortable rubbing on tender gum tissues. The solution, for many, is to alter the diet to include foods that are soft and dissolve easily in the mouth.
The problem with these foods, typically, is they are lacking in the fiber and nutrition necessary for having good overall health. It is no wonder that denture wearers have more gastrointestinal problems and take more medications than people who have their natural teeth.
The problems of dentures go on and on. Renowned implant dentist, lecturer and founder of the Misch Implant Institute, Carl Misch, gives a straight-forward breakdown of the problems associated with wearing dentures in his book, "Dental Implant Prosthetics"
With all the frustrations and complications of wearing dentures, it's to no surprise that dental implants have become the preferred choice of today's adult when it comes to replacing natural teeth.
Dental implants are held by the jaw bone, restoring a sturdy foundation for biting and chewing. They also recreate stimulation to the bone that supports them, thus halting the rate of bone loss that occurs from wearing dentures. And, dental implants are designed to last a lifetime, making them an excellent investment.
As a Periodontist, my specialty includes advanced training in the diagnosis and placement of dental implants. Over the years, I have been impressed with their track record, having one of the highest of all implant-in-bone success rates.
Why worry over the health risks associated with wearing dentures and partials? Dental implants are dependable, safe, lasting, and provide a natural look and feel. Call 828-274-9440 to schedule an appointment to determine if dental implants are right for you.
Recent Posts
Categories
Archives