Learn More Blog
Asheville Periodontic Specialty Office Offers Latest To Enhance Treatment Outcomes, Comfort.
Posted on May 13, 2019 by William J. Claiborne, DDS MS
As an Asheville NC periodontist, I know it is more than my specialized skills that keep us busy. Many dentists and other dental specialists refer patients to our office because they know each patient receives optimal care with a gentle, respectful touch.
Another thing we are known for is the state-of-the-art technology we use to save patients time while they achieve the very best results in minimal treatment time. Some of our advanced features available include: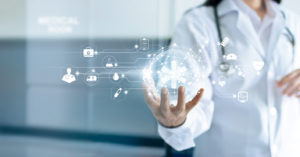 LANAP Protocol Using PerioLase MVP-7 – An acronym for Laser-Assisted New Attachment Procedure, LANAP provides an advanced protocol to more efficiently and effectively treat periodontitis (advanced gum disease) with the PerioLase® MVP-7™ laser. This offers a minimally invasive (non-surgical) treatment alternative for patients with moderate to severe periodontal disease.LANAP treatment leaves very little discomfort and has a quick recovery time. It has also been found to stimulate bone regrowth in damaged areas.
Dental Radiology With 3-D Cone Beam Technology
 – We rely on 3D imaging in diagnostic and treatment planning. This latest level of 3D imaging covers the whole dentition area, giving a clear view of the mandible and maxilla (upper and lower jaw) for intricate review for the diagnostic requirements of endodontics, periodontics, orthodontics, implantology, TMJ and prosthodontics as well as dental and maxillofacial surgery.
In addition to imaging, cone beam radiographs provide images in sagittal, axial, and coronal planes. This makes it possible to locate and trace the mandibular nerve canal for pre-surgical planning for an ideal implant position.
We also like that our patients are exposed to only minute levels of radiation through a process that is fast and comfortable.
CareStream Cone Beam Computer Tomography Imaging
 – Our office features the Carestream 9300. This Cone Beam Computer Tomography provides dual modality panoramic and 3D imaging with exceptional detail and range. The CS 9300 can deliver 3D imaging at a significantly lower dose than 2D panoramic imaging. In fact, in a recent study, the CS 9300 and CS 9300 had up to an 85% lower radiation dose than traditional panoramic imaging.
CS 3600 intraoral scanner
 – No longer do our patients have impressions made with bulky, goopy trays held in their mouths!
The CS 3600 Scanner is designed to quickly and comfortably scan areas inside our patient's mouth. It acquires digital impressions accurately and easily, scanning a full or dual arch for the fabrication of digital models or appliances.
The CS 3600 provides a highly accurate digital impression using a small, handheld scanner. It can also reach difficult–to–access areas in the patient's mouth for superior results with improved patient comfort.
Just some of the superior features of the CS 3600 Scanner include:
• Acquires digital impressions to design crowns, inlays, onlays, bridges, orthodontic appliances and aligners, custom abutments and RPD;
• Has an Intelligent Matching System that prevents missing data in any area. Plus, it even sends a warning to indicate areas of the scan that lack detail;
• Has adaptive hole filling that automatically identifies holes and selects the appropriate anatomical color for optimal aesthetic outcomes;
• Enhances outcomes for restorations, orthodontics and implants; and,
• Displays precise, accurate HD 3D color images with vivid color and details for improved case review, analysis and communication between doctors, referrals and labs.
Simplant Dental Software for Computerized Dental Implant Placement
 – This advanced software system allows for pre-surgical positioning of dental implants on the computer using a 3D model of the patient's jaw. Once the implant type is selected, a surgical template is developed that ensures a precision fit. Simplant creates optimal implant treatment success, even for complex cases. It also simplifies the team treatment process so intricate aspects of the surgical process can be discussed prior to placement.
Intraoral Camera Technology – 
This self-contained intraoral camera features full motion video with outstanding image quality from an internal camera that captures ideal angles and images with the click of a button. The images are sent to screen for a clear, crisp view so we can confer with patients on specific treatment issues.
Computer Imaging In Treatment Suites
 – Treatment suites are equipped with computers for convenient image sharing with patients. This allows patients to have a more complete understanding of their individual needs through images that can be pulled up by our dental team, with the ability to enlarge certain areas to show specific details. Through this, patients have greater involvement in treatment decisions.
Advanced Sterilization – Our custom sterilization unit is designed to adhere to or exceed established Centers For Disease Control & Prevention (CDC) guidelines for instrument processing protocols. Intuitive colored lighting identifies the receiving and cleaning of instruments.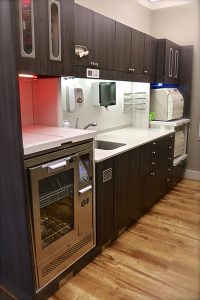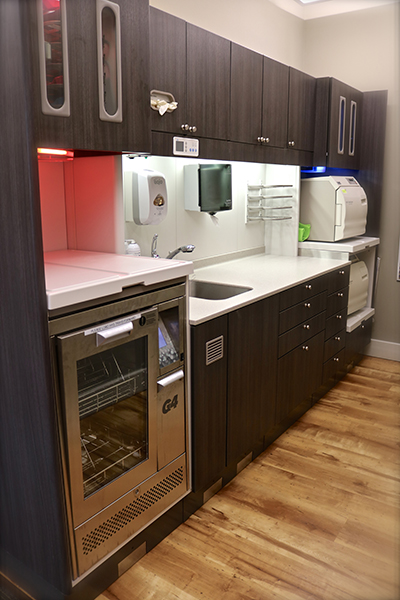 Fully-Equipped Surgical Suites – Relax during treatment (under sedation, if desired) while you are surrounded with the serene views surrounding our Asheville periodontal office.
So you see, we are committed to providing each patient with advanced skills, experience, comfort, and technology that provides the very best in periodontal and dental implant treatment available.
If you have experienced periodontal (gum) disease or are considering gum recontouring or tooth replacement with dental implants, being referred is not always needed. Call our friendly staff to discuss your needs: 828-274-9440.
Recent Posts
Categories
Archives