Learn More Blog
Bad Breath? That May Be The Least Of Your Problems!
Posted on May 23, 2019 by William J. Claiborne, DDS MS
We've all run into people who have bad breath. Although a tuna salad lunch or onion-laden hot dog can cause folks to pull back from close-up conversations, these forms of bad breath are temporary.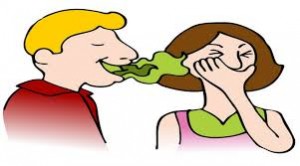 The smelly breath odor that is more concerning is that which comes from the sticky film of bacteria that coats the mouth and emits sulfuric odors (likened to rotten eggs). This film, known as plaque, coats the teeth and gums when allowed to build up.
For example, the reason you wake up with not-so-fresh breath in the morning is the result of the mouth being closed all night while bacteria reproduces and accumulates. Without brushing and due to declined saliva flow (your mouth's natural rinsing agent) during sleep, oral bacteria amass. Thus, you wake up with the sticky film and the breath that goes with it.
For those who are mouth-breathers during sleep or who snore, dry oral tissues allow for even more bacterial growth.
Once you brush and rinse thoroughly, however, you can expect your breath to become more pleasant. Persistent bad breath, however, may be the a side effect of medication, an illness, or periodontal (gum) disease.
As a periodontal specialist, I'm very much aware of the distinct odor produced by gum disease. Although it varies slightly from person to person, it has an offensive scent than that of typical bad breath.
The best way to determine gum disease as the true source is through a periodontal exam. In addition to persistent bad breath, periodontal disease symptoms include gum tenderness, gums that bleed when brushing, and gums that are red in color rather than a healthy pink. Early stage gum disease (gingivitis) may not cause any obvious symptoms, however.
Regardless of the source of unpleasant breath odor, it is imperative to have and maintain good oral health – for reasons that can impact your overall health. Through decades of research and studies, the bacteria of gum disease has been linked to serious health problems, including heart disease, stroke, arthritis, diabetes, impotency and some cancers.
For example, rheumatoid arthritis (RA) and pneumonia are just two diseases that have a connection to gum disease. Researchers have found that RA sufferers have a higher incidence of periodontal (gum) disease compared to individuals with a healthy oral condition.
Studies have also shown that RA patients are nearly 8 times more likely to have gum disease. Although insufficient oral hygiene can certainly be a determining factor in acquiring gum disease, other parameters point to a deeper association between RA and gum disease.
Because both RA and gum disease both cause internal inflammation, a connection between the two are most prevalent when examining the joints and oral tissues. Oral tissues with the presence of periodontitis compared to tissues of RA-affected joints show a number of similarities. Research has also discovered a genetic link between the two.
And the health threats go further. One study published by Science Daily found that the bacteria present in the mouth can release toxins that can make their way into the brain. (https://www.sciencedaily.com/releases/2019/01/190123165002.htm)
Once there, they may contribute to Alzheimer's disease. While studies on this connection continue, other studies have found a clear path of triggers traced to the inflammatory reactions caused by the bacteria of gum disease.
Once periodontal disease is established in the mouth, its pathological byproducts can enter the bloodstream, lymph fluid, and bone structures. This can lead to the spread of infection and inflammation to all areas of the body. In this way, periodontal disease has been shown to be a cause of systemic disease.
While fresh breath and a gleaming smile are important, it's clear that oral wellness plays a leading role in helping you avoid serious, and even deadly, health conditions.
If you're experiencing any of the symptoms of gum disease mentioned above or are past due for a dental exam, call our Asheville periodontal office at 828-274-7440. If desired, you can begin with a private consultation, where we will discuss your symptoms and health history. During this time, I'll answer your questions, explain treatment options and discuss comfort methods.
Recent Posts
Categories
Archives