Learn More Blog
Bad Breath – The "Body Odor" of the Mouth.
Posted on Mar 09, 2021 by William J. Claiborne, DDS MS
"Whoa!!!"
That may be our unspoken reaction when we encounter someone who's breath odor reeks. And, we've all encountered it. It tends to leave a rather negative impression of the individual; one that 'sticks' with us every time we see him or her in the future.
Occasionally, I like to address the causes of bad breath since, at one time or another, it's an issue for us all. Bad breath, like body odor, leaves an undesirable imprint.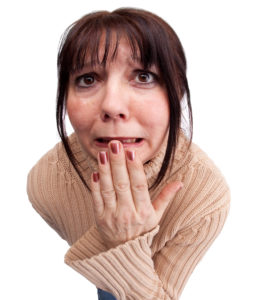 Although some health conditions can be the source of bad breath, it most commonly occurs due to an overload of oral bacteria. Too many bacteria in the mouth create an odor — a sulfuric, putrid odor.
Bacteria are living organisms that eat, reproduce and emit waste. Their ability to reproduce is astounding, resulting in a consistently growing number of waste-producing creatures.
Poor oral hygiene is the most common cause for bad breath. Not brushing and flossing or doing so adequately allows oral bacteria to reproduce, which leads to plaque.
Plaque is the sticky film you feel on teeth when you've missed brushing or when you wake up. When not removed thoroughly on a daily basis, plaque turns into a cement-hard substance known as tartar. This mass is actually a solid colony of oral bacteria that attaches to teeth. In this form, it cannot be brushed or flossed away.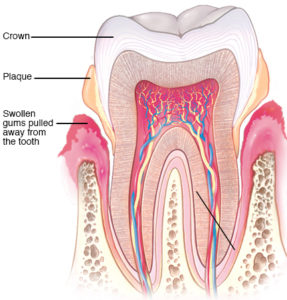 Tartar attacks enamel and gum tissues. As bacteria multiplies, it causes the gum tissues to become inflamed. This inflammation can quickly develop into gingivitis, an early form of gum disease. If not resolved fully, however, gingivitis can lead to full-blown periodontal (gum) disease.
Occasional bad breath is a nuisance but can generally be controlled with good oral hygiene, keeping our mouth moist and limiting sugar. Things like drinking sugary colas and a diet of high carbohydrate foods rev up bacteria reproduction even more, boosting their ability to grow and thrive.
However, frequent bad breath is not only embarrassing, it is a warning sign.
As one of the symptoms of periodontal (gum) disease, persistent bad breath may be accompanied by tender gums that bleed easily when brushing or tender, swollen areas around some teeth.
As gum disease advances, symptoms include gums that turn red in color and become sore, swollen and bleed easily when brushing. As it worsens, bad breath becomes persistent. Pus-filled pockets may develop near the base of some teeth. Eventually, teeth may loosen and require removal.
While what we consume can greatly contribute to the ability of these icky organisms' ability to reproduce, a common one is having a dry mouth. This condition is known as xerostomia (zeer-o-STOE-me-uh).
Good saliva flow helps to keep bacteria moving out of the mouth. However, when brushing is infrequent or the mouth becomes dry, saliva is less able to manage the bacteria levels in the mouth.
A dry mouth may seem less likely to be a breeding ground for bacteria since they typically thrive in environments that are warm, moist, and dark. However, when saliva flow is unable to efficiently cleanse bacteria buildup from the mouth, they are easily able to reproduce.
Having 'dry mouth' is rather common today. In addition to a part of the aging process, a number of common medications (including anti-depressants, decongestants, and anti-histamines) have a side effect of oral dryness.
Too, many beverages contribute to having a dry mouth. These include colas, coffee, tea, and those containing alcohol. (Please note that colas are acidic and most contain caffeine. These are anything but 'refreshing', doing very little to hydrate the body. Stick to plain water to quench your thirst and add moisture to the body.)
Another way that oral bacteria can run rampant has to do with our oral hygiene routines. To be truly thorough in cleaning tooth surfaces, it is recommended to spend two minutes per brushing, twice a day (whether manual or electronic).
It is estimated that nearly a third of American adults brush their teeth for an insufficient amount of time. Even worse, about that same amount fail to brush twice a day. This means that an alarming amount of bacteria remain to grow and thrive in the mouth.
Proper brushing and flossing is necessary. Brush for at least two minutes twice daily and swish thoroughly. Use a circular motion rather than scrub teeth back and forth to avoid damaging tender gum tissues. Never use a hard bristle tooth brush or brush with harsh substances such as baking soda! These can wear down tooth enamel and wear away precious gum tissue.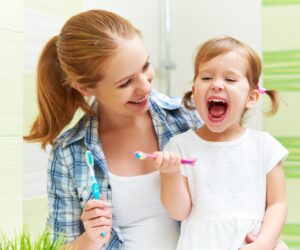 You may be surprised to learn that brushing only tackles about half the amount of bacteria in the mouth, leaving a tremendous amount that continue to grow and thrive. The tongue actually harbors 58 – 65 percent of the bacteria in the 'oral cavity'.
Oral bacteria love to take up housing in the tiny bumps and grooves of the tongue since they are not easily dislodged. Thus, it's necessary that tongue cleaning be a part of your oral hygiene regimen at home to keep bacteria levels under control.
Some toothbrushes have a "tongue scraper" on the reverse side of the bristles that's an effective option. Or, you can brush your tongue with the bristles after your teeth are brushed. Be sure to reach towards the back of the tongue where the majority of bacteria exist.
An advantage of achieving and maintaining a clean, healthy mouth is being confident when close to others. Plus, you'll be contributing to the health and well-being of your entire body. Research has shown that a healthy mouth is a supportive component of a healthy you!
If you are experiencing symptoms of gum disease or concerned your breath is frequently bad, call 828-274-9440. We'll arrange a periodontal exam in our comfortable Asheville periodontal office.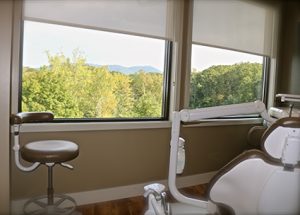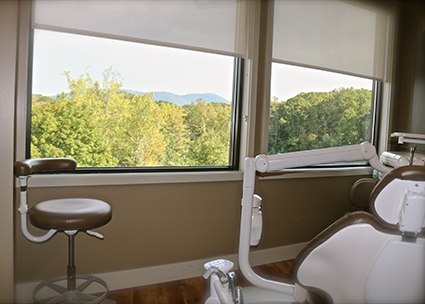 Here, we are committed to the comfort of each patient as well as those who have avoided dental care in the past due to fear. Dental fear is common, and we have a reputation for a gentle touch and respectful care. We also make oral and IV sedation (twilight sleep) available.
Let's help you establish a healthy smile and feel confident in closeness!
Recent Posts
Categories
Archives