Learn More Blog
Boost Immune System By Investing In Gum Health
Posted on Nov 17, 2022 by William J. Claiborne, DDS MS
There is no argument that the price of about everything has gone up and up over the past couple of years. The challenges that most individuals face at this time have been significant for some people but felt by about all.
Yet, there are still reasons to "spend less now so we're not spending more later." This is true with things such as auto maintenance, home repairs and taking good care of our health. A signifiant part of maintaining good overall health is having good oral health. The key, however, is to make the investment while the costs are still low, and avoid the big expenses later to pay for repairs and more extensive treatment.
I'd like to point out the need to bolster our immunity system, brought front-&-center during the pandemic, is actually supported by your oral health. Although the Covid virus continues to be a threat, the experience has made populations more aware of the benefits of vaccines and healthy habits such as hand-washing. Still, it is in our immune system that makes people more or less vulnerable.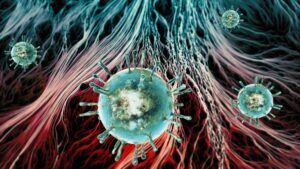 By investing in having healthy gums, the immune system is actually supported more than is largely known. I'll explain.
The bacteria in the mouth, or "oral cavity," is intricately connected to your overall health; so much so that "bad" oral bacteria can disrupt the healthy balance in the digestive system. This bacteria comes from oral plaque, which is a cesspool of sorts formed from bacteria accumulation.
As a layer of biofilm, plaque coats teeth and gums. It is the sticky coating you feel in your mouth when you wake up, during which time the bacteria has had an opportunity to amass during sleep. Plaque, mot removed, becomes tartar. This hardened mass of oral bacteria continues to grow, doing damage in the mouth and far beyond.
Researchers have tracked oral bacteria as it enters the bloodstream. This occurs through weakened gum tissues, allowing the bacteria to travel throughout the body. Studies have shown that the bacteria are able to activate or worsen the development of a number of serious health problems.
These include heart disease, stroke, arthritis, diabetes, preterm babies, some cancers, erectile dysfunction and dementia. Research is currently being conducted to further the connections suspected between periodontitis to Alzheimer's disease.
How does oral bacteria become destructive? Gingivitis is the initial stage of gum disease. Symptoms typically include gums that are tender in spots and some bleeding when you brush. These are warning signs that signal an immediate need for attention.
Periodontal (gum) disease and (often) its subsequent tooth loss are, simply put, products of bacterial overload in the mouth. The mouth is constantly being supplied with sustenance for these organisms. Bacteria are able to thrive through food that enters, especially sugars, and other bacteria-laden items put into the mouth.
The bacteria that cause cavities that feeds on sugar from the foods and drinks you consume. This weakens tooth enamel due as bacteria convert sugar into acids. As bacteria thrive, they are able to reproduce very rapidly.
When bacteria levels become more than the immune system can tackle, infection can set in. Accumulation of bacteria can evolve into gum disease, which is an inflammation that attacks teeth, oral tissues and the bone structures that support tooth roots.
Gum disease symptoms are those more prominent than gingivitis. These include sore gums that bleed when brushing, persistent bad breath, gums that pull away from the base around teeth, gums that darken in color.
As it worsens to the stage known as periodontitis, pus pockets may form on the gums at the base of some teeth. In advanced stages, gum disease causes teeth to loosen and eventually require removal.
The reason that 6-month dental check-ups and dental cleanings is to remove tartar buildup before damage can occur. Your hygienist and dentist can look for signs of gum disease so measures can be taken before the disease explodes into the need for more costly treatment to resolve the problem. Since gum disease is the nation's leading cause of adult tooth loss, the associated expenses of replacing teeth can also be avoided by maintaining good oral health.
Prevention begins at home: Begin by twice daily brushing with a soft bristle tooth brush and use a fluoridated tooth paste. Brush for at least two minutes each time. Floss daily. Be sure not to pop the floss between teeth to avoid damaging tender gums. Move the floss in a back-&-forth motion between teeth to ease it down so you can scrape the sides of each tooth.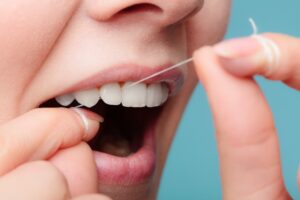 You can remove a tremendous amount of oral bacteria by using a tongue scrapper daily. Or, brush your tongue with your tooth brush at the end of each brushing. This helps to dislodge bacteria that is embedded in the grooves of the tongue.
Drink lots of water during the day. This will help keep saliva flow at ample levels. Saliva is designed to move oral bacteria from the mouth on a consistent basis. Oral dryness is the enemy. Avoid foods and beverages that are drying to oral tissues such as caffeine, alcohol, and spicy foods. Also, try to minimize the amount of sugar and carbohydrates you consume. These foods amplify the reproduction of oral bacteria.
Oral dryness gives bacteria a favorable environment for reproduction. The chemicals in cigarette smoke are very drying to oral tissues. If you smoke, consider using an oral rinse that replenishes moisture in the mouth. Some oral rinses are specifically designed for moisture.
Lowering treatment costs begins with early care: If you have delayed or avoided regular dental care, it is recommended that you begin by having a periodontal examination. A periodontist is a dental specialist who can determine your precise level of gum disease and the most appropriate treatment to restore good oral health. We can detect all stages of gum disease and provide comfortable, thorough treatment to restore your gums to a health state.
If you have lost teeth due to periodontal disease, a periodontist also specializes in the diagnosis and placement of dental implants. This ideal method to replace teeth provides a lifetime solution, making them an excellent investment.
Call 828-274-9440 if you have questions about your gums or if you are experiencing any symptoms associated with gum disease. Also, visit our web site to learn more about our sedation options (including "twilight sleep") and advanced technology, which often reduces treatment time while enhancing comfort.
Visit: https://www.biltmoreperiodontics.com/
Recent Posts
Categories
Archives