Learn More Blog
Choose A Periodontist To Correct A Gummy Smile
Posted on Aug 29, 2022 by William J. Claiborne, DDS MS
When Lauren Hutton, the model well-known for a space between her front teeth, began modeling, she felt she needed to camouflage the gap (or "diastema"). Yet, she soon began to feel it was a unique feature that set her apart from the others. She was right, and now at the age of 77, she's been on more front covers than nearly any other model.
Each smile is unique. Hopefully, your smile makes you feel good every time you share it. And, the very act of smiling has been shown to release endorphins in the brain. Those are the chemicals that create a bit of a 'natural high.' Smiling is obviously an asset to our well-being.
If you have a "gummy" smile, you may be perfectly fine with it. After all, it is not detrimental to oral health if you care for your gums properly (which goes for everyone). And, it can be a positive part of your personality. Katie Couric has a gummy smile and shares hers openly.
However, not everyone with this trait feels comfortable with the look nor the way it makes them feel when smiling. Some people tend to suppress  a full smile. Others often conceal their smile with a hand when smiling fully or laughing. Some people smile with their lips only.
A gummy smile, in the periodontal specialty, is known as EGD, an abbreviation for excessive gingival display or a gingival smile (GS). The trait occurs more often in females than in males. (Gingival is of or relating to the gums.)
Esthetically, a balanced smile typically shows the front top 6 or 8 teeth. Arching each tooth, there is generally minimal gum tissues showing , and sometimes none. Another esthetic complement to a smile is having gum tissues that  show a slight arch over each tooth at a similar line as those that arch adjacent teeth. Gums that are lower over one or two teeth tend to create a jumbled look in a full smile.
When the height of gum tissues distract from the appearance of a smile, a periodontist is your expert. This dental specialist has specialized skills in all aspects of oral tissues. Through their advanced training, they are able to safely and beautifully reshape the tissues that surround teeth.  
For people who wish to have a gummy smile or uneven gum line re-contoured, a periodontist performs a gingivectomy. A gingivectomy is a procedure during which excess gum tissue is remove. During this, the gumline is sculpted to give your smile balance with a more even smile line.
In addition to repairing a gummy smile, a gingivectomy is involved in a procedure known as crown lengthening. Crown lengthening involves removing the excessive gum tissue to expose more of the crown of the tooth, as well as sculpting the gumline to make it higher up. After the gum tissues are shaped, a crown is typically placed to protect the tooth above the gum line and to create a more beautiful smile.
A crown lengthening may also help to save a tooth from removal. When a tooth breaks off near the gum line, a crown lengthening can be performed to expose a sufficient amount of the tooth's base so it can support a crown.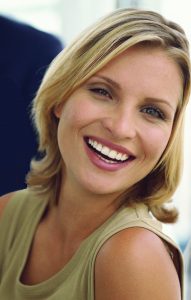 Another procedure a periodontist  expertly performs is gum grafting. This is often to cover exposed roots, to reduce further gum recession, protect vulnerable tooth roots from decay, and improve your smile. Recession can occur as a result of periodontal disease, which causes tooth roots to become exposed and makes the teeth look long.
Gum tissues are very tender tissues with many nerves. Procedures that involve the gums must be performed with precision to minimize discomfort and speed healing time. A periodontist excels in the skills to create an optimal outcome with the most conservative treatment needed.
Our Asheville periodontal dental office provides some of the most advanced imaging and computerized technology available. This includes cone beam 3D imaging and laser dentistry. Additionally, we provide oral and IV sedation ("twilight sleep") so patients are able to relax or snooze comfortably while being monitored by specially-trained team members who use advanced safety equipment.
Begin with a consultation with an experienced periodontist, who can answer your questions thoroughly and determine the best treatment option for your individual needs. Call 828-274-9440.
Some sources:
https://www.colgate.com/en-us/oral-health/mouth-and-teeth-anatomy/3-treatment-options-for-a-gummy-smile
https://www.researchgate.net/figure/Female-and-male-percentages-in-the-gummy-smile-sample_tbl1_340258838
Recent Posts
Categories
Archives