Learn More Blog
Cut Dental Costs With Simple Steps
Posted on Dec 15, 2021 by William J. Claiborne, DDS MS
In order to avoid costly repairs on our vehicles, we rotate our tires, have the oil changed periodically, and make sure certain fluids are at sufficient levels. This is why our annual inspections are so important; risks can be pointed out to keep us safely on the road.
The same is true with our family's health. We stay proactive by eating healthy, staying active and having regular check-ups along with periodic screenings.
It simply makes sense to be committed to preventing problems or catch any that do arise at early stages. Research has shown that your oral health deserves the same commitment you give to maintaining a healthy body.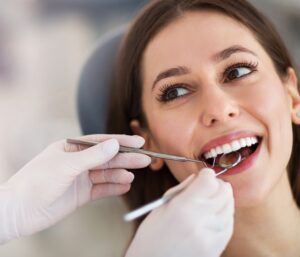 Studies have found a correlation between the bacteria of periodontal (gum) disease and serious problems elsewhere in the body. These include heart disease, stroke, diabetes, arthritis, preterm babies,  impotency and more.
Another reason to maintain a healthy smile is to save money. By devoting about 5 minutes per day to your oral hygiene routine, coupled with having dental exams and cleanings every six months, you can prevent many problems from occurring in the first place. The reward is a savings in time and expense that may be needed for repairs – repairs that may have been prevented from occurring in the first place.
Your twice-a-year dental check-ups are opportunities to remove tartar. Tartar is a cement-hard mass of oral bacteria that forms when plaque (the sticky film that coats teeth and gums) is not removed thoroughly attaches to teeth and can no longer be brushed or flossed away.
Both plaque and the hardened mass of tartar are the result of accumulated bacteria. Oral bacteria continually reproduce in the mouth, which provides a warm, dark and moist environment. As they thrive and reproduce, they attack gum tissues.
As they amass to levels beyond what the immune system, oral bacteria can lead to gingivitis (an early stage of gum disease). Unresolved, gingivitis can develop into periodontal disease, an infection. Eventually, periodontitis develops, which is an advanced level of gum disease. At this level, teeth often loosen and must be removed.
While gingivitis causes tender gums to bleed when brushing, periodontal disease symptoms are more severe, including persistent bad breath, sore gums that bleed easily, gums that darken in color, receded gums, and pus pockets that form between teeth.
As devastating as adult tooth loss can be, the potent bacteria of gum disease can enter the bloodstream through tears in disease gum tissues. Research has shown the infectious bacteria of gum disease can activate or worsen the development of certain pathogens.
Obviously, oral bacteria is highly potent. However, it's easy to control with twice daily brushing and daily flossing combined with regular dental checkups. For added protection, limit sugary snacks and either swish after eating or chew sugarless gum when brushing is inconvenient. Not only will you help to reduce your risk for cavities and gum problems, you'll be able to enjoy fresher breath and smiling confidence.
It is also important to respond early to signs and symptoms of gum disease. As mentioned above, things like frequent bad breath or seeing blood in the sink when brushing are warning signs that something is wrong.
A periodontist is a dentist who has specialized skills in the diagnosis and treatment of all levels of periodontal disease. He or she can also recontour the shape of gums and place dental implants for optimal results.
If you have not seen a dentist on a regular basis, you may be experiencing symptoms that indicate gum disease. As you would respond to a warning sign with your overall health, so should you with your oral health.
Begin with a thorough examination to determine what your needs are and the best way to achieve and maintain good oral health. You'll be supporting your overall health in addition to having a confident smile.
If dental fear has prevented you from having regular dental care, ask about sedation options. We offer both oral sedation and IV sedation (twilight sleep). Both are safely administered and you are closely monitoring throughout treatment.
You may wish to begin with a consultation. To schedule, call 828-274-9440.
Recent Posts
Categories
Archives