Learn More Blog
Dental Implants – Lower Risks Of Failure With These Tips
Posted on Apr 21, 2022 by William J. Claiborne, DDS MS
In our Asheville periodontal dental office, we believe our patients appreciate being fully informed about their oral health status and understanding their options for treatment. For those who have lost natural teeth, our specialty dental services include the diagnosis and placement of dental implants.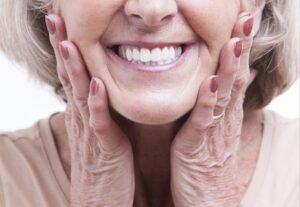 The specialized skills of a periodontist provides implant patients with a high level of success in treatment outcome. It also offers patients a wider variety of choices when it comes to implant systems.
This is why many general dentists who offer dental implants refer the placement portion to a periodontal specialist. For their patient, this can mean a higher level of success, especially for complex needs.
For example, a patient who is missing a lot of bone mass (often due to missing natural teeth for many years) benefits from the specialized skills of our Asheville periodontal office. Another example is a patient who has lost teeth due to periodontal (gum) disease. Because a periodontist combines advanced skills in treating gum disease as well as in dental implants, these patients are given a 'leg up' when it comes to treatment success.
In making your decision to opt for dental implants vs. crown-&-bridge, dentures or partials, it is important to understand the basics of how dental implants work. Although there are different types of implant systems, all work in in a similar fashion.
An implant is similar to a screw-like cylinder that is hollowed out in the center. This segment is what is placed into the bone to serve as a tooth root replacement.
Selecting the most appropriate type of implant and how many are needed is based on specific needs and goals. Our Western NC periodontal office plans for your placement procedure using computerized technology to determine the precise angles and depths for each implant before the placement procedure begins. This minimizes disruption to the gum tissues and bone structures, which in turn reduces healing time and optimizes comfort.
Once placed, each implant is covered over with gum tissue. For several months after, the implant goes through a process known as "osseo-integration." During this phase, the bone grows around the implant, securing it into the bone. This recreates the foundation of natural tooth roots to give biting and chewing stability. Throughout this time, you can wear a denture or temporary so you are never without teeth.
Once healing is complete, a post is secured inside the hollow core of the implant. This post (or "abutment") will support your final replacement tooth or teeth.
An important aspect of implant success also relies on the proper assessment of bone mass. When the upper or lower jaw has insufficient bone to support the implant being placed, there is a risk of failure.
Again, an implant requires careful selection and placement to be able to support the replacement teeth being attached. In some cases, as few as 4 – 6 implants can support a complete arch of teeth. This decision is best left in the hands of a periodontal specialist.
Severe bone loss can require bone rebuilding procedures prior to implant placement. This can be done by bone grafting or the application of a bone-rebuilding material. In some cases, dental implant systems designed with unique angles (such as the "All On 4") can support a fulll arch of upper or lower teeth using minimal bone depth with no bone rebuilding necessary.
Another perk of the All On 4 is the forces of chewing and biting require only 4 implants on the upper and/or lower. Because implant costs are largely based on the number of implants placed, this can be a great savings for people who are candidates.
Why does successful placement rely so greatly on assessing bone mass? An implant must be placed in adequate bone that does not risk interfering with adjacent structures.
Without proper placement in sufficient bone, an implant risks coming in contact with a nerve that extends horizontally through the lower jaw. Upper implants placed too close to the sinus cavity can, over time, penetrate that area. Removing an implant in either of these situations, of course, is no simple task.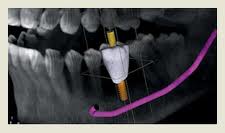 The ability to select the proper implant type for available bone depth is equally important.
Dental implant diagnosis and placement skills can vary greatly from one dentist to another. While some have taken extensive courses in implant dentistry, others may have taken a weekend course here and there. These are typically 'hosted' by a particular manufacturer who provides 'training' in a limited selection of implant types. In turn, this can limit the patient's choices when relying on appropriate recommendations for his or her unique needs.
Obviously, a qualified doctor can enhance your potential for a successful outcome, which is where a periodontal specialist is a wise choice. A Periodontist has particular expertise in the diagnosis and placement of all types of Dental Implants. As a matter of fact, many general dentists prefer to have a Periodontist place implants in their patients. The patient then returns to their dentist for the attachment of teeth to the implants.
Rest assured – in our office, comfort is always a priority. For our patients, we offer oral or I.V sedation to accompany many procedures. While both are beneficial to calm anxiety, tension, stress or even intense feelings of fear, each has its advantages as well as limitations.
Oral sedation is in pill form and provides a fully relaxed state. It often erases most memory of the procedure after and has a quick recovery.
While oral sedation provides a very relaxed state, I.V. sedation puts you in a complete sleep state. This is sometimes referred to as "twilight sleep."  I.V. sedation is ideal for people with dental fear or phobia. This sedation is delivered through an I.V. drip, or intravenously. It takes effect rather quickly and patients nod off within minutes. This sedative erases memory of treatment afterward.
Whether given oral or I.V. sedation, comfort and safety are important to us at all times. And, while sedation is helpful when fear or anxiety exist, some people who have no fears at all request sedation for its ability to relax them during lengthy appointments.
While the doctor involved in your treatment is important, much of the potential for a successful result falls into the patient's hands after the placement process. As a patient, having a successful outcome begins as soon as your implants are placed.
First, closely follow your post-placement instructions. For a few days following placement, most patients are advised to eat only cool, soft foods. This helps to minimize swelling and bleeding, which helps gum tissues to more quickly seal incision sites. This can lower your risk for infection.
Once home, other factors can also place your implants at risk. For example, smokers have a higher risk for implant failure. Because the chemicals in cigarette smoke are very drying to oral tissues, the healing process takes longer. Delayed healing creates a greater risk for infection to occur.
An element of risk that may surprise you is grinding or clenching teeth during sleep, which is typically a symptom of a misaligned bite. Some clenching is so intense the force can be likened to that used to crack a walnut. A sign of night-time clenching or grinding may be worn, chipped or broken teeth. However, even without signs, if you suspect you grind or clench, mention this to your implant dentist prior to treatment. This way, proactive measures can be taken to resolve the problem before complications result.
Most important of all is the patient's commitment to maintaining good oral hygiene. Although Dental Implants themselves do not experience decay, the gum tissues and bone supporting the implants are as susceptible to oral bacteria as before. When oral bacteria infection (gum disease) penetrates to the implant site positions, the only way to treat the infection may require removing the implant.
In addition to being highly committed to your oral hygiene at home, your dental check-ups may be scheduled for every four months rather than twice a year. During these visits, a hygienist will remove accumulated oral bacteria to reduce risk to your Dental Implants. The condition of your gums will also be assessed.
Dental implants are designed to last a lifetime and are the closest thing to the natural teeth you once had. Too, the restored ability to bite, chew, speak and laugh without worry can be a tremendous boost to one's self-esteem and self-confidence.
The type of dental implant best suited for you can be determined after an examination and review of x-rays (we use Cone-Beam digital imaging). Call 828-274-9440 to begin with a private, no obligation consultation to discuss your best options.
Recent Posts
Categories
Archives