Learn More Blog
Dental Implants – Proper Implant System & Precision Placement
Posted on Dec 13, 2022 by William J. Claiborne, DDS MS
A periodontist specializes in the diagnosis and placement of dental implants, in addition to the treatment of all stages of periodontal disease.
In our Asheville periodontal dental office, many general dentists refer patients to us for dental implants. With our specialized skills and advanced technology, we can diagnose and place the implanted portion for optimal comfort and success in treatment outcome.
We are also able to offer patients a wider variety of choices when it comes to implant systems.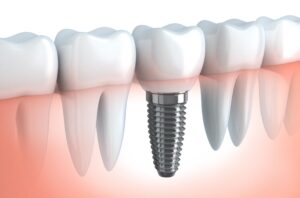 There are many types of dental implants. Various systems are designed to support one replacement tooth (the "restoration"), a bridge of two or more teeth, or a full denture supported by several strategically-placed implants. Understanding the unique advantages of all systems enables us to choose the best type for the patient's individual needs and goals.
For example, the All On 4 dental implant system is designed to support non-removable teeth on just 4 implants (per arch). With its specially-designed implanted portions, these longer implants can fully distribute biting and chewing forces.
The All-On-4 option is an ideal choice for people who have lost bone mass due to lengthy periods of tooth loss. Because All On Four can be placed in minimal bone, many patients are able to avoid the need for bone rebuilding procedures prior to traditional implant placement.
However, it is not just in selection of the implant that a periodontist offers, it is in the placement skills. For a dental implant to serve as a lasting tooth replacement system, it must be positioned in the jaw bone to specific depths and angles. An implant that is mis-positioned can function less efficiently and lead to the need for removal.
Patient comfort can also be enhanced through the specialized care of a periodontist.
Because a periodontal specialist is uniquely skilled in the care of gum tissues, he or she is able to provide a conservative approach to the placement process. Through respectful treatment of oral tissues (in both placement and exposure for restorations), less disruption to the gums allows for faster healing and higher comfort levels.
In our Western NC periodontal dental office, we also feature some of the most advanced technology in dentistry; many options which are not readily available in other dental offices in our region. These computerized images offer advantages to patients in helping to minimize treatment needs.
Some features include:
Computerized Dental Implant Placement – This advanced system for pre-surgical positioning of dental implants uses a 3D model of the patient's jaw. Once the implant type is selected, a template is developed for optimal treatment success, even for complex cases.
3-D Cone Beam Imaging – Ideal for diagnoses and treatment planning, these images provide a clear view of the upper and lower jaw, used for: intricate review of tooth roots; periodontics; orthodontics; dental implants: TMJ; and prosthodontics, as well as dental and maxillofacial surgery. Because cone beam radiographs show sagittal, axial, and coronal planes, locating and tracking nerve canals optimizes implant placement. The process is quick, painless and at minimal levels of radiation.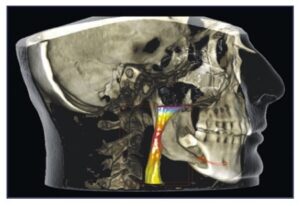 CareStream Cone Beam Computer Tomography Imaging – This enhanced tomography works with 3D imaging for exceptional detail and range.
LANAP With PerioLase MVP 7 (Laser-Assisted New Attachment Procedure) – Is an advanced protocol that efficiently and effectively treats advanced gum disease with the added advantages of a dental laser. This offers a non-surgical alternative for patients with moderate to severe periodontal disease. LANAP treatment leaves very little discomfort and has a quick recovery time. It has also been found to stimulate bone regrowth in damaged areas.
CS 3600 Intraoral Scanner – Rather than make impressions with bulky, goopy trays, this scanner quickly and comfortably captures digital impressions accurately and easily for creating precision models or appliances (crowns, inlays, onlays, bridges, orthodontic appliances and aligners, custom abutments). The scanner can also reach difficult–to–access areas in the patient's mouth for superior results with improved patient comfort.
When it comes to comfort, we are able to offer patients the highest level of relaxation through I.V. sedation ("twilight sleep"). Also available is oral sedation, which is in pill form for enhanced relaxation. While both options have an amnesiac effect, I.V. sedation places the patient in a deeper sedative state. It is administered by a doctor of anesthesiology for optimal comfort and safety. With both, patients are closely monitored with advanced safety equipment throughout treatment.
We know that dental fear is often the foundation of tooth loss, causing many adults to delay or avoid dental care for years. Here, our entire team are sincerely committed to patients in a compassionate and respectful manner.
After placement and restoration, it is important for dental implant patients to be highly committed to maintaining good oral hygiene. Although Dental Implants themselves do not experience decay, the gum tissues and bone supporting the implants are as susceptible to oral bacteria as before. When oral bacteria infection (gum disease) penetrates to the implant site positions, the only way to treat the infection may involve removal of the implant.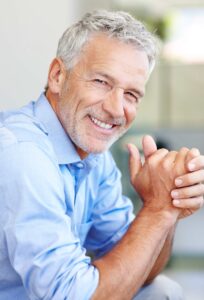 For a lifetime of confident smiles with your implants, we will work with your general dentist to help you maintain ideal oral health. This may involve instructions for thorough oral hygiene at home and dental check-ups scheduled for every four months rather than twice a year. During these visits, the condition of your gums will be assessed and a hygienist will remove accumulated oral bacteria to reduce risk to your implants.
Dental implants are designed to last a lifetime and are the closest thing to the natural teeth you once had. Too, the restored ability to bite, chew, speak and laugh without worry can be a tremendous boost to one's self-esteem and self-confidence.
If you are considering dental implants to replace missing teeth, we invite you to begin with a consultation appointment. This will take place in a private room where we can discuss your needs and concerns. From there, you can determine what pace is best for you.
Call 828-274-9440 to schedule, or tap here for more contact information.
Recent Posts
Categories
Archives