Learn More Blog
Dental Implants – Understanding Their Components
Posted on Jan 18, 2017 by William J. Claiborne, DDS MS
They say knowledge is power. I believe the more a patient understands, the better participants they become in managing their oral health. When considering Dental Implants to replace missing teeth, understanding how the different components of an implant system works is the first step for patients, in my opinion.
Even though there are different types of implants to accommodate various needs, most systems work in the same way. Read on for a simple explanation of how implants are structured.
A Dental Implant is not a replacement tooth (or teeth). The tooth attached to the implant is actually a crown, or in some cases, a bridge of two or more teeth or a full arch (denture). The teeth are actually referred to as restorations, because they restore the look, feel and function of natural teeth.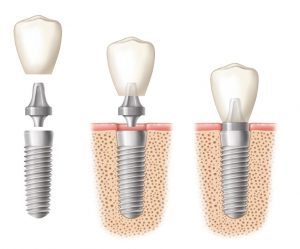 The implant is actually the portion placed in the jaw. An insertion point is made in the bone and the implant, a hollow screw-like cylinder, is placed. In most cases, the implants are recovered with gum tissue and allowed to heal for several months. During this time, you'll be able to wear a denture or temporary teeth comfortably.
In the healing period, your jaw bone will grow around the implant, securing it in place. This process is known as osseo-integration, or integrating the implant with the bone. This recreates the presence of natural tooth roots, assuring biting and chewing stability.
After the healing process, the gum tissue is uncovered and a post is secured inside the implant. Onto this post, your final replacement tooth or teeth are attached.
An important aspect of successful Dental Implant treatment is in the selection and placement process. This is where a doctor who is highly trained and experienced is important. Sufficient bone mass must exist to hold the implant and adequately support the teeth being attached. By strategic placement at a proper depth, as few as 4 – 6 implants can support a full arch.
When bone loss is severe, bone rebuilding procedures can be performed prior to implant placement. This does not necessarily involve bone grafting. Additionally, some implant systems are designed to be placed at specific angles. This gives each implant the ability to support teeth without requiring much bone depth.
The type of Dental Implant system best suited for your needs can be discussed during a Consultation. As a Periodontist, I have advanced training and skills in the diagnosis an placement of all types of implants. During this time, I'll explain options that will work best for you and answer your questions.
Call (828) 274-9440 to schedule a time when we can meet personally.
Recent Posts
Categories
Archives