Learn More Blog
Dental Pain Relief With Patient's Well-Being In Mind
Posted on Aug 19, 2022 by William J. Claiborne, DDS MS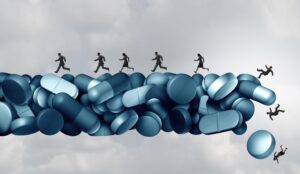 The body relies on a nervous system for many reasons; one reason being to alert us that something is wrong. For example, when we burn our finger on the stove, the brain quickly sends pain sensations so we can remove the finger and take action to help it repair.
As a periodontal specialist in Asheville NC, I know how sensitive the gums can be, as well as teeth. A toothache or a cut in the mouth can be miserable for days. As a periodontist, ideally my skills allow patients to avoid being in pain by keeping their mouths healthy. When an individual maintains a clean mouth that has a low level of bacteria, they can avoid developing cavities and gum disease, which can both result in a significant amount of constant pain.
Yet, caregivers in the American healthcare system are very much aware of the opioid epidemic. We don't want to deny legitimate patients the medications they need to get them out of pain, however, neither do we want to be a catalyst or contributor to an individual who becomes dependent on these or is trying to feed an already existing habit.
The dental profession has been very careful in this regard, according to the American Journal of Preventive Medicine. In 2012, dentists in the U. S. prescribed only 6.4% of the total opioid prescriptions. For procedures such as root canals or extractions, they help patients get through the initial part of recovery when pain levels are most extreme.
As opioid abuse became such a significant problem, dentists became more sensitive to prescribing these medications. In 2016, American Dental Association (ADA) issued a Statement on the Use of Opioids in the Treatment of Dental Pain.
"Dentists should consider non-steroidal anti-inflammatory analgesics as the first-line therapy for acute pain management … [and]should recognize multimodal pain strategies for management for acute postoperative pain as a means for sparing the need for opioid analgesics."
Non-steroidal anti-inflammatory analgesics are commonly known as NSAIDs. These are typically over-the-counter meds, such as Advil, Aleve, Motrin, etc. These are non-opioid, oral medications for temporary relief of acute dental pain.
NSAIDs work to provide effective pain relief by reducing inflammation in the bone, dental pulp, and gum tissues. The ADA encourages dentists to consider NSAIDs as the preferred go-to method for managing acute pain. When NSAIDs are taken after a dental procedure, they have been shown as effective as opioids for reducing pain intensity. For some pain levels, the dentist may prescribe a higher dose (by prescription).
Although NSAIDs are effective and less likely to cause dependency, they can also inhibit the an enzyme responsible for producing other prostaglandins that provide numerous beneficial effects. This includes those that protect the gastrointestinal mucous lining, blood flow to the kidneys, and blood clotting.
NSAIDs could also heighten the risks for serious cardiovascular issues, including heart attack and stroke. NSAIDs gave the potential to trigger issues that complicate the effects of low-dose aspirin.
Another option for managing dental pain is the use of Acetaminophen (such as Excedrin and Tylenol). Acetaminophen is an internal analgesic available in over-the-counter medicines for the temporary relief of minor aches and pains and helping to reduce fever. It can also be found in medicines that contain more than one active ingredient to treat migraines.
Acetaminophen is often used for things like headaches, muscle aches and menstrual cramps. It can also be an ingredient in other medicines.
Please know that I want no less for my patients' comfort than I would want for myself or loved ones. Pain can be an overwhelming problem, although gum disease and cavities are highly preventable. With proper at-home oral hygiene and regular dental check-ups, an individual can keep a healthy smiles and prevent tooth loss (to a signifiant degree).
Even so, the Agency for Healthcare Research & Quality shared that there were more than 615 emergency room visits for every 100,000 people in the U.S. in 2018. The statistic is much higher for low-income and minority groups.
Let's work together to protect our population from the impact it has endured from opioid addiction. Prior to treatment, we will discuss the potential for discomfort or pain afterward and standard treatment options to help ease you through recovery.
If you are experiencing sore, tender gums that bleed easily when brushing or a deep ache like a toothache, do not delay in seeking dental care. When something is wrong in the mouth, there are very few instances that will go away on their own. Most problems worsen over time, leading to higher levels of discomfort and more-involved treatment to resolve the problem.
In our Asheville eriodontal dental office, we offer some of the most advanced technology available in dentistry, including ConeBeam 3D imaging, laser dentistry, and computerized dental implant placement technology. Additionally, we provide oral and I.V. sedation, safely and monitored closely.
Call 828-274-9440 or tap here to arrange an appointment.
Sources:
https://www.rdhmag.com/patient-care/article/14279378/the-dental-hygienists-guide-to-dental-pain-and-pain-management
https://www.deltadentalwa.com/blog/entry/2019/09/dental-pain-management
https://hcup-us.ahrq.gov/reports/statbriefs/sb280-Dental-ED-Visits-2018.pdf
Recent Posts
Categories
Archives