Learn More Blog
For Dental Implants, Begin With A Specialist For Optimal Results.
Posted on Apr 10, 2019 by William J. Claiborne, DDS MS
If you are considering dental implants to replace teeth or an appliance (dentures or partials), having your treatment BEGIN WITH a Periodontist offers many advantages to achieving a successful, overall result.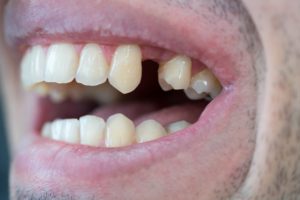 A periodontist is a dentist who specializes in the he placement of dental implants as well as the prevention, diagnosis, and treatment of periodontal disease. Periodontists are experts in the treatment of oral inflammation of the gum tissues, which make up much of the foundation for an implant.
A periodontist is familiar with the latest techniques for diagnosing and treating periodontal disease and trained in performing cosmetic periodontal procedures. To specialize in periodontology, he or she must undergo an additional 11 years, on average, to complete the educational, clinical and specialty requirements after high school.
Essentially, a periodontist becomes a dentist and continues on in education and training to further expand his or her realm of knowledge and skills. While some general dentists offer dental implant diagnosis and placement in their dental office, having a specially-trained periodontist can help you enjoy an optimal outcome based on a unique understanding of the supporting gums, bones, and appropriate implant types and placement.
For example, a dentist who offers dental implant services may actually have completed a brief weekend course hosted by a particular implant system company. The dentist, while 'taught' to place the particular implant type, is essentially instructed in what the hosting company teaches as far as diagnosis and placement of their system alone.
Yet, every mouth is different. An implant designed by one company may not be appropriate for the number of implants you actually need, nor the bone structures you have, or the number of teeth being supported. There are a number of factors that must be taken into consideration for a successful result.
A periodontist uses specialized training that covers all types of implant systems to carefully select the type of implant that is most appropriate for unique needs. From this, a treatment plan will be developed for the number of implants needed and ideal positioning in regards to existing bone structures and surrounding gum tissues.
If finding the "cheapest" price for your implant is the priority in your decision, the involvement of a periodontist will probably not be less expensive than what you'll find advertised online. You'll find bargains that sound too good to be true (which often are).
However, your choice in dental implant treatment should factor in the risks of failure. Some people are unaware that dental implants can "fail." While insufficient at-home care can be a contributing factor to the need for implant removal, an implant that is placed at an improper depth and angle, or one that is too big or small to support the attached restorations (replacement teeth) is also a cause.
As a Periodontist in Asheville, I've had to remove a number of implants that were poorly selected or placed over the years. I feel badly for these patients, knowing they have to go through the entire process again, and make the investment all over again. In our practice, we take every step to "do it right the first time" so implant selection and placement is the very best for each patient.
At Biltmore Periodontics, we offer oral sedation for added relaxation. We also have a Board Certified Anesthesiologist on our team. Dr. Brad Stone is a medical doctor providing sedation and anesthesia for optimal comfort and relaxation. Here, our patients know us for making comfort and safety high priorities. (https://www.biltmoreperiodontics.com/comprehensive-care-team/) IV sedation provides patients with a "twilight sleep" state with a quick recovery. Too, it typically erases all memory of the procedure afterwards.
It may be tempting to consider a "cheap" dental implant offer or a "one-stop clinic" for your treatment. However, your overall comfort and long-term success should be the guiding force in your decisions in tooth replacement.
Begin with a consultation appointment. Call 828-274-9440. During this time, we can discuss the implant type that may work best for you and the process involved. We will also be happy to address anticipated fees and payment options, if desired.
Dental implants, when properly chosen, placed, and cared for, are designed to last your lifetime. In the proper hands, your new smile will be an everyday joy, every day of your life!
Recent Posts
Categories
Archives