Learn More Blog
Grow Older With A Confident Smile That Is An Asset To Your Well-Being
Posted on Jul 27, 2023 by William J. Claiborne, DDS MS
Oliver Wendell Holmes, an associate justice of the U.S. Supreme Court from 1902 – 1932, once said, "Old age is always fifteen years older than I am."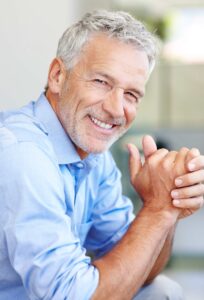 For people who've reached "a certain age," it becomes clear that the advantages of aging (such as having more confidence and living life at a slower pace) are mixed with many challenges, mostly regarding health. 
From aching joints to loss of muscle strength to poor eyesight and hearing loss, the aging process comes with health challenges that seem to grow in number and severity with each passing year. Sadly, increased risk of tooth loss is also part of the process.
Depending on the retention of wisdom teeth, a full set of adult teeth should be 28 to 32. However, in a five-year study by the National Health & Nutrition Examination Survey, Americans ages 75 and over were missing over 22 natural teeth with over 26% having no remaining teeth (known as being edentulous).
While tooth loss is often perceived as a normal part of the aging process, it is not. Keeping one's teeth throughout a lifetime is very possible. The health benefits of maintaining  natural teeth include, among many others, living a longer life.
Healthy teeth rely on a healthy foundation — your gums. Good oral health has been shown to reduce risks for serious health conditions (including heart disease, stroke, and some cancers) elsewhere in the body. In addition to lowering a number of health risks, keeping your natural teeth is necessary for proper biting, sufficient chewing, digestional health and nutritional intake.
It has also been shown that wearing dentures is a poor method of replacing natural teeth. Even though they recreate the appearance of teeth and restore function (to varying extents), dentures can actually contribute to long-term problems.
Natural tooth roots help to nourish and stimulate the jaw bones that are the supporting structures of teeth. Without them, the bones begin to shrink. Known as "resorption," this process of bone mass decline can eventually lead to tooth loss. Once resorption begins,, it continues at an ever-increasing cases year after year.
Tooth loss also causes a domino effect of sorts. Statistics show that adjacent teeth beside an area of tooth loss have the highest risk of being the next to be lost.
And the problems associated with dentures continue. The gum-colored base of dentures is porous. This surface provides oral bacteria with tiny hideouts that are breeding grounds for high levels of bacteria. Denture wearers have higher incidences of respiratory problems, including susceptibility to pneumonia. Studies have shown that senior adults who also sleep in their dentures have even higher risks.
Wearing your dentures for prolonged periods of time (such as while you sleep) coupled with the aging process itself can lead to Denture Stomatitis. This condition causes redness, swelling and tenderness in the mouth. While it is most common among denture wearers, it can also occur from a broad spectrum of antibiotics.
Nearly 89% of adults ages 65 and older report they are currently taking any prescription medicine. More than half of adults 65 and older (54%) report taking four or more prescription drugs (compared to 32% of adults 50-64).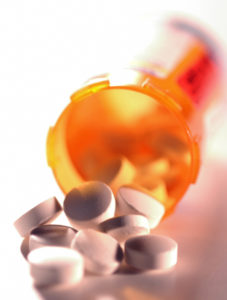 While a number of both prescribed and OTC medications include the side effect of oral dryness for any age, age-related reductions in salivary production are more severe for older adults, causing irritation to oral tissues.
Medications including antihistamines, blood pressure medications, decongestants, pain medications, diuretics and antidepressants typically cause dry mouth, which can create inflammation and higher susceptibility to infection.
The aging process causes the condition of "dry mouth." Saliva plays an important role in maintaining good oral health. A healthy saliva flow makes it easy to talk, swallow, taste, and digest food. A reduction in saliva flow can increase plaque accumulation as well as the risk of developing periodontal disease. 
Referred to as gum disease, this bacteria accumulation can lead to tooth decay, mouth sores and oral infections. Inadequate saliva can contribute to bad breath, dry and cracked lips, cause the fit of dentures to become uncomfortable, and result in higher oral infection risk.
An emphasis on maintaining good oral health needs to be front and center for older adults along with their overall health care commitment. Fortunately, good oral health is easy to achieve. Twice-daily brushing, daily flossing and having 6-month dental exams and cleanings can help to minimize problems and address those that do occur at their earliest stages.
It is also important to keep your mouth moist. Drink plenty of water throughout the day. Limit foods and beverages that are caffeinated, which are drying to oral tissues. These include coffee, tea, colas and chocolate as well as spicy foods. If you take medications that have drying side effects, use an oral rinse designed to replenish moisture. Also, chew sugarless gum to help promote saliva flow.
Your diet is an important part of a healthy mouth. Evaluate your food intake carefully. Begin by limiting carbs and sugar. While all foods trigger an acid attack in the mouth for nearly 30 minutes after eating, sugar and carbs super-charge the reproduction of oral bacteria.
When teeth are lost, adults encounter a complicated set of issues – and costly challenges that can reach far beyond the mouth. As a Periodontist, I've seen how simple measures can save people greatly in treatment time and expense AND prevent problems like gum disease, cavities and tooth loss.
According to Woody Allen, "You can live to be a hundred if you give up all things that make you want to live to be a hundred." Your smile should be one of your best assets throughout your lifetime, complementing appearance and as an advantage to your overall health. Don't let the detrimental impact of tooth loss and risks associated with gum disease make you look and feel old.
If you have begun to lose natural teeth, let us help you halt the process! We can also discuss replacing them with dental implants with our specialized skills in the diagnosis and placement of dental implant.
Call 828-274-9440 to schedule a consultation to discuss how you can regain your oral health for a lasting, healthy smile!
Sources:
https://www.nidcr.nih.gov/research/data-statistics/tooth-loss/seniors
https://www.kff.org/health-reform/issue-brief/data-note-prescription-drugs-and-older-adults/
https://my.clevelandclinic.org/health/diseases/21702-denture-stomatitis
Recent Posts
Categories
Archives