Learn More Blog
How Our Asheville Periodontal Dental Office Makes Your Care Comfortable, Easy.
Posted on Jan 20, 2019 by William J. Claiborne, DDS MS
When people understand what a periodontist does, they realize the advantages of having this specialized treatment when it comes to the health and appearance of a smile.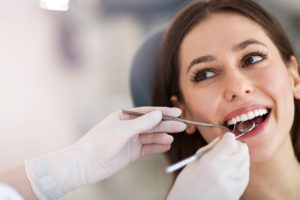 A Periodontist has advanced training and skills in all stages of periodontal (gum) disease as well as in the re-contouring gum tissues. Additionally, they offer unique skills in the diagnosis and placement of all types of dental implants. (Learn more at the web site of the American Academy of Periodontology: http://perio.org/consumer/what-is-a-periodontist)
However, in any dental office, whether specialty or general, there must be a commitment to the individual needs of each patient.
In our Asheville office, this is where people who have periodontal (gum) disease properly diagnosed and successfully treated. This begins with early-stage gingivitis and through the advanced level of periodontitis. And, our advanced technology optimizes diagnosis and treatment, enhancing comfort and saving treatment time.
Research has shown that your oral health is a vital component of overall health. Studies continually uncover intricate interactions that oral bacteria of advanced periodontal disease has with other processes in the body.
For example, that the health of your gums and number of teeth directly correspond to a healthier you. Don't delay care that you need, even if fear has prevented this in the past. For example, an article published by Johns Hopkins Medicine stated, "Diabetes that is not properly controlled can lead to periodontal (gum) diseases in both young and old people."
There is a flip side of this. They go on to share, "… if diabetes is poorly controlled, higher glucose levels in the mouth fluids will encourage the growth of bacteria that can cause gum disease." (https://www.hopkinsmedicine.org/healthlibrary/conditions/diabetes/diabetes_and_periodontal_gum_disease_85,P00349)
An unfortunate obstacle for many to receive regular dental care, however, has been fear or anxiety associated with dental visits.
According to findings of a study that included over 18,000 people (reported in Dental Products Report), "61 percent of the respondents said they're suffering from dental fear, and almost 4 percent of them said they've never been to a dentist. The biggest percentage of people (39 percent) are afraid of the pain, followed by the smell of chemicals (24 percent) and the sound of the drill (21 percent)."
http://www.dentalproductsreport.com/dental/article/study-finds-more-60-percent-people-suffer-dental-fear
This is why adults often end up with gum disease and tooth loss. As a matter of fact, the Centers For Disease Control & Prevention (CDC) estimates that over 47 percent of American adults have some level of gum disease, which is the leading cause of adult tooth loss.
To help anxious or fearful patients relax, we make sure we are communicating thoroughly. Our belief is that patients who are fully informed of their needs and the procedures required are more confident in proceeding with treatment. This, in turn, creates a patient who is able to relax and let fears go.
Some patients are unable to relax, however. This is why our office provides Oral or I.V. Sedation. Oral sedation is a pill form of relaxation. Although most patients have little or no memory of the procedure afterwards, this provides deep relaxation with a quick recovery.
I.V. sedation (also known as 'twilight sleep') for a deeper level of relaxation. This medication is administered via a drip. Patients comfortably doze throughout their procedures are accomplished and generally have no memory of treatment afterwards. Although recovery time is longer with IV sedation, most are able to resume normally within 24 hours.
Regardless of the sedation chosen, patients are closely monitored by trained staff and advanced safety equipment. Your safety is as important to us as your comfort, so we ensure all measures are taken to provide both to optimal levels.
Sedation can be used for procedures involving gum reshaping, treatment of gum disease, or placement of dental implants. For any procedure, however, we carefully assess each patient's current gum health, age, medical and dental history, medications, and number of remaining teeth.
Please know that your procedure, comfort option, and individual needs are important to every member on our team. Here, you'll be respected, given exceptional care, and never over-treated or under-treated.
To begin, call 828-274-9440 to begin with a consultation appointment. During this time, we can discuss the options that may work best for your needs. I'll explain comfort options and we can have our financial coordinator review payment options with you, if desired.
Recent Posts
Categories
Archives