Learn More Blog
The Makeup Of Dental Implants
Posted on Jul 10, 2017 by William J. Claiborne, DDS MS
Every once in a while, I find it is helpful to explain the components of Dental Implants. Because implant systems come in many different shapes and sizes, understanding the basics can often help an individual determine which is best suited to his or her overall goals.
For example, some people who have worn a denture for years prefer an implant system that has 'fixed' teeth attached. This means they will not need to remove the replacement teeth for cleaning.
First, it's important to understand that a Dental Implant is not the replacement tooth, but a component that serves as the stablizer. The actual implanted portion is positioned into the jaw to serve as a tooth root replacement. This restores a dependable, sturdy foundation that supports teeth that can bite and chew without movement.
In placing the implant portion, an insertion point is made in the gum tissues and the bone underneath where natural tooth roots were once held. Into this, the implant, which is similar to a hollow screw-like cylinder, is placed.
In most cases, the implants are recovered with gum tissue and allowed to bond with surrounding bone for several months. Throughout this period, you can wear your denture or temporary teeth comfortably.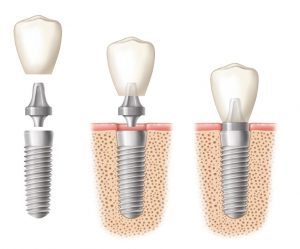 The process of bone growing around the implant is known as 'osseo-integration.' During this time, the bone grows around the implant and secures it in place. After several months, the gum tissue is uncovered and a post is secured inside the implant. Onto this post, the final replacement tooth or teeth are attached. These teeth are referred to as crowns or restorations.
One implant can often support a bridge of two or more teeth. Several strategically-placed implants are often used to support a full arch of teeth. For people who have lost a great deal of bone mass, certain implant systems rely on implants that are placed at specific angles to support teeth in minimal bone depth. However, some levels of bone loss need bone rebuilding procedures. These can be performed prior to implant placement and help restore facial appearance as well as overall eating and speaking function.
Because of the wide variety of implant systems, it is important to carefully choose the doctor who will place your implants. A Periodontist has advanced training in the diagnosis and placement of Dental Implants and works closely with other general dentists and dental specialists to help you enjoy a successful outcome.
The type of Dental Implant best suited for your needs can be discussed during a private Consultation. Call (828) 274-9440to arrange a time to discuss the choices that will work best for you.
Recent Posts
Categories
Archives