Learn More Blog
Men: Gums Can Impact Erectile Dysfunction (ED) and Heart Health
Posted on Jan 24, 2023 by William J. Claiborne, DDS MS
It may be an awkward subject, but the issue of erectile dysfunction (ED) seems to appear rather frequently via TV commercials. I see ads for pills and medical clinics rather often. Agreeably, it is a problem estimated to affect a rather large percentage of men. For those ages 40 – 70, it affects over 40%. Nearly 70% of men at age 70 are affected. 
https://www.clevelandclinicmeded.com/medicalpubs/diseasemanagement/endocrinology/erectile-dysfunction/
In no way am I wanting to dissuade a male from medications or seeking treatment. However, as an Asheville NC periodontal specialist, I want to relay an issue that may be a bigger influence in ED than many are aware.
Below are findings of several studies showing that periodontitis (advanced gum disease) to be a significant risk factor for erectile dysfunction. Rather telling is as gum disease worsens, so does erection impairment.
---
• In a study of 162 males ages 30 to 40, Turkish researchers found that 82 of the participants had normal erection function while 80 who complained of ED, nearly half. Some men in both groups had chronic periodontitis, but the condition was more than twice as prevalent in the ED group. Men with periodontitis accompanied by decayed or missing teeth had the greatest level of ED.
---
• In another study conducted at the University of Granada School of Dentistry, 80 male participants who had severe gum disease were more than twice as likely to suffer from erectile dysfunction. This was true even after adjustments were made for other issues that could distort the findings. In the study, 74% of the participants with ED also presented with chronic periodontitis. 
---
• Israeli researchers conducted a survey of the erection function of 305 men with an average age 40. The participants were given a thorough examination of their gums. Those with chronic periodontitis had the greatest risk of ED.
---
• Research has shown that men with indicators of periodontal disease such as red, swollen or tender gums as well as prostatitis (inflammation of the prostate) have higher levels of PSA than men with only one of the conditions. This means that prostate health may be associated with periodontal health, and vice versa.
Men with gum disease showed a higher risk of developing impotence due to inflammation associated with periodontal disease. This inflammation has been known to damage to blood vessels, which can lead to impotency. Men younger than 30 or older than 70 are especially at risk.
---
A separate study found that men with a history of gum disease are 14% more likely at risk for cancer than men with healthy gums. Specifically, men with periodontal disease are 49% more likely than women to develop kidney cancer, 54% more likely to develop pancreatic cancer, and 30% more likely to develop blood cancers.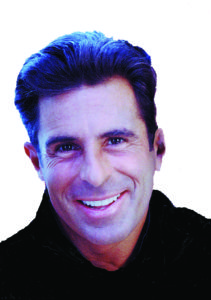 For over two decades, medical researchers have closely focused on inflammation in the body and its power to activate health problems, heart and cardiovascular diseases in particular. However, men have notably higher risks in some areas in addition to ED, one being the heart.
When it comes to ED and heart disease, the connection to periodontal disease has emerged as an independent risk factor. Cardiovascular disease raises risk for ED. Thus, anything that increases the risk for cardiovascular disease (such as smoking, obesity, chronic stress, high cholesterol, high blood pressure, and chronic sleep apnea) also raises the risk of ED.
Men, especially, need to know that they should be committed to having healthy teeth and gums. Research has found that periodontal disease is higher in men (56.4%) than in women (38.4%) – an 18% difference. https://www.perio.org/consumer/gum-disease-and-men
According to a survey by the Centers For Disease Control & Prevention (CDC), only 66% of males brush their teeth twice or more a day compared with 86% of females who do so.
This was revealed through a study of over 800 participants. Evaluation included a written questionnaire on dental knowledge and oral health habits. It also included an oral exam of each participant to detect signs of periodontal disease. (https://www.perio.org/consumer/gender-differences)
Flossing had even worse numbers, but that pertains to both sexes. Only 49% in the survey claim to floss daily. Only 1 out of 3 assumed that seeing blood in the sink when brushing is normal and unaware of it as a sign of periodontal (gum) disease.
Regardless of gender, over time an inadequate daily oral hygiene leads to an overload of bacteria in the mouth. For people who have habits such as smoking, unhealthy diets, and alcohol consumption, their vulnerability is even greater.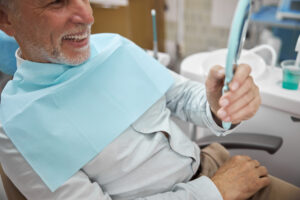 This is also true for people as they age. Aging contributes to a reduced ability to produce saliva, the mouth's oral rinsing agent. When saliva flow fails to rinse away bacteria at sufficient levels, the accumulation runs rampant.
As a Western NC periodontist, I have an up-close view of the damaging affects of insufficient oral hygiene. It often results in tooth loss, which is (contrary to many perceptions) NOT a natural part of the aging process. Having natural teeth for a lifetime is more than achievable and has even been shown to add to one's lifespan (by up to ten years).
If you haven't been fully committed to your oral health, there is no better time to begin than the present. Start the year with a thorough periodontal examination. Call 828-274-9440.
If dental fears have caused you to delay or avoid having regular dental care, consider beginning with a consultation. This occurs in a comfortable, private consultation room that is removed from the clinical side of the office. Too, many treatments can include oral or I.V. sedation (sleep dentistry, or "twilight sleep").
And, if financial constraints are an obstacle in receiving treatment, we offer several payment plans. Most are interest-free with no down payment required (for qualified individuals). Feel free to ask about these during your consultation.
Recent Posts
Categories
Archives