Learn More Blog
Men Have Unique Challenges When Oral Health Is Poor
Posted on Oct 18, 2022 by William J. Claiborne, DDS MS
In almost any fitness center, you'll see guys lift weights, sweat buckets on the stair climber, and use the rowing machine like mad. Men can be pretty appearance-conscious when it comes to their physique. Yet, when it comes to their smiles, their track record is not so impressive.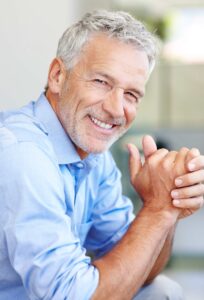 According to the National Institute of Health, a gender-based study of college students concluded that women were far better at brushing than men. Another study's findings (published in the Journal of Periodontology) showed that men were less likely to brush regularly, schedule regular dental checkups, and follow through with recommended dental treatment.
While women are doing a better job, it is necessary due to their own challenges. A female's fluctuating hormone levels as they go through different stages of life affect gum health and lead to inflammation.
Men should understand that a healthy smile may be far more appealing than they realize. A survey by dental insurer Delta reported that good oral health was one of the top "sexiest qualities" that women saw in men. Poor hygiene topped the list of turn-offs for women with 70% of females claiming they would not kiss someone believed to have poor oral health.
According to the Centers for Disease Control and Prevention (CDC), men are less likely to sufficiently maintain their oral health. This should be especially concerning for men since they have some pretty challenging odds against them as far as health statistics go. These include:
• Men have higher rates of periodontal (gum) disease, tooth loss, and oral infections. Because statistics show that men typically have poorer dental habits than women, they tend to have more dental health problems. Men can't blame this on biological predisposition as the statistic is based upon lifestyle choices (such as not brushing, etc).
• Men tend to have higher blood pressure, putting them at an increased risk for heart disease later in life. Medications that treat these conditions can cause dry mouth, which ups the risks to their oral health.
• Elderly men typically have fewer teeth than women of the same age, and need dentures more frequently than women do. Although research shows a correlation between tooth loss and body mass index, in the case of elderly men, having few teeth boils down to poor dental habits/health accumulated over time. 
• Oral cavity and oropharyngeal (throat) cancers are twice as common in men than in women. This is suspected (somewhat) to be because men have been more likely to use tobacco and alcohol in the past.
• HPV-related oropharyngeal cancers occur more often in men. Human Papilloma Virus (HPV) is the most common sexually transmitted infection in the United States. HPV can lead to certain types of cancer and thought to cause 70% of oropharyngeal cancers in the U.S. The development of oropharyngeal cancer due to HPV is about three times less prominent in females than in men of the same age.
• About 10% of men and 3.6% of women have Oral HPV, which is transmitted through sexual or skin-to-skin contact. Oral HPV can spread through deep tongue kissing and oral sex. In men, symptoms may appear in the form of warts, growths, lumps, or sores on the penis, scrotum, anus, mouth, or throat.
While a healthy smile is important to both genders, older adults should pay particular attention to having a healthy smile. By CDC estimates, approximately 13% of adults age 65 – 74 have no teeth. For people ages 75 and older, that number jumps to 26%.
Keeping a healthy smile that looks "kissable" isn't that difficult. By following simple guidelines of at-home care and 6-month dental check-ups, men (and women) can avoid the time and expense of cavities and gum disease (the nation's leading cause of adult tooth loss). And, you'll enjoy fresher breath by reducing bacterial levels in the mouth.
In addition to twice-daily brushing and daily flossing, here are some tips to help you:
– Drink lots of water! It's good for you and helps in the production of saliva, which cleanses the mouth.
– Swish with water after drinking or eating.
– An acid attack occurs every time you eat or drink so limit between meal treats. If you want a cola, for example, have it with a meal since an acid attack will already be underway.
– Snack wisely and read the labels on sauces, dressings, etc. Sugar in high content appears in some surprising ways.
– Brush twice daily, however, don't brush immediately after eating. Wait 30 minutes for the acid attack in your mouth to subside to keep abrasion on enamel.
A periodontal specialist has advanced training and skills in treating all stages of gum disease as well as in the diagnosis and placement of dental implants. In our beautiful Asheville periodontal dental office, patient comfort is a priority at every visit.
Dental fear and anxiety are common amongst men and women. If dental fear has kept you from having regular dental care, we offer oral sedation as well as I.V. sedation (twilight sleep) in addition to a gentle touch and respectful team.
Call 828-274-9440 to begin with a private, no obligation consultation to discuss your best options. New patients are welcome and a referral is not needed.
Sources:
https://www.ncbi.nlm.nih.gov/pmc/articles/PMC4544688/
https://pubmed.ncbi.nlm.nih.gov/20116657/
https://www.cancer.org/cancer/oral-cavity-and-oropharyngeal-cancer/causes-risks-prevention/risk-factors.html#:~:text=Oral%20cavity%20and%20oropharyngeal%20cancers%20are%20twice%20as%20common%20in,seen%20more%20often%20in%20men.
https://www.colgate.com/en-us/oral-health/hiv-aids-and-stds/dental-care-hpv-and-men#
Recent Posts
Categories
Archives