Learn More Blog
Missing Teeth? HOW You Replace Them Will Make the Biggest Difference.
Posted on Oct 23, 2023 by William J. Claiborne, DDS MS
I remember a time when people assumed they would lose their natural teeth as they aged. Wearing full dentures in one's senior years was almost an expectation. However, today's adults are less accepting of "false teeth."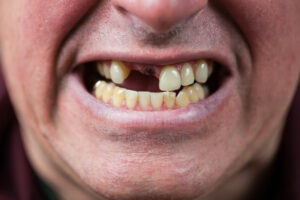 Over time, adults have learned that the removal of a natural tooth has lasting repercussions. Although the tooth may have been removed because of decay or a break, the long list of problems and associated expenses are generally far greater than what was anticipated. I'll explain.
When a natural tooth is removed, its absence causes a reaction that begins below the gum line. Without the presence of tooth roots, the bone begins to "melt." This process is known as resorption.
The absence of a tooth root in the upper or lower jaw bone removes stimulation to the bone mass where it was once positioned. Along with the stimulation, natural tooth roots channel nourishment needed for maintaining a healthy mass.
Resorption begins shortly after the tooth root is removed. Once it starts, it continues at an ever-increasing pace. For example, the first year after a tooth root is missing, the loss of bone may be minimal. With each passing year, the pace of loss accelerates. For people who sleep with their dentures, the 24/7 pressure on the gum ridge speeds up the pace even more.
As the bone shrinks in height, the natural tooth roots adjacent to the area of missing teeth are subject to movement and root damage. On average, the next teeth you're most likely to lose are the ones bordering areas of missing teeth.
Obviously, it is important to replace lost teeth before bone loss begins. For the support of remaining natural teeth, it's also important to replace missing teeth as soon as possible so adjacent teeth can retain their proper positions. Yet, merely replacing the presence of a tooth above the gum line leaves the underlying risk factors in place. Over time, problems arise for most individuals.
There are many reasons we recommend dental implants for tooth replacement, whether for one, several or a full mouth of missing teeth. Dental implants recreate stimulation to the jaw bone, thereby halting the pace of bone loss. When bone mass is maintained, neighboring teeth have a reduced risk for being lost as well.
Because dental implants are held in the jaw bone, they are able to restore a natural biting strength with dependable stability. Having the ability to bite and chew efficiently and enjoy a diet of foods you love enhances eating pleasure and proper digestion. It's no surprise that people who wear dentures have more gastrointestinal problems than those who have their natural teeth.
Another advantage to dental implants is their longevity. When dental implants are properly selected, placed and maintained, they should last your lifetime. This is why it's so important to have your implant treatment through a Periodontist.
A periodontal specialist has advanced training to properly diagnose and place the most appropriate dental implant system for your needs and goals. As an Asheville periodontist with over 30 years of experience in dental implants, I have a reputation for treatment that provides the most successful outcome based on each patient's unique needs – and by the most conservative means possible. Thus, the patient avoids having more time and expense involved than is necessary.
We are also known for providing a high level of patient comfort through the administration of IV sedation (twilight sleep) with our on-site Board Certified Anesthesiologist. Additionally, diagnosis and treatment planning is backed by images from our on-site 3D Cone Beam imaging.
Our Western NC periodontal office is fully prepared for the placement of dental implants. We tend to our patients in an efficient and effective manner so treatment occurs in minimal time and to an exceptional level of comfort.
We receive many patients who have been referred by their physician, dentist, and past/present patients, often because of our advanced skills and the respectful environment we provide. Here, each patient is treated with the same respect, compassion and gentle hands that we would want for ourselves and our loved ones. We take great pride in knowing our patients experience the finest periodontal and implant care in the Southeastern U.S.
A periodontist is a dental specialist who is trained to understand the intricate concepts involved in selecting the proper type of implant and skilled at placing implants at proper depths and angles. A periodontist is also able to optimize patient comfort during treatment and throughout the healing phase.
In addition to this advanced training, our office offers some of the most advanced technology available. This aids in the diagnosis and treatment planning of dental implants, providing patients with optimized comfort and outcomes. This technology, combined with our advanced skill level, creates a comfortable, efficient experience that helps you enjoy a lifetime of confident smiles.
Dental implants are also designed to last a lifetime. I can think of very few things that provide this kind of value. With proper selection and maintenance, they will never need replacing or repair, making them an excellent investment.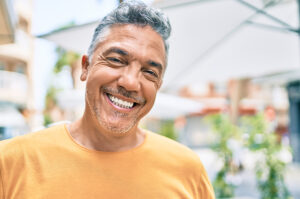 If you are considering dental implants, increase your potential for a successful outcome by asking a Periodontist to join your dentist in team treatment. Most general dentists have close relationships with periodontal specialists for implant placement, gum reshaping and in the treatment of gum disease.
If you have lost natural teeth or are facing the potential of tooth removal, call 828-274-9440 to schedule a consultation. This will occur in a private, comfortable consultation room conveniently located in our Asheville periodontal dental office. During this time, we'll discuss the implant systems that may work best for your needs and preferences. I'll explain the treatment involved, sedation options and estimated fees.
Recent Posts
Categories
Archives