Learn More Blog
Missing Teeth? Know The Ends-&-Outs of Dental Implants
Posted on Jan 29, 2021 by William J. Claiborne, DDS MS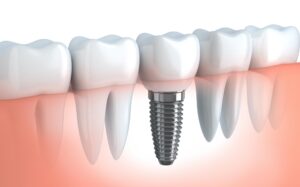 If you are one of the millions of adults who are missing one or more natural teeth, you are actually in the majority if you are over the age of 50.
According to the Centers of Disease Control & Prevention (CDC), by the age of 50, Americans have lost an average of 12 teeth. For those between the ages of 50 to 64, over 10 percent have no remaining natural teeth. Twenty-six percent – more than one-fourth – of adults between 65 – 74, have lost ALL of their natural teeth.
Replacing natural teeth may seem simple. Often, people assume that a partial or bridge will solve the problem. Yet, these dental appliances merely worsen an already precarious situation. While these dental prosthetics "mimic" the appearance of teeth, what's occurring beneath the gum line has a significant impact on what's to come.
To understand the rocky road in the future, consider the foundation of natural teeth – the jaw bone.
The reason biting and chewing occurs dependably and with stability with natural teeth is because they are secured by the jaw bone. When natural teeth are removed, their roots are no longer present in the jaw bone. The presence of these roots actually provides stimulation to the jaw bone, which helps to preserve the bone's mass. Without this stimulation, the bone resorbs, a process of which bone mass "melts away".
Resorption is to blame for dentures or partials that start to move or slip over time, even though the fit was snug when first made. Because resorption reduces bone height, the ridge the denture was contoured to fit begins to flatten. A shrinking ridge leaves the denture with an insufficient base.
The pace of bone loss speeds up a little more each year. The pressure of a denture on the ridge accelerates the rate. For people who sleep in their dentures or partials, the continual pressure ramps up the pace further.
As the ridge flattens, denture adhesives or pastes become of little help while trying to eat. This leads many denture wearers to switch to a diet of soft foods that dissolve easily in the mouth. Often, the pleasure of eating is overshadowed by trying to avoid sore spots on tender gum tissues or embarrassing slips.
Declining bone mass also leads to changes in facial appearance, contributing to an appearance that is far older than one's actual age. As bone mass declines, jowls form as facial muscles detach from a shrinking bone mass. Deep wrinkles form around the mouth and the corners of the mouth turn downward, even in a smile. As bone loss becomes severe, the chin points and the nose moves closer to the chin, creating a 'granny look.'
As an Asheville periodontist, my dental specialty includes the diagnosis and placement of dental implants. Dental implants are the closest thing to natural teeth, for many reasons.
Dental implants restore the ability to bite and chew comfortably and without the fear of embarrassment or uncomfortable rubbing. Because implants are placed in the jaw bone, they have the same dependable foundation as that of natural teeth.
Among the many benefits of dental implants, they also provide stimulation to the jaw bone. This helps to halt the process of bone loss. For those who have already lost a great deal of bone loss, bone rebuilding procedures can be performed to restore a healthy, more youthful face shape.
An added advantage of implants is they do not rely on the crowning of otherwise healthy, neighboring teeth for the mere purpose of supporting a bridge. While a traditional crown-&-bridge combination relies on crowned teeth for support, an implant uses the sturdy foundation of your jaw bone.
There are over 40 different types of dental implant systems, each designed to accommodate specific needs and goals. For example, some implants are designed for placement in minimal bone mass. Others can be strategically placed to support a bridge of two or more teeth or support a full arch.
When choosing Dental Implants to replace teeth, you are making a lifelong investment. Since implants are designed to last a lifetime, they provide a 'one & done' choice for dependable tooth replacement. There are not many things these days that give you so much value!
If you struggle with dental fear or anxiety, rest assured that patient comfort – at every appointment – is of the highest priority. Our office is structured to attend to the specific needs of each patient, gently and respectfully. Patients begin with a consultation in a comfortable, private setting rather than seated in a treatment chair.
For patients who desire a "sleep" state, we offer oral sedation as well as I.V. sedation (twilight sleep). Oral sedation is a pill that helps patients relax. It also has an amnesiac effect, leaving most with little or no memory of treatment afterward.
I.V. sedation places the patient in a deeper sedative state (twilight sleep), also erasing memory of the procedure. It is administered by a doctor of anesthesiology for optimal comfort and safety.
With both, patients are closely monitored with advanced safety equipment throughout treatment. Patients also find our entire staff to be a unified team, each bringing a sincere level of compassion and commitment to excellent care.
Rather than bypass the very best option for replacing lost teeth, consider a consultation to discuss the benefits, anticipated costs, and treatment process. Call 828-274-9440 for an appointment in our Asheville periodontal dental office.
Recent Posts
Categories
Archives