Learn More Blog
Mouth Sores – What Is Harmless & What To Watch Closely
Posted on Nov 04, 2021 by William J. Claiborne, DDS MS
As the holiday season approaches, our risk for illness goes up. Our chances for picking up colds or the flu increases, which is worrisome on its own. Add that to already-high concerns surrounding exposure to COVID, and we're all taking added precautions to protect our health.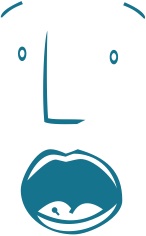 As in any year, colder months mean we're more confined to the indoors and in closer proximity to others. With heightened potential for illness, the holidays simply create more stress to our lives. Stress is a contributor to our health as it compromises the immune system. This, in turn, lowers our resistance to fight off illness.
After the holiday mingling constraints endured in 2020, people are trying to take added precautions in 2021 so our "togetherness" is not overshadowed with worries about exposure to illness. To bolster our resistance, many people have had their Covid booster and flu vaccines, practice frequent hand washing, take vitamin supplements such as C, and are trying to stay active physically inside and out-of-doors.
Certainly, we applaud the health safety efforts taken by our Northwest NC population. As an Asheville periodontist, just a added tip for your overall health and well-being: Don't forget to monitor the inside of your mouth while being committed to the other health measures you're taking. You may be surprised at what your mouth reveals.
In busy times of year like the holiday season, we see a greater number of individuals who develop canker and cold sores.  As stress goes up, your likelihood of getting a cold or canker sore increases as well.
The difference between Canker and Cold sores is:
Canker Sores
These are small ulcers that typically have a white or gray base and red border. Unlike cold sores, canker sores appear inside the mouth and are not contagious. The exact cause of canker sores is uncertain but fatigue, stress or allergies can increase the likelihood of a canker sore. Some experts suspect immune system problems, bacteria or viruses can also spurn eruption. A cut caused by biting the tongue or inside of the cheek as well as hot foods or beverages may contribute to canker sore development. Canker sores usually heal on their own in a week or two. Over-the-counter topical anesthetics, steroid preparations,  and antimicrobial mouth rinses can provide temporary relief. As a holistic method, you may try swishing with plain, sugar-free yogurt for a minute or so. This helps to restore a healthy bacteria balance in the mouth while soothing discomfort.
Cold Sores
These are also referred to as fever blisters or Herpes simplex and are located around the lips, under the nose or on the chin. Caused by herpes virus type 1, cold sores are very contagious. These are clusters of fluid-filled blisters that often erupt since are they are most commonly found around the edge of the lips. Cold sores are Herpes lesions that may follow a fever, sunburn, skin abrasions or emotional upset. Because cold sore blisters are on the outside of the mouth, they can be embarrassing and uncomfortable. Although they usually heal in a week, over-the-counter topical anesthetics may speed the process while providing some relief. In our office, we can use a dental laser to hasten healing, often within a couple of days. If occurrences are frequent, ask about prescription drugs that can help reduce the duration of these viral infections.
Other issues your mouth's interior can reveal include:
White Coating On Tongue
The tiny, bumpy protrusions on the tongue's surface are papillae. Papillae are our source for taste and touch, allowing for feeling food's form and texture. Saliva and food residue can become embedded in the grooves between the papillae, especially on the back portion of the tongue. This can create areas for rapid bacterial growth. As bacteria accumulate, a whitish film coats the tongue, which leads to bad breath. Let your white tongue be a warning sign of too much bacteria and take measures to manage it before cavities and gum disease develop. It's important to keep the mouth moist since a dry mouth provides a breeding ground for bacteria reproduction. Drying sources, in addition to age, include smoking, alcohol consumption, caffeinated foods and beverages, and many prescription and OTC medications. Uproot bacteria in the tongue daily by brushing the tongue with your toothbrush after brushing teeth. Some toothbrushes have a tongue scraper on the back side of the bristles or you may want to purchase a tongue scraper. These are flexible strips you use to scrape over the tongue's surface in a back to front motion.
Cheek Biting
Cheek biting can occur from a minor accident, such as during a fall. It can also occur from careless chewing or talking while eating. Cheek bites can occur more frequently due to a bite that is misaligned. A disparity in the bite can disrupt the harmonious congruency of upper and lower teeth while chewing and speaking. Cheek biting can be a symptom of bite misalignment. Other signs may indicate temporomandibular joint (or TMJ) disorders, which often result from a misaligned bite. Thus, cheek biting can be related. Too, TMJ disorders can cause night-time clenching or grinding of teeth. During these actions, you may be unknowingly biting the inside of your cheek while asleep. Cheek biting can cause inflammation at the location of the bite and can also result in canker sores. Chronic cheek biting can result in redness, painful sores, and tears in the mouth's inner lining. Repeated bites can cause the oral tissues to become thick, scarred, and paler in the affected area. This surface can prompt the individual to continue biting in an attempt to create a smooth surface. If cheek biting has become habitual, there may be an emotional cause, such as  stress, anxiety, depression, or even genetics. This should be discussed with your primary care physician.
Oral Cancer
It is important to pay close attention to any change to oral tissue that does not heal within 10-14 days. When oral tissue does not repair on its own in a week or so, it should be examined by your dentist or periodontist without delay. Some of these spots can be a symptom of oral cancer.
Oral cancer has one of the worst survival rates of all cancers. Because symptoms can mimic a bite on the inside of your cheek, more obvious symptoms often do not emerge until the cancer has reached advanced stages. Of those who acquire oral cancer, only 57% are estimated to still be alive 5 years later. Know the signs of oral cancer, which include:
• white or red patch of tissue
• unusual lesion in the mouth
• difficulty or discomfort when swallowing
• persistent sore throat or feeling something is stuck in the throat
• a lump or mass inside the mouth or neck
• wart-like mass
• numbness in the mouth or face
Lesions or discolorations that are early warning signs are not always visible, particularly in the back portion of the mouth. Because symptoms emerge slowly, the delay in early diagnosis and treatment can have deadly consequences. This reinforces the need to maintain regular oral hygiene exams and cleanings every six months. During these times, unusual changes in the mouth can be noted and, if concerning, further steps can be taken. Remember, never wait until your next dental check-up appointment to have anything unusual examined.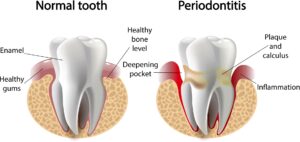 Bleeding Gums
Contrary to what some people believe, having gums bleed at any time is not normal. Seeing blood in the sink when you brush is not a sign you're doing a good job. It's a sign that the gum tissues are either being scrubbed too harshly or the gum tissues are infected by accumulated oral bacteria. If you notice bleeding – at all – take extra measures to maintain excellent oral hygiene at home. This includes twice daily brushing, daily flossing, using an oral rinse, keeping the mouth moist (ideally by drinking plain water), and limiting sugar. If bleeding continues for more than a couple of days, make a dental appointment. You may have developed Gingivitis, which is an early stage of gum disease. Halting this in its tracks early can save you greatly in treatment time and expenses.
The interior of your mouth can be a great indicator of your health in other areas. Just be sure to look inside and stay proactive on steps needed to keep the interior "in the pink". Again, if an unusual spot or sore is still present after two weeks, call 828-274-9440 immediately for an appointment.
Recent Posts
Categories
Archives