Learn More Blog
New Studies Reinforce Obesity-Gum Disease Connections
Posted on Apr 01, 2022 by William J. Claiborne, DDS MS
The first quarter of 2022 has concluded. If your New Year's resolution to lose weight has waned by now, here's an incentive to hopefully recommit to it. Researchers at Case Western Reserve University School of Dental Medicine recently conducted a study that found the human body with fewer fat cells is better able to combat periodontal (gum) disease. This is because fat cells trigger inflammation in the body.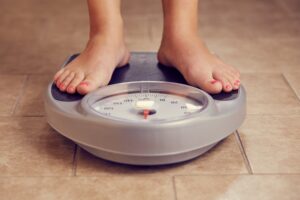 In the study, 31 obese people who had clear indications of gum disease were monitored. Half of the group had gastric bypass surgery with fat cells removed from the abdomen. Those in the other group had not had gastric bypass surgery or fat removed.
Researchers noted that the majority of the bypass surgery group had a drop in their glucose levels following the procedure. This is a positive outcome based upon the higher risk of overweight people for diabetes and insulin-related problems.
All study participants underwent non-surgical periodontal treatments and were provided oral hygiene instructions for at-home care. While both groups showed improvement, the surgery group had better results.
https://www.sciencedaily.com/releases/2011/11/111109111540.htm
Inflammation in the body that continues without being able to resolve itself is known as systemic inflammation. This can have harmful effects over time, even eroding bone and that can lead to tooth loss. The inflammation can also cause breaks in the gums where harmful oral bacteria can enter the bloodstream. The potent bacteria of periodontitis (advanced gum disease) have been linked to preterm birth, stroke, heart disease, some cancers, diabetes and arthritis.
Years of scientific studies have long shown that insulin levels in diabetics improve when their gum health improves. Not surprisingly, the pathological processes that occur in both gum disease and rheumatoid arthritis (RA) are almost identical. Both have similar clinical structures, which are agents that cause disease or illness.
Based on the clinical makeup of gum disease and arthritis, the genetic similarity causes both conditions to cause chronic inflammation in tissues that connect to bone. It has also been shown that, by treating periodontal disease in RA patients, symptoms often improve. This has been attributed to a reduced burden of oral inflammation to the system.
Because excessive fat cells cause insulin to be more resistant to function as needed, a higher accumulation of sugar in the blood (hyperglycemia) occurs. By losing weight, insulin becomes less resistant and improves the diabetic status. Similar to improving inflammation levels in arthritic joints, gum disease treatment can also calm the inflammatory load from being overweight.
Another influencer of inflammation the researchers noted is the presence of the leptin hormone. This hormone is what regulates metabolism. Leptin has been linked to inflammation by increasing the production of a particular protein, which is also linked to inflammation (having a domino effect, of sorts). Because leptin production is reduced after bariatric surgery, the levels of inflammation are lower with better outcomes in periodontal treatment.
https://www.sciencedaily.com/releases/2021/11/211112083106.htm
In yet another recent study, the inflammation caused by obesity appeared to be a trigger for the development of cells that break down bone tissue. Natural teeth are held in place by the upper and lower jaw bone. To improve the understanding of the obesity-gum disease connection, research conducted at the University at Buffalo examined two groups of mice over a 16 week period. The mice were fed vastly different diets. The mice in one group were fed a low-fat diet (10% fat). In the other, the diet consisted of 45% fat, nearly half of that fed.
The high-fat diet group experienced obesity as well as higher inflammation and less bone mass where teeth are held in place. The researchers also noted that excessive inflammation resulting from obesity causes the cells that break down bone tissue. These cells, which originate in bone marrow, increase during illness in order to regulate immune function.
Bone loss is a leading symptom of gum disease, often leading to tooth loss. Gum disease affects nearly half of American adults ages 30 and older, according to the Centers for Disease Control & Prevention (CDC).
In NC, according to 2020 statistics, the CDC also reported that the obesity level of adults ages 30+ was 33.6. That's one-third of our state's population being obese. (https://www.cdc.gov/obesity/data/prevalence-maps.html#overall)

The relationship between the degree of obesity and gum disease is clear. However, as a periodontal specialist, I hope continued studies on the inflammation-bone connection that accompanies obesity (such as arthritis and osteoporosis) can improve the health of our U.S. population.
So, is the message here to improve your weight by improving your oral health? Research is certainly finding that one helps the other. After all, being at a healthy weight should make you smile, and we all want a smile that shows our confidence and overall well-being.
Know the common symptoms of gum disease and respond promptly by seeing a periodontist. Symptoms can include puffy gums that turn red in color; inflamed, swollen, or bleeding gums; gums that loosen from the base of teeth; persistent bad breath; gums that become spongy and bleed easily; and, pus pockets that form on the gums at the base of teeth.
If you are experiencing any of these, please contact our Asheville periodontal dental office. If dental fear of anxiety has prevented you from having regular dental care, we will be happy to discuss features such as oral and I.V. sedation ("twilight sleep"). Too, our office offers some of the most advanced dental technology in the Southeast. These options often save the patient much time in treatment, improve outcomes, and enhance comfort.
Call 828-274-8448 to begin with a consultation appointment. A referral is not necessary.
Recent Posts
Categories
Archives