Learn More Blog
Nothing To Fear To Accomplish Healthy Smile Here
Posted on Apr 16, 2023 by William J. Claiborne, DDS MS
As a dental specialist, I find that many people are unfamiliar with exactly what a periodontist does. Yet, when they are recommended to see me (typically by their general dentist), it is because they need specialized care that falls under our unique set of skills.
A periodontist has advanced skills to help patients with a variety of needs that involve the gum tissues. These include:
– Treatment of all stages of gum disease (gingivitis, pregnancy gingivitis, periodontal disease, periodontitis)
– Reshaping gum tissues for esthetic enhancement (crown lengthening, gingivectomy for 'gummy smiles', repairing areas of gum recession)
– Diagnosis and placement of dental implants
– Treatment of lesions or cysts in oral tissues
Let's begin with gum disease.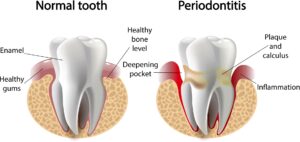 Because the majority of care I provide has to do with the treatment of all stages of periodontal disease, it may be helpful to understand how this develops. Although many people delay or avoid regular dental care (mistakenly thinking "if nothing hurts, then nothing must be wrong"), I have a close-up view of its destructive nature. Its formation creates cavities, periodontal (gum) disease, and leads to eventual tooth loss.
Even people who are committed to a regimen of thorough at-home oral hygiene (twice-daily brushing, daily flossing), can be doing an insufficient job of removing the daily buildup of plaque. Plaque is a sticky film of bacteria that accumulates in the mouth. When not thoroughly removed, it can harden into a mass that attaches to the base of, or in-between, teeth.
In the form of tartar, this cement-hard mass of bacteria cannot be brushed or flossed away. Once tartar forms, it can only be removed by a dentist or hygienist using special tools. Without removal, it will continue to amass and attack gum tissues, working its way beneath the gum line.
Below the gums lie the support system for natural teeth, consisting of tissues, ligaments and bone. When the bacteria reach an uncontrollable level, they become infectious. As these infectious bacteria accumulate further, symptoms of gum disease become more apparent, such as tender or swollen gums or seeing blood in the sink when brushing teeth. Breath odor may be bad on a regular basis.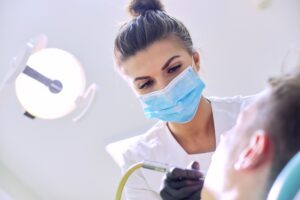 As symptoms worsen, the gums become red with infectious and loosen their grip around the base of teeth. The gums may become spongy and pus pockets may form. Breath odor at this point is persistently putrid. Eventually, the structures that support teeth are compromised and teeth may loosen. Gum disease is the leading cause of adult tooth loss in the U.S.
Research has found that certain strains of oral bacteria from gum disease create reactions in the body that can trigger systemic inflammation. Thus far, research findings have shown a correlation between periodontal disease bacteria and some cancers (including pancreatic and lung), Alzheimer's disease, pre-term babies, heart disease, stroke, diabetes, arthritis and erectile dysfunction (ED).
As if all that weren't bad enough, one study suggests that gum disease relates to a reduction in one's quality of life: "Periodontal disease has been linked to lower quality of life." "Quality of life encompasses several domains, including psychological functioning and social relationships among others. Oral health-related quality of life has been shown to be reduced in patients with periodontal disease." (https://www.hindawi.com/journals/prm/2017/5491923/)
While estimates show about 75 percent of American adults have some degree of dental fear or anxiety, over 47 percent have some level of periodontal disease. As a periodontist, both are alarming numbers. Nearly half our nation is walking around with a potentially life-threatening disease in their mouths.
Treating this may sound like it would be pretty intimidating. However, Although there are many treatments offered and at various levels, our main goal is to provide patients with comfortable and positive experiences at every visit. One way we accomplish this is through the advanced technology featured here in our Western North Carolina periodontal dental office. We feature some of the most advanced in dentistry, much of which is not available in dental offices elsewhere. Some of these features include:
LANAP With PerioLase MVP 7: Laser-Assisted New Attachment Procedure is an advanced protocol that efficiently and effectively treats advanced gum disease with the added advantages of a dental laser. This offers a non-surgical alternative for patients with moderate to severe periodontal disease. LANAP treatment leaves very little discomfort and has a quick recovery time. It has also been found to stimulate bone regrowth in damaged areas.
3D Cone Beam Imaging: Ideal for diagnoses and treatment planning, these images provide a clear view of the upper and lower jaw, used for: intricate review of endodontics; periodontics; orthodontics; implantology: TMJ; and prosthodontics, as well as dental and maxillofacial surgery. Because cone beam radiographs show sagittal, axial, and coronal planes, locating and tracking nerve canals optimizes implant placement. The process is quick, painless and at minimal levels of radiation.
CareStream Cone Beam Computer Tomography Imaging: This enhanced tomography works with 3D imaging for exceptional detail and range.
CS 3600 Intraoral Scanner: Rather than make impressions with bulky, goopy trays, this scanner quickly and comfortably captures digital impressions accurately and easily for creating precision models or appliances (crowns, inlays, onlays, bridges, orthodontic appliances and aligners, custom abutments). The scanner can also reach difficult–to–access areas in the patient's mouth for superior results with improved patient comfort.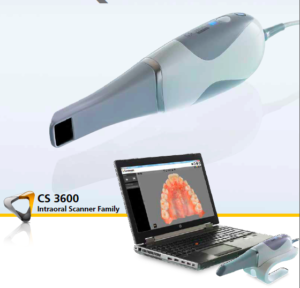 Computerized Dental Implant Placement: This advanced system for pre-surgical positioning of dental implants uses a 3D model of the patient's jaw. Once the implant type is selected, a template is developed for optimal treatment success, even for complex cases.
In addition, we offer a unique environment for comfort. We understand how dental fear or anxiety can cause people to delay or avoid having dental treatment, sometimes for decades. We believe that every patient deserves respect, a gentle touch and knowing they are in a "lecture free" zone. For those who have high fear levels, we offer several sedation options, including oral and IV sedation.
Oral sedation is a pill that helps patients relax. It also has an amnesiac effect, leaving most with little or no memory of treatment afterward.
I.V. sedation (also known as 'twilight sleep') places the patient in a deeper sleep state and erases memory of the procedure. It is administered by a doctor of anesthesiology for optimal comfort and safety. In our Asheville office, anesthesia is overseen by a Medical Doctor (MD) who is a board certified Anesthesiologist.
With both sedation options, patients are closely monitored with advanced safety equipment throughout treatment.
I hope I've given you a helpful and positive picture of what a periodontist does and how he/she can help you with some challenging needs; all the while keeping you comfortable, minimizing treatment time, and shortening treatment time.
Although most of our patients are referred to us by other dentists and dental specialists, a referral is not required for accepting a new patient. Call 828-274-9440 if you feel we can make recommendations for your specific needs or provide helpful information.
Recent Posts
Categories
Archives