Learn More Blog
Older Adults (80's, 90's, 100's) Benefit By Dental Implants
Posted on Apr 25, 2023 by William J. Claiborne, DDS MS
Someone once told me, "Old age is always ten years older than the age you are at the time." I get it. While a teenager may think of anyone over the age of 55 as "old," aging in the U.S. today has taken a positive position within America's population.
Proof of this is in how more and more people are living to be 100. Many of them are still sharp and spry. Although reaching the 100 age pinnacle was once a rare feat, it's a growing trend. Today, there are nearly twice as many 100+ year olds in the U.S. than there were 20 years ago (nearly 90,000 now).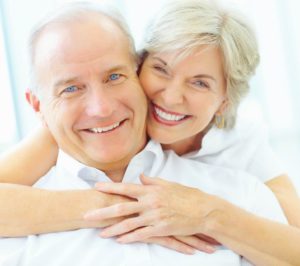 Reaching these elevated ages, of course, depends on factors like location, gender, lifestyle and genetics. Living a long life has evolved from lifestyle changes rather different than what was taken for granted in the 1950's, for example.
Between 1900 and 2020, life expectancy in the U.S. rose by more than 30 years. Much of this can be credited to life choices, such as things like not smoking. Smoking, a leading contributor to heart disease, can decrease life expectancy by 10 years.
In 1965, 45% of Americans smoked. Now, knowing the health hazards to smoking, the number has declined to only 12.5% as of 2020.
Of course, Americans can also credit medical advances for the centenarian growth in population. The survivability of things like heart attacks and cancer has greatly increased, giving adults a longer lifespan.
As Americans realize their lifespan may well reach age 90, 100 or beyond, the resistance to having dental implants due to "old age" is becoming less of a factor.
Dental implants are the ideal tooth replacement system. Unlike dentures or 'partials,' dental implants are supported by the jaw bone, just as natural teeth. While dentures sit on top of the gums, dental implants restore biting strength and stability, giving back the look, feel and function of the teeth you once had.
Two decades ago, some "older" adults would deny themselves the benefits of dental implants, saying things like, "I'm too old to spend that amount of money on myself." Yet, for my dental implant patients in their 80's and 90's, I never had one who didn't feel it was one of the wisest investments they'd ever made.
Here's why…
 – Dental implants are designed to last your lifetime. They do not decay, need root canals or compromise neighboring teeth or bone structure.
 – Because dental implants are positioned in the jaw, they recreate stimulation to the bone. This helps to preserve the bone's mass, halting the pace of jaw bone shrinkage (known as resorption).
 – Resorption is what causes changes in one's facial appearance, aging one's appearance far older than their actual age.
 – Dental implants do not move or slip when eating, speaking or laughing. A denture is designed to fit the contours of one's gum ridge; contours that exist at the time the denture is made. However, as resorption reduces bone height, the ridge that holds the denture flattens out over time. This is why a denture becomes 'wobbly' or 'slippery.'
 – Dental implant treatment is largely determined by the number of implants placed. In most cases, one implant can support more than one tooth. A full arch (all upper or lower) of teeth are typically supported by several strategically-placed implants.
 – Unlike a crown-&-bridge, dental implants so not need the support of adjacent teeth. Therefore, it is not necessary to have teeth shaved down for crowning simply to serve as supports for a bridge.
When it comes to dental implants, there are many decisions and choices that can become confusing without the guidance of a dental specialist. For example, there are over 40 different implant systems.
Dental Implants are designed in a variety of shapes and sizes to accommodate various needs. For those who are missing all upper or lower teeth, for instance, some implant types can support a full arch of removable teeth while others support non-removable (or 'fixed') teeth.
As a periodontist for over 3 decades, our patients receive advanced skills in dental implant diagnosis and placement. Additionally, our Asheville periodontal dental office features some of the most advanced technology in the industry today. This includes computerized imaging that can lessen treatment needs, optimize comfort and speed healing.
If you feel you are too old to make this wise investment, check out some of the health benefits that dental implants provide:
• As the 'arch' (or ridge) flattens, the appliance is more apt to move while chewing. As the denture rubs against tender gum tissues when eating, sore spots form, which are difficult and slow to heal. And, when small seeds or nut particles become trapped between the appliance and gums, it can cause a piercing, painful sensation.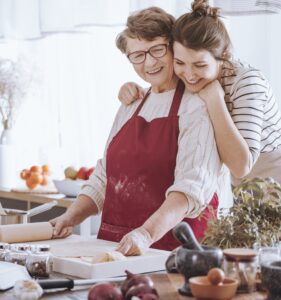 This discomfort and concern often prompts people to adjust their diets. The chewy, crunchy foods they once enjoyed tend to be bypassed for those that dissolve quickly with minimal chewing required. Unfortunately, these foods are typically lacking in the fiber, vitamins and protein necessary for a healthy diet.
---
• The gum-colored base of dentures or partials that hold the replacement teeth is made of a porous material. This means there are tiny holes in the base. In the mouth, a denture sits in a warm, dark, moist environment – perfect for bacterial growth. These holes become living spaces to oral bacteria, which thrive and breed at a rapid rate. Bad breath and increased risk of pneumonia are actually some of the lesser problems that can occur.
Additionally, oral bacteria can create havoc throughout the body. It is a known contributor to a long list of serious health diseases and conditions. These include some cancers, stroke, heart disease, diabetes, arthritis, Alzheimer's disease, pre-term babies and many more.
---
• The insecurity of a denture that may move when eating causes some people to avoid social gatherings. The fear of embarrassment can be a deterrent to involvement with friends and family. This places the individual at a disadvantage, as research shows that socially active seniors age more slowly than those who avoid social interactions.
---
If dental fear has prevented you from looking further into dental implants, please know that we have a reputation for respect, a gentle touch, and compassionate care. Additionally, we offer Oral sedation as well as I.V. sedation (also known as 'twilight sleep'). These are administered safely by a doctor of anesthesia who monitors patients with advanced safety equipment.
Also, financing can be easy through monthly payment plans. Most are interest-free with no down payment required.
To schedule a consultation appointment, call 828-274-9440. Also, get to know more about dental implants at: DrClaiborneDentalImplants
Sources:
https://www.sciencedaily.com/releases/2014/10/141007144514.htm
https://greatergood.berkeley.edu/article/item/how_social_connections_keep_seniors_healthy
https://thehill.com/changing-america/well-being/longevity/3847532-more-people-are-living-to-be-100-heres-why/#:~:text=But%20the%20nation's%20population%20is,Division%20of%20the%20United%20Nations
Recent Posts
Categories
Archives