Learn More Blog
Oral Bacteria Can Put An Immune System At A Disadvantage
Posted on May 20, 2021 by William J. Claiborne, DDS MS
Long before the COVID pandemic, it was widely known in the medical/dental and scientific communities that the bacteria in the mouth was intricately connected to the body's overall health.
The oral cavity (interior of the mouth) contains some of the most varied and vast flora in the human body. It is the entryway for two systems vital to human function and physiology, the gastrointestinal and respiratory systems. Therefore, specific infections in the oral cavity may contribute to infection that can affect systemic health.
Systemic health refers to issues that affect the entire body, rather than a single organ or body part. An example of a systemic disorder is high blood pressure, which affects the body as a whole.
Research demonstrates that inflammation is a likely trigger for the systemic connection. For this reason, researchers have studied inflammation in the oral tissues caused by periodontal (gum) disease as a contributing factor of continual inflammation in the body.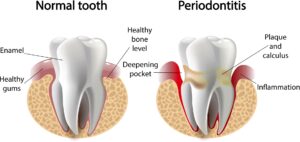 Hundreds of diseases and medications impact the oral cavity. Although the precise point of activation remains to be determined with some health problems, there is a more obvious association between oral bacteria and certain conditions.
For instance, diabetes has a clear relationship with periodontal disease. Strong evidence shows that treating one condition positively impacts the other. By the same token, uncontrolled inflammation levels of one can worsen inflammation levels in the other.
Therefore, treating inflammation may not only help manage periodontal diseases but may also help manage other chronic inflammatory conditions.
Oral bacteria has been found to trigger or worsen other systemic conditions, including atherosclerotic vascular (heart) disease, pulmonary (respiratory) disease, diabetes, pregnancy-related complications, osteoporosis (bone loss), and kidney disease. A shared trait between gum disease and these medical conditions is that they are chronic conditions that take a long time to develop.
https://www.agd.org/docs/default-source/self-instruction-(gendent)/gendent_nd17_aafp_kane.pdf
According to the Centers of Disease Control & Prevention (CDC), nearly half of American adults ages 30 and over have gum disease – a whopping 47 percent. In a recent study, they found that about 9 percent have mild levels of gum disease, 30 percent have moderate levels and 8.5 percent have severe gum disease (periodontitis).
Researchers of a recent study found that 64 percent of adults ages 65 and older had either moderate or severe periodontitis. Gum disease rates were highest in males, Mexican Americans, adults with less than a high school education, adults below the poverty line and current smokers.
Although the initial stages of gum disease may be concealed behind the lips and cheeks, the interior of the mouth can signal the presence of periodontal disease at nearly every stage. For example, sore and swollen areas can indicate gingivitis, an early form of gum disease.
Worsening levels of gum disease can cause redness, tenderness, bad breath, bleeding when brushing, and receding gums. Progressive gum disease can lead to persistent bad breath, pus pockets forming around teeth, loosening teeth and painful chewing.
In your regular dental check-ups, your dental hygienist uses a "probe" to measure "pockets" along the base of teeth. During the exam, he or she measures the gum depth along each tooth – front, back and in-between. These depth measurements indicate areas where gum tissues have loosened from the base of teeth, and to what extent. The higher the number, the deeper the pocket.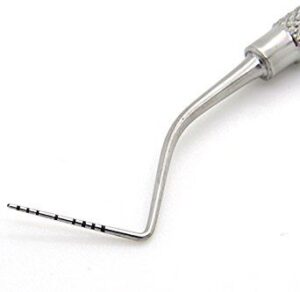 For example, healthy gums will measure 1 or 2. In some areas that are harder to reach when brushing or flossing, a 3 may be measured. However, a 4 or higher number indicates the gums are loosening their protective grip from the tooth. This leaves the tooth at risk for bacterial penetration below the gums.
Healthy gums wrap snugly around the base of each tooth. This prevents the entry of bacteria, which can cause damage to the tissues and bone structures supporting tooth roots. Gum disease, to no surprise, is the nation's leading cause of adult tooth loss.
However, infectious bacteria of gum disease don't necessarily remain confined to the mouth. Through tears in diseased gum tissues, the bacteria are able to enter the bloodstream. Traveling through the body, these potent organisms can trigger reactions that activate or worsen serious health conditions.
For example, studies have indicated a relationship between periodontal disease and stroke. In one study focused on oral infection as a risk factor for stroke, people diagnosed with acute cerebrovascular ischemia showed a higher likelihood for having an oral infection than those who had healthy gums. (https://www.perio.org/consumer/gum-disease-and-heart-disease)
Along similar lines, men with gum disease have been found to be 49 percent more likely to develop kidney cancer, 54 percent more likely to develop pancreatic cancer, and 30 percent more likely to develop blood cancers.
Having healthy gums is actually easy – and rather inexpensive. Adults should brush thoroughly (at least 2 minutes) twice a day and floss daily. Snacking and sugar should be limited. The mouth should be kept moist throughout the day by drinking plenty of water (coffee, colas and tea doesn't count). Moisture can also be replenished by the use of specially formulated oral rinses (available over-the-counter at many drug stores). By all means, drink alcohol moderately and avoid smoking.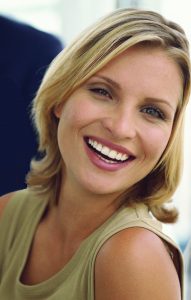 Additionally, adults should maintain their 6-month dental check-ups and cleanings. These appointments help to remove any build-up of plaque or tartar on teeth so they are easier to maintain between visits. Too, your hygienist can point out areas of risk so you can concentrate appropriately during your at-home oral hygiene regimen.
If you've delayed (or avoided) regular dental care, your likelihood of having some level of gum disease is pretty high, even though you may not have obvious symptoms in early stages. Gum disease, once underway, does not go away on its own. It will gradually worsen and become a source of infectious bacteria that strains your immune system and increases your risks for serious health problems.
Begin with an examination appointment by calling our beautiful Asheville periodontal dental office at 828-274-9440. Here, we treat our patients with compassion, respect and with comfort a priority at all times. And, we provide patients with decades of experience and advanced skills — along with exceptional dental technology – so your treatment is successful and performed efficiently and effectively in minimal time.
While your smile is greatly important to your appearance, it's what you can't see that may harbor a rather ugly presence. Let's get your smile in great shape!
Recent Posts
Categories
Archives