Learn More Blog
Start The New Year With A Smile That Enhances Your Life!
Posted on Dec 31, 2018 by William J. Claiborne, DDS MS
As we look at the new year, many of us are setting goals for positive changes in our lives. Whether we aim to lose weight, tackle an upcoming 10k run, or kick a bad habit, a new year resets our enthusiasm and motivation to improve.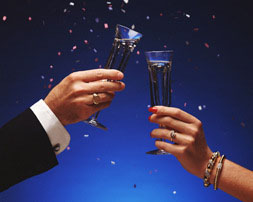 And oft-overlooked area that many Americans should add to their "need to improve" list is caring for their oral health. According to the Centers for Disease Control & Prevention (CDC), over 47 percent of the adult population in the U.S. has some level of periodontal (gum) disease.
So, this year, I'd like you to relook at the list you've already made and consider adding "improve oral wellness" to it.
Although a clean, healthy mouth gives you a better-looking smile and fresher breath, there are even more important reasons to maintain excellent gum health. Not only is periodontal disease the nation's leading cause of adult tooth loss, it has been linked serious health risks. This includes heart disease, high blood pressure, memory loss, arthritis, diabetes, preterm babies and impotency.
Gum disease can begin silently, with warning signs that are not obvious or may be easily ignored. It may be first noticed by sore spots on gum tissues. You may notice some blood in the sink when brushing teeth. Your mouth may feel sticky and you have bad breath more frequently.
When these signs are ignored, gum disease is allowed to progress further. The symptoms of gum disease are:
Red, swollen or tender gums or other sore areas in your mouth
Bleeding while brushing or flossing
Gums that recede or pull away from teeth, causing the teeth to look longer than before
Loose or separating teeth
Pus pockets between your gums and teeth
Persistent bad breath
A change in the way your teeth fit together when you bite
A change in the fit of partial dentures
You can also learn about the stages of gum disease on the web site of the American Academy of Periodontology: (https://www.perio.org/consumer/types-gum-disease.html).
Your mouth also sends off warning signs when something is wrong. For example, an ache coming from a tooth may indicate a cavity or crack. A sore spot in the mouth could be caused by a canker sore or warning sign of oral cancer.
Some periodontal needs can be managed by their general dentist. However, as signs of periodontal disease continue, periodontal treatment may require the skills of a specialist. Patients who have moderate or severe levels of periodontal disease, or patients with more complex cases, are often best managed through 'team treatment' between a general dentist and periodontal specialist.
The American Academy of Periodontology defines a periodontist as "a dentist who specializes in the prevention, diagnosis, and treatment of periodontal disease, and in the placement of dental implants. Periodontists are also experts in the treatment of oral inflammation. Periodontists receive extensive training in these areas, including three additional years of education beyond dental school. They are familiar with the latest techniques for diagnosing and treating periodontal disease, and are also trained in performing cosmetic periodontal procedures.
"Periodontists often treat more problematic periodontal cases, such as those with severe gum disease or a complex medical history. Periodontists offer a wide range of treatments, such as scaling and root planing (in which the infected surface of the root is cleaned) or root surface debridement (in which damaged tissue is removed). They can also treat patients with severe gum problems using a range of surgical procedures.
"In addition, periodontists are specially trained in the placement, maintenance, and repair of dental implants."
However, if you are experiencing signs of periodontal disease and do not have a regular dentist, please know that you do not have to be referred to our office for care. Once your mouth is restored to optimal health, we can suggest a general dentist for you if you do not have one.
Don't delay seeking care when you notice the first warning sign. Early treatment may save you greatly in time and expense – and even help you avoid tooth loss! Once your mouth is restored to a healthy state, we'll help you maintain it by recommending home care steps combined with periodic check-ups.
If your obstacle has been fear of dentistry, we have an excellent reputation for helping fearful dental patients overcome these. We also offer oral and I.V. sedation (twilight sleep) that help patients feel more relaxed during treatment.
Or, if you feel you can't manage the expenses associated with dental care, we offer several payment plans. Through these, you can afford to achieve a healthy smile while making easy, monthly payments.
Begin with a consultation or ask for an initial periodontal exam by calling 828-274-9440. Let our specialized skills in periodontics help to restore your teeth and gums to excellent oral health and confident smiles!
Recent Posts
Categories
Archives