Learn More Blog
The 1-2-3's Of Dental Implants
Posted on Apr 29, 2020 by William J. Claiborne, DDS MS
Over time, certain things are often referred to in catchphrases that simplify what is being described. For example, "Kleenex" is actually a brand name that refers to tissues. "Clorox" is commonly used as a generic for bleach, even though it's a specific brand. And, "Uber" has become a way to describe a paid means of auto transportation, even if a taxi or Lyft is being used.
This is why the term "dental implant" may be confusing to some people. This implies the replacement of a missing tooth or teeth with a base that is implanted  into the jaw bone. However, to be clear, a dental implant is not an entire structure. Let's look at the various components of a complete dental implant system.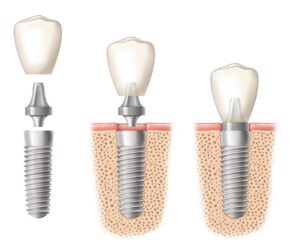 Although there are different types of implant systems (designed to accommodate specific needs), all work in in a similar fashion. The actual "implant" is a hollow, screw-like cylinder. This is the portion that is actually "implanted" in the jaw bone at a strategic angle and depth.
Once placed, the implant is covered over with gum tissue. For several months after, the implant goes through a process known as "osseointegration." In this, the bone grows around the implanted portion, which secure it in place. This restores the foundation like that of natural teeth for dependable and comfortable biting and chewing stability.
This stage, often referred to as the "healing" process, typically takes several months. However, a denture or temporary can be worn comfortably so going without teeth is not a worry.
Once healing is complete, a post is secured inside the hollow core of the implant. This post will support your final replacement tooth or teeth. Most replacement teeth are made of porcelain, which provides the most durable of all materials used in dental restorations.
Porcelain is an ideal material for replacement teeth. It is less resistant to stains and provides an exceptionally natural look and feel, even reflecting light as a natural tooth.
A successful outcome in any Dental Implant treatment begins with the selection and placement process. A Periodontist has specialized training in the diagnosis and placement of all types of implant systems. This means the implant system recommended for you will be the type most suited to your individual needs and goals.
An important aspect of implant success also relies on the assessment of bone mass. When the upper or lower jaw has insufficient bone to support the implant being placed, there is a risk of failure. This can occur in implants placed too close to the sinus cavity (for upper implants) or a nerve that runs through the mandible (lower jaw).
Too, an implant requires careful selection and placement in order to adequately support the replacement teeth being attached. In some cases, as few as 4 – 6 implants can support a complete arch of teeth. This decision is best left in the hands of a periodontal specialist.
In cases of severe bone loss, a periodontist can also perform bone rebuilding procedures prior to implant placement. This is sometimes through bone grafting but most commonly the application of a bone-rebuilding material. Additionally, some implant systems, such as the "All On 4" utilize unique angles to provide support in minimal bone depth with no bone rebuilding necessary.
The best implant system for you can be determined after an examination. During this time, I can discuss options best for you and explain the process. Call 828-274-9440 to schedule an appointment. Or, ask to begin with a Consultation.
We also encourage you to share any concerns about comfort options or treatment fees. Many people avoid looking into dental implant treatment because they are afraid of the procedure or fear they cannot manage the fees. Rather than assume these are obstacles, share your concerns so we can address them head on!
Recent Posts
Categories
Archives