Learn More Blog
The Value Of Dental Implants Goes On & On.
Posted on Jan 08, 2020 by William J. Claiborne, DDS MS
Many people have a list of favorite holiday movies. One that stand out for me is "Christmas Vacation," where Clark Griswold attempts to create the perfect Christmas for a hoard of family members who have descended upon his home.
In the movie, Clark learns that, instead of his company's annual Christmas bonus, he's received a certificate for "Jelly of the Month" club. Cousin Eddie famously comments, "It's the gift that keeps on giving."
Laughs aside, this always reminds me of how much we spend, all year long, on things that really add very little to our lives. People invest in new cars, clothes, jewelry, and fancy electronics – many purchases based on ads indicating these items will bring us great pleasure.
Yet, year after year, Americans struggle to pay January credit card bills laden with holiday purchases. And, we begin a new year not as fulfilled as we thought. I'd like to make a suggestion: your smile!
Is there anything that would give you as much pleasure as a healthy, confident smile?
Life's best moments are things like laughing with close friends, dining out in our favorite restaurant, close conversations with loved ones, and the bite of a red apple picked right off the tree.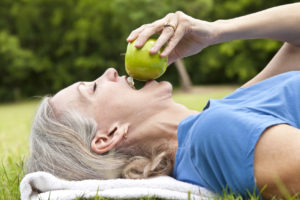 As a Periodontist, I see how difficult life can be for patients with dentures and partial dentures. To witness the transformation of an individual who has replaced "slippery" dentures with dental implants has been a particular joy throughout my career.
Over the past three decades, there have been remarkable advancements in implant dentistry. It has easily become the preferred replacement for missing, natural teeth. Today, there are implant types that offer exceptional choices to fulfill nearly any need when it comes to replacing teeth with dependable stability and a natural look and feel.
While I share the excitement of our implant patients when they "see" their appealing, confident smiles after treatment completion, as a periodontist, I know it is the foundation beneath the gums that is the true benefit of dental implants.
Like natural teeth, implants are held by the upper or lower jaws. The jaw bones actually thrive on the presence of tooth roots for stimulation to keep the bone healthy. Without tooth roots, the bone goes through a process known as resorption. Resorption causes bones to lose height and width, almost like they are melting.
Dental implants are able to mimic the stimulation they need to prevent the process of resorption.
Bone loss contributes to a number of problems. Once resorption sets in, the teeth adjacent to the area of bone loss are affected. Bone loss that neighbors areas of resorption weakens tooth root stability. When a natural tooth is lost, statistics show the next to be lost will most likely be an adjacent tooth.
Bone loss can even be seen in some people. It causes the appearance of  a collapsed mouth (referred to as a "granny look") where the nose is unusually close to the chin. It is also the reason that dentures and partials begin to move or "slip." This can cause uncomfortable rubbing on gum tissues.
When a denture is first made, it is shaped to fit the unique contours of your gum ridge (the gum-covered arch that once held your natural tooth roots). As bone loss continues, the once-secure fit loosens and cause sore spots on tender gum tissues while chewing. Denture pastes or adhesives can help, but eventually even relines are of little help.
For many, another appealing advantage of dental implants is that they are a lifelong investment. Dental implants, properly selected and placed, are designed to last a lifetime with proper maintenance.
Adults are also seeing dental implants as a wiser option than crown-&-bridge combinations. Unlike dental implants, crowns and bridges can require repairs or replacements over time. Too, crowning natural teeth for the sole purpose of supporting a bridge forever compromises the health of otherwise natural teeth.
Dental implants do not rely on adjacent teeth for support since they are anchored in the jaw bone. This restores the same, sturdy foundation as natural tooth roots. An added bonus is how the implanted portion recreates the presence of a tooth root, halting the process of resorption.
If you are missing natural teeth, consider the advanced skills of a periodontist to consult with on dental implants. For a private, no obligation consultation to discuss your specific goals or concerns, call 828-274-9440 for an appointment.
If fear of dentistry is an obstacle for you, we can also discuss our sedation options. Our office is known for providing respectful, gentle care and oral and IV sedation are available as needed, administered safely and to the highest standards. Feel free to mention your concerns during your consultation.
Recent Posts
Categories
Archives