Learn More Blog
When Dentures Are "Slippery," "Wobbly, or "Rocky"…
Posted on Mar 11, 2023 by William J. Claiborne, DDS MS
A periodontal specialist has advanced training in the selection and placement of all dental implant types. Also a specialist in the treatment of all stages of periodontal (gum) disease and the contouring of gum tissues (such as to correct a "gummy smile"), many patients who come to us have lost teeth due to gum disease.
Gum disease is the nation's leading cause of adult tooth loss. Sadly, over 47% of Americans over the age of 30 have some level of gum disease. Many do not realize they have developed gum disease since it can begin without obvious symptoms.
Periodontitis is the advanced stage of gum disease. Its symptoms are hard to ignore. Breath odor is putrid. The gums bleed easily, at times even when eating. The gums are a dark red and may have a spongy texture. Some teeth may loosen or shift. Pus pockets form around the base of some teeth.
In this advanced stage, some (or all) natural teeth may require removal. For those who choose to replace teeth with a denture or partial (versus dental implants), something occurs below the gums that cannot be seen. However, over time, the repercussions can be quite severe.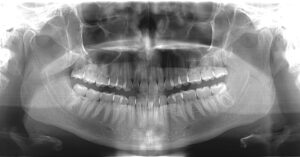 What I'm referring to is "resorption." This is the term used for a shrinking jaw bone.
Resorption occurs when natural tooth roots are no longer present in the jaw bone. These tooth roots actually help to provide stimulation to the bone. Tooth roots also nourish the bone mass through connective tissues that extend down through a tooth's interior.
When a tooth is removed, the stimulation and nourishment to that area of the jaw bone is taken away. Without it, the bone begins to shrink. As it declines in height, the adjacent teeth are more vulnerable to loss. Statistics show that teeth neighboring areas where natural teeth are missing will be the most likely to be lost next.
Although a denture or partial can mimic the presence of teeth above the gum line, there is nothing to keep the jaw bones healthy beneath, which is the sturdy foundation for biting and chewing strength. As tooth loss continues, one can go from losing a few teeth to losing all teeth (being "edentulous").
Many people are unaware that the pressure of wearing dentures or partials accelerates the pace of resorption. For people who sleep in their dental prosthetic, the 24/7 pressure applied to the jaw bones speeds up the rate of bone decline even more.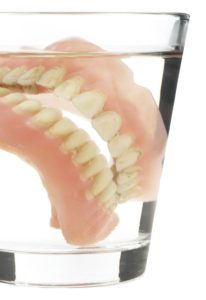 Sleeping in a denture can also add to higher risks for the flu and pneumonia. A 3-year study of more than 500 adults was published by the Journal of International Oral Health. Of the 186 (of 453 denture wearers) who did not remove their dentures for sleeping, they had over twice the risk for pneumonia than those who did. Sleeping in dentures also led to higher levels of tongue and denture plaque, gum inflammation and other oral issues.
For those who wear a denture or partial, losing jaw bone mass also causes a change in the way the denture or partial fits. For example, a denture may fit fine the first year after teeth are removed and a denture is custom-fitted. However, people eventually notice slips when biting or chewing. This is because the bone under the "arch" that supports the denture or partial is declining in height.
The changing foundation for the denture (also known as a ridge) allows it to "slip" or become "wobbly." As bone loss continues, it causes uncomfortable rubbing on tender gums while eating.
As a result, people often adjust their diet to avoid foods that require rigorous chewing, opting for softer foods that require less chewing. Outings with friends and family become overshadowed by the fear of embarrassing slips.
Eventually, even frequent applications of denture pastes or adhesives are of little help. A reline may be recommended by your dentist to reshape the contours of the denture or partial to the slowly declining arch. Unfortunately, this process will continue as bone loss requires periodic relines as the arch flattens further.
The solution?
For most individuals who are missing one or more natural teeth, we advise replacing teeth with dental implants. A dental implant recreates the presence of a natural tooth. It provides stimulation to the bone, halting the process of bone loss.
Dental implants do not rely on neighboring teeth for support, as in a crown-&-bridge combination. The crowning of bordering natural teeth to support a bridge is not needed. Thus, the integrity of surrounding teeth is protected.
Because dental implants are supported by the jaw bone, sturdy and dependable biting and chewing strength is restored. Eating a healthy diet of the foods you love is again possible.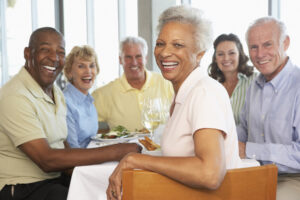 And, dental implants also have an exceptional success rate, higher than any implant-in-bone option. They are designed to last a lifetime, making them an excellent investment.
If you are considering dental implants to replace missing teeth, we invite you to begin with a consultation appointment. This will take place in a private room where we can discuss your needs and concerns. Call 828-274-9440 to schedule, or tap here for more contact information.
Recent Posts
Categories
Archives