Learn More Blog
Why Seek A Periodontist For Dental Implants
Posted on Jul 13, 2021 by William J. Claiborne, DDS MS
Like many people, I value my relationship with my Internist. Through his care, I am confident that he understands my specific needs to oversee all aspects of my health.
Some of this care occasionally involves being referred to a specialist. For example, my Internist may advise me to see a dermatologist for a particular skin condition. Together, my internist and the dermatologist are able to work in unison so I'm receiving the proper treatment plan according to my particular needs.
I am also a specialist in the dental field. I am a periodontist, which is a specialist who receives most patients through referrals by a general dentist or another dental specialist. This is because a periodontist offers a unique set of skills as well as an advanced level of understanding when it comes to oral tissues and dental implants.
The American Academy of Periodontology defines a Periodontist as: "A periodontist is a dentist who specializes in the prevention, diagnosis, and treatment of periodontal disease, and in the placement of dental implants. Periodontists are also experts in the treatment of oral inflammation. Periodontists receive extensive training in these areas, including three additional years of education beyond dental school. They are familiar with the latest techniques for diagnosing and treating periodontal disease, and are also trained in performing cosmetic periodontal procedures."
(https://www.perio.org/consumer/what-is-a-periodontist)
To reach this specialty requires an individual to be highly committed. A periodontist begins education by completing 4 years of college (undergraduate training) and then continues another 4 years in dental school to earn a doctorate. To specialize in Periodontics, he or she must further their education for another 3-4 years before completing the stringent requirements for a specialty certification in periodontics.
In addition to treating all phases of periodontal (gum) disease, a periodontal specialist is uniquely qualified to reshape gum tissues. This may be performed to correct a "gummy smile" or even out a smile line through crown lengthening. Periodontists also specialize in the diagnosis and placement of dental implants.
The advantages of a periodontist in dental implant treatment are multi-faceted. This specialist is trained to understand the intricate concepts involved in selecting the proper type of implant and skilled at placing implants at proper depths and angles. A periodontist is also able to optimize patient comfort during treatment and throughout the healing phase.
Using his or her advanced training in the diagnosis and placement of dental implants, a periodontist can help you enjoy a higher potential for dental implant treatment that lasts a lifetime. There are a number of reasons you should strongly consider having a periodontal specialist involved in dental implant treatment, including:
SELECTION OF IMPLANTS – Dental implants come in a wide array of shapes and sizes. Each system is designed to accommodate certain needs and preferences. For example, some implants are designed to support a full arch of teeth while others can be placed in areas where a great deal of bone loss has occurred. The selection of the implant type that is appropriate for your needs and goals requires a unique understanding of all implant types. That is, a periodontist can select the type that will work best for you rather than go with the one or two in which they have received training.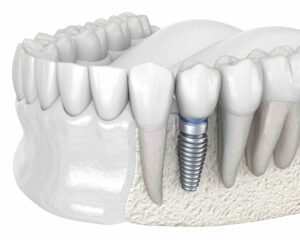 PLACEMENT OF IMPLANTS – In addition to selecting the best type for your needs, proper placement of implants has a great deal to do with having a successful outcome. When an implant that is too long, for instance, is placed in bone that is too shallow, it can have future repercussions that may require its removal. This could occur when a lower implant is placed too close to a nerve that runs horizontal through the jaw bone (mandible). Or, when an upper implant is placed in shallow bone, it can work its way into the sinus cavity. A periodontal specialist considers intricate factors that can effect your potential for success.
STRUCTURAL ISSUES – In addition to the factors involved with bone loss, other issues can 'make or break' having a successful treatment outcome with dental implants. For example, for people who have bite misalignment or TMJ disorders, they may be grinding or clenching their teeth during sleep – often unknowingly. Telltale signs of 'bruxing' including remaining, natural teeth that are chipped or worn. These forces are enough to crack a walnut. When dental implants endure these forces, especially during their 'healing' phase, there is greater risk for implant failure. A periodontist considers these issues prior to your treatment, helping you to bypass problems that can result in eventual removal.
INDIVIDUALIZED TREATMENT CONSIDERATIONS – Our goal is to help you get the most from your dental implants. When there are individual habits or preferences that can complicate success, we work with each patient to help them enjoy their dental implants for a lifetime. For smokers, we advise ways to support saliva flow and minimize oral bacteria levels. For people who take certain medications that can interfere with oral moisture, we recommend methods to keep the mouth properly hydrated. And so on. We want to make sure your care is individualized so your potential for implant success is high!
OPTIMAL COMFORT – For added comfort and relaxation, we offer Oral sedation or I.V. sedation (twilight sleep) for most procedures for those who want or need these options. Both sedations are administered to the highest standards of safety possible. Our sedated patients are closely monitored throughout treatment with advanced safety equipment and trained professionals. Oral sedation is a pill that helps patients relax. It also has an amnesiac effect, leaving most with little or no memory of treatment afterward.  I.V. sedation places the patient in a deeper sedative state, also erasing memory of the procedure. At our Asheville office, Biltmore Periodontics administers sedation with the involvement of a highly-trained doctor of anesthesiology for optimal comfort and safety.
For individuals who wish to replace one or more missing teeth, it makes sense that dental implants have become the leading preference. Dental implants restore the look, feel, and function like that of natural teeth. They also help to prevent bone shrinkage that occurs when tooth roots are no longer present in the jaw bone. This process is known as resorption.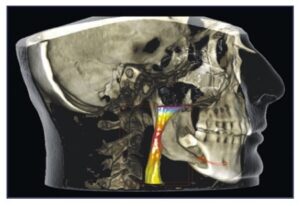 Resorption is what contributes to changes in facial appearance when the bone structures that give the face its shape start to shrink. When tooth roots no longer exist in the jaw bone, the stimulation once provided to the bone no longer exists. This causes the bone to shrink, or 'resorb.'
As the bone mass declines in height and thins out, changes in facial appearance slowly evolve. For example, as the jaw bone thins, deep wrinkles form around the mouth. Eventually, the corners of the mouth will turn down even in a smile. Jowls form on each side of the face as facial muscles detach from the shrinking bone structure.
As the jaw bone continues to shrink, the chin becomes more pointed and the nose seems to get closer to it. This leads to a collapsed mouth that is known as a 'granny look.' This look ages the appearance of an individual far beyond their actual years.
Among the many benefits of dental implants, they also provide stimulation to the jaw bone. This helps to halt the process of bone loss. For those who have already lost a great deal of bone, bone rebuilding procedures can be performed to restore a healthy, more youthful face shape.
In addition to all the advantages of care through a periodontist, our Asheville periodontal office features some of the most advanced technology available. This includes laser dentistry and cone beam imaging as well as highly-advanced computerized options.
If you've considered dental implants to replace missing teeth, we invite you to consult with us during a private consultation appointment. A referral is not necessary. During this time, we will discuss your needs and goals as well as any concerns regarding comfort or costs.
To schedule, call (828) 274-9440.
Recent Posts
Categories
Archives